US President Donald Trump has said he would consider selecting former Goldman Sachs executive and White House adviser Dina Powell as the next US ambassador to the United Nations, and shot down speculation he would select his daughter Ivanka for the post.
Mr Trump spoke to reporters at the White House, hours after announcing that current UN Ambassador Nikki Haley would step down at the end of the year.
He said Ms Haley would help him make the final pick for her replacement.
Speculation that Ivanka Trump would take on the post mounted after Ms Haley praised her and her husband, Jared Kushner, in discussing her resignation in the Oval Office this morning.
However Mr Trump told reporters at the White House that, while Ivanka would be incredible in the role, he would face accusations of nepotism if he selected her.
Mr Trump said that Ma Haley told him six months ago that she wanted to take "a little time off".
Meeting her in the Oval Office, Mr Trump said that Ms Haley had done a "fantastic job" and would leave at the end of the year.
Ms Haley did not give any other reasons for quitting, saying only that it was "important to understand when it's time to stand aside."
Mr Trump said that he hopes Ms Haley will return in a new role, saying: "You can have your pick".
She insisted that she was not planning to run for president herself against Mr Trump in 2020, when she would likely be seen as a moderate Republican alternative.
The former governor of South Carolina, Ms Haley took the job with little experience in foreign policy, but quickly became the voice at the UN for the Trump agenda.
She has pressed for an aggressive line on Iran, justified US cuts to foreign assistance and earlier this year led the US in exiting the UN Human Rights Council, accusing it of bias against Washington and Israel.
At the recent UN General Assembly session, Ms Haley took the highly unusual step for a senior diplomat of joining street protesters against Venezuelan President Nicolas Maduro, shouting from a megaphone that the leftist leader should leave office.
The daughter of Indian immigrants, she had long been seen as a rising star in the Republican Party - which has eagerly sought female and ethnic minorities to broaden the appeal beyond its traditional white demographic.
Ms Haley, whose given name was Nimrata Randhawa, was elected governor in 2010 of deeply Republican South Carolina and, during the 2016 campaign, she criticised Mr Trump over his remarks on immigrants before their political reconciliation.
Hers is the latest resignation in a turbulent White House, where Mr Trump is already on his third national security adviser and second secretary of state before even the midterm elections.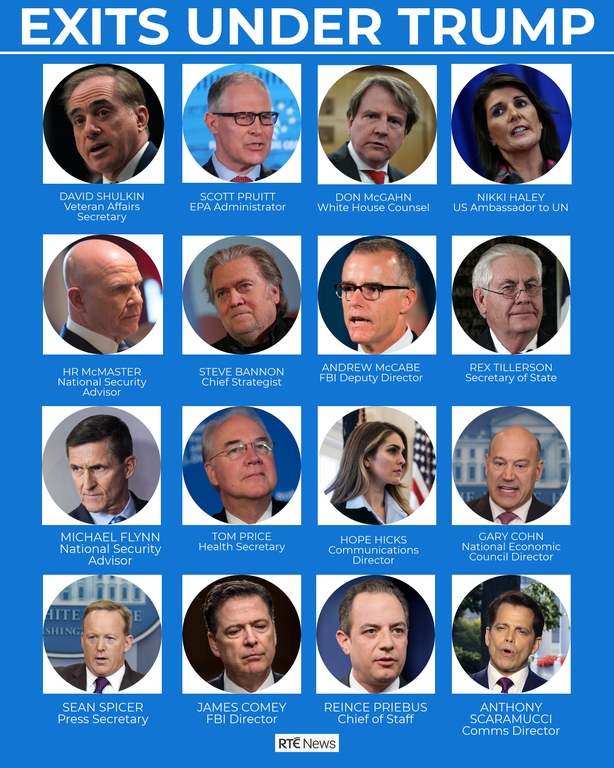 Mr Trump said that there are a number of people who would like to do the UN job. He said he will announce the ambassador's successor within the next two or three weeks.
UN Secretary-General Antonio Guterres has expressed his "deep appreciation for the excellent co-operation and support" that Ms Haley has demonstrated, according to his spokesman.
"They had a very productive and strong working relationship," the spokesman told reporter.