US President Donald Trump's former campaign chairman, Paul Manafort, opened more than 30 bank accounts in three foreign countries to "receive and hide" his income from Ukraine, a federal prosecutor has told jurors.
Uzo Asonye made the comment as part of the prosecution's opening statement as the trial of Mr Manafort got under way in a Virginia federal court.
The high-profile trial is the first to arise out of Special Counsel Robert Mueller's Russia investigation.
Earlier in the day, prosecutors and defence attorneys selected a 12-member jury to consider Mr Manafort's fate.
Four alternate jurors were also chosen.
Mr Manafort faces charges that he hid tens of millions of dollars earned in Ukraine in offshore accounts and defrauded banks for loans.
"A man in this courtroom believed the law did not apply to him. Not tax, not banking law," Mr Asonye told the jury, referring to the 69-year-old.
Mr Asonye told jurors the evidence would show that Mr Manafort hid "tens of millions of overseas income" to avoid paying taxes.
Mr Asonye said the evidence would show he lied to the Internal Revenue Service.
The prosecutor said Mr Manafort set up more than 30 bank accounts in overseas countries and funneled millions of dollars into them to bankroll an extravagant lifestyle.
Mr Asonye described how Mr Manafort snapped up expensive real estate in the United States, spent millions of dollars on renovating his properties and more than a half million dollars on "fancy clothes."
Mr Manafort has pleaded not guilty to all the charges.

The tax and bank fraud trial represents the first test of Mr Mueller's ability to win a conviction of a former Trump aide.
Three other aides, including Mr Manafort's longtime business partner Rick Gates, have already pleaded guilty and are cooperating with Mr Mueller's probe.
A lawyer for Mr Manafort accused Mr Gates of embezzling money and blamed Mr Gates for the financial charges against his client.
"Rick Gates had his hand in the cookie jar," defence attorney Thomas Zehnle said in his opening statement at the trial. "Little did Paul know that Rick was lining his own pockets."          
---
Read More: 
Trump says collusion is not a crime
NYT publisher hits out at Trump over anti-press attacks
---
Prosecutors are seeking to provide details of Mr Manafort's work for a pro-Russian political party in Ukraine, raising the possibility that new information about his Russian connections could emerge.
Mr Manafort has filed a motion to have details of that work excluded from trial.
He faces 18 criminal counts, which centre on allegations that he hid much of the $60 million he earned in Ukraine in undisclosed overseas bank accounts and failed to pay taxes on it.
Prosecutors also accuse him of lying to US banks to obtain real estate loans in a bid to maintain a lavish lifestyle after his client, former pro-Russia Ukrainian President Viktor Yanukovych, fell from power in 2014 and the money stopped.
Mr Manafort actively conferred with his lawyers during the jury selection process, writing and passing notes.
His wife, Kathleen, was sitting behind him in the courtroom.
Outside the courthouse, a handful of protesters displayed a life-sized puppet of Trump and held signs saying "Trump won't do time for you," "It's Mueller time," and "I like your new suit" alongside a photo of Mr Manafort's mug shot.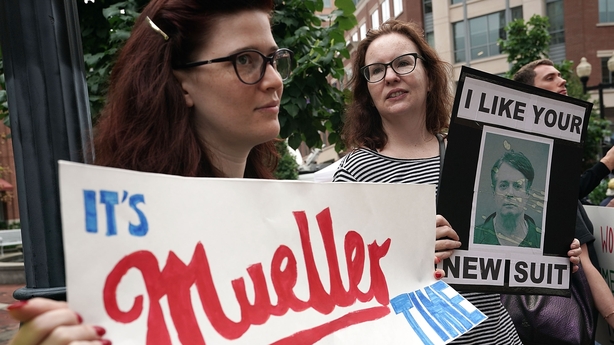 Mr Mueller was appointed by the US Justice Department last year to take over an FBI investigation into Russia's role in the 2016 presidential election and whether there was unlawful coordination between the Trump campaign and Moscow.
President Trump has wavered between showing sympathy for Mr Manafort and trying to distance himself.
Mr Manafort worked on Mr Trump's presidential campaign for five months and attended a June 2016 Trump Tower meeting with Russians that is a focal point of Mr Mueller's probe into possible collusion between the campaign and the Kremlin.
A conviction would give momentum to Mr Mueller, who has indicted or secured guilty pleas from 32 people and three companies since the investigation started 14 months ago.
An acquittal would support efforts by Mr Trump and his allies to portray the probe as a "witch hunt."
President Trump denies any collusion with Russia, and today tried to make the case publicly that collusion would not be a crime anyway.
Prosecutors have said they will not present evidence of collusion at this trial.
The Virginia trial will be followed by a second one in Washington in September in which Mr Manafort is charged with money laundering, failing to register as a foreign agent and witness tampering.
Mr Manafort has pleaded not guilty to those charges as well.