California firefighters are gaining ground on a massive wildfire that has killed six people and destroyed hundreds of homes and businesses, while rescuers continue to search for at least seven people.
The Carr Fire ignited a week ago outside Redding, California, and doubled in size over the weekend, charring an area the size of Denver and forcing 38,000 people to flee their homes.
Two firefighters and a woman, Melody Bledsoe, and her two young great-grandchildren are among the dead.
"I would've liked to have went in there and died with them," Ed Bledsoe, Melody Bledsoe's widower, said in a tearful interview with CNN aired on Monday in which he described his final phone call with his family as the flames closed in.
Centered 240km north of Sacramento, the Carr Fire is the deadliest of the 90 wildfires burning across the United States.
Collectively, wildfires have blackened 4.4 million acres of land so far this year, 21% more than the ten-year average for the time period, according to federal data.
The more than 3,000 firefighters battling the Carr Fire began to gain control of it on Sunday, cutting containment lines around 20% of its perimeter by Monday morning, according to the California Department of Forestry and Fire Protection (Cal Fire).
For much of the weekend the fire was just 5% contained.
Firefighters were struggling to control the fire's western flank, where terrain is steep and the air thick with smoke, fire officials said.
"That's where we need to fly," Dominic Polito, of the Escondido Fire Department, said.
"We can still use helicopters, but we can't use the fixed-wing aircraft."
Gale-force winds that drove the fire late last week have eased to moderate speeds, but temperatures are again expected to top at around 38C, according to the National Weather Service.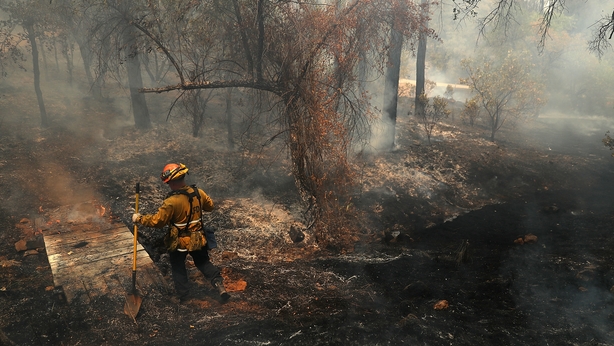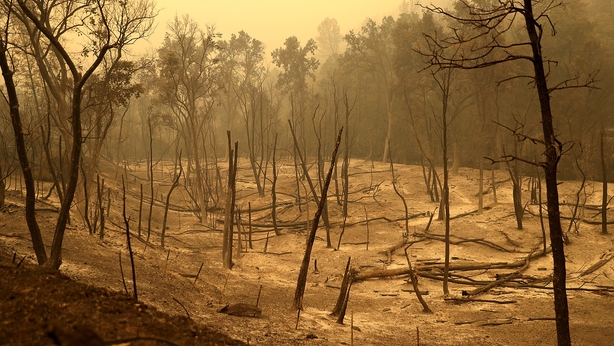 The fire grew rapidly beginning on Thursday, confounding fire officials with the speed of its movement.
Nearly 1,000 buildings have been destroyed by the 99,000-acre blaze, Cal Fire said.
The fire leveled the town of Keswick, home to 450 people.
It also sparked an effort to rescue people's horses and livestock in the rugged region, a popular fishing destination.
Some 260 National Guard troops and 100 police officers were stationed in evacuated neighborhoods to guard against looting.
Another California fire prompted a rare closure of much of Yosemite National Park last week, while a third forced mass evacuations from the mountain resort community of Idyllwild, east of Los Angeles.
The Carr Fire started last week as the result of a vehicle mechanical failure, authorities said. It continued to spread yesterday as firefighters reported slow progress in containing it.
The blaze remained unpredictable, said Chris Anthony, a division chief with the California Department of Forestry and Fire Protection (Cal Fire).
"Under these conditions that we are seeing right now, it's not going to take much for the fire to have the extreme spread that we saw a couple of days ago,"  he said by telephone after visiting the region. "We are simply not getting a break."
Officials battling the blaze told the news conference in Redding they were feeling more optimistic yesterday afternoon and starting to gain ground on the Carr Fire. They pledged to return people to their homes as soon as possible.
An army of some 3,500 firefighters and a squadron of 17 water-dropping helicopters had carved buffer lines around 5% of the fire's 100-mile perimeter by yesterday.
US President Donald Trump declared the fire an emergency on Saturday, authorising federal funds for disaster relief efforts.
More than 160 fire departments from California and around the country have been deployed to help quell the week-long blaze.
At the height of its fury on Thursday night, the fire was whipped into a "fire tornado" by gale-force winds that drove flames across the Sacramento River into the western end of Redding, as thousands of residents fled for their lives in a chaotic evacuation.