Migrant children separated from their parents at the US-Mexico border are being housed in tents.
Under US rules, immigrant children travelling alone or separated from relatives can be held by authorities and the Trump administration has backed family separations, including in asylum cases, as part of efforts to deter illegal immigration.
The new shelter consisting of large temporary tent structures has the capacity for 360 children and is located near an official border crossing point about 55km southeast of the city of El Paso, according to Kenneth Wolfe of the US Department of Health and Human Services (HHS).
He described the large tents housing the children as containing "a full heating, ventilation and air conditioning system, as well as a floor and doors."
HHS is tasked with caring for "unaccompanied alien children," which by law is any minor that arrives at the border without parents or relatives, or for whom loved ones were not "available to provide care and physical custody."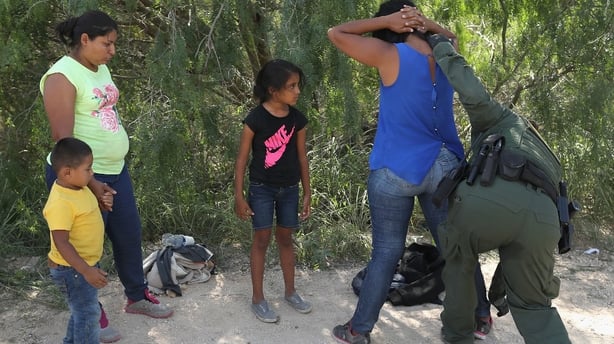 The Trump administration is facing mounting criticism over its decision to systematically bring criminal charges against undocumented immigrants detained at the border, which forces them into federal prisons where children cannot stay.
Previous policy usually allowed families to remain together and often released them into the country until their appointed immigration court dates.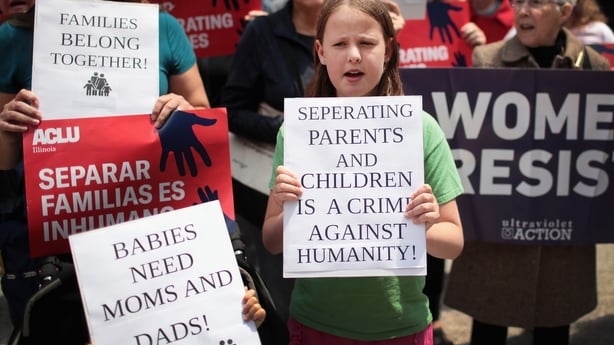 Between 19 April and 31 May, 1,995 children were separated from their undocumented parents or adult guardians, according to the Department of Homeland Security.
Around 1,500 boys - aged between ten and 17 -  are being held in a former Walmart supermarket in Texas.
A Department of Homeland Security official insisted that the minors were enjoying decent conditions.
"We have some of the highest detention standards in the world for children," he said.
The temporary shelter near El Paso is the first to be erected by the Trump administration since the new "zero tolerance" policy.
Texas State Representative Mary Gonzalez, a Democrat whose district includes the El Paso area, tweeted that the shelter was not appropriate for children.
"Nor is it a location that has adequate numbers of counselors or therapists to assist these children," she said.
The Tornillo shelter is a direct result of Trump's harmful zero tolerance policy. The tents in Tornillo will house 360 kids, w/ the weather reaching 100° every day. The detainment of children in these conditions is inhumane. #txlege #FamiliesBelongTogether https://t.co/CaoIiySeqE

— Mary Gonzalez (@RepMaryGonzalez) June 15, 2018
Mr Trump has claimed he hates the idea of separating children from the parents who try to enter the country, and has repeatedly blamed Democrats for the law, but the administration has acknowledged that crackdown on the families could serve as a deterrent.
The Democrats are forcing the breakup of families at the Border with their horrible and cruel legislative agenda. Any Immigration Bill MUST HAVE full funding for the Wall, end Catch & Release, Visa Lottery and Chain, and go to Merit Based Immigration. Go for it! WIN!

— Donald J. Trump (@realDonaldTrump) June 15, 2018
"Right now, we are in a circumstance where either we choose to enforce the law or we choose to ignore it," a DHS official said.
"And this administration has made it clear that we are not going to ignore the law any longer."
Democrats have countered that no law requires the government to separate children from their parents.
Mr Trump has made opposition to immigration a focal point of his presidency. 
His demand for building a border wall was a constant campaign theme, and he has lately referred to some immigrants, particularly gang members, as "animals".
Amid the current crackdown, the detained parents are "in jail settings," the official said, awaiting adjudication and possible prosecution for crossing the border. The process can take several weeks.
"We are unable to keep families in a detention setting together for an extended period," the DHS official said, noting that nowhere else in the United States are law enforcement agencies expected to detain children with their parents.
"In no other context are we being asked to detain children with parents who are facing criminal charges."
There is no law that requires parents be separated from their children at the border. But if parents in the United States are jailed, their children are split from them because the children are not themselves charged with a crime.