Hawaii's Kilauea volcano spewed ash nearly 9km into the air following an explosive eruption and scientists have warned that it could be the first of a string of eruptions in the crater.
Residents of the Big Island were warned to take shelter as the plume engulfed a wide area, according to authorities.
The wind could carry the ash plume as far as Hilo, the island's largest city and major tourism centre, the County of Hawaii Civil Defense warned in an alert.
"Protect yourself from ash fallout," it said.
The blast at 4.15am local time sent ash and smoke nearly 9km into the atmosphere, and was followed by other emissions of up to 3,600m, the US Geological Survey said.
USGS geologists and staff were evacuated from the summit shortly before the blast and a webcam showed a grey plume of ash and chunks of magma known as pyroclasts that showered the volcano's slopes.
An aviation red alert was issued due to risks that ash could be carried into aircraft routes and damage jet engines.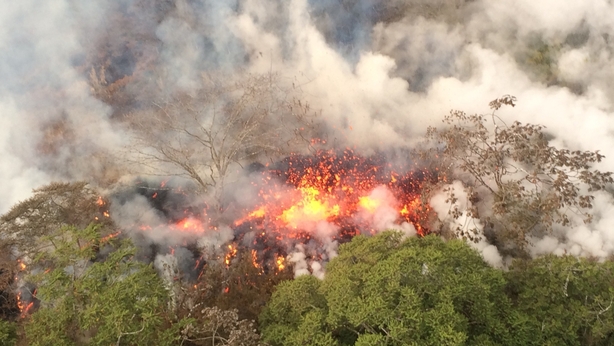 The eruption could not only enshroud large areas of the Big Island in volcanic ash and smog but other Hawaiian Islands and potentially distant areas if the plume reaches up into the stratosphere and ash is carried by winds.
National Guard troops donned gas masks to protect themselves from toxic sulfur dioxide gas at the intersection of highways 130 and 132, the main exit routes from the village of Pahoa, 40km east of the volcano, where many of the ground fissures have erupted.
Schools were closed in the area due to "elevated sulfurdioxide (SO2) levels," according to a phone alert from emergency authorities.
5 AM eye-opener at the the Kīlauea Volcano summit. HVO and Park Staffs previously evacuated. Lone webcam in the HVO Tower shows the plume. https://t.co/GVg72Rc51N pic.twitter.com/RBUbYa39rP

— USGS Volcanoes🌋 (@USGSVolcanoes) May 17, 2018
The volcano has destroyed at least 37 homes and other structures in a small southeast area of the island where lava has oozed from fissures, forcing around 2,000 people to evacuate their homes.
Geologists had warned explosive eruptions could begin once Kilauea's falling lava lake descended below the water table, allowing water to run on to the top of the lava column and create steam-driven blasts.
The powerful explosions could hurl "ballistic blocks" the size of refrigerators across a distance of more than 1km and shoot pebble-sized projectiles and debris up to a dozen miles, the USGS has warned.
Kilauea, one of the most active volcanoes in the world, last experienced explosive eruptions in 1924.