French President Emmanuel Macron has arrived at the White House for the start of his state visit, which is expected to focus on the fate of the Iran nuclear deal and transatlantic trade ties.
US President Donald Trump and his wife Melania greeted Mr Macron and his wife Brigitte on the steps of the White House.
The two couples were scheduled to dine at Mount Vernon, the estate of the first US president George Washington.
The bulk of their meetings are due to take place tomorrow.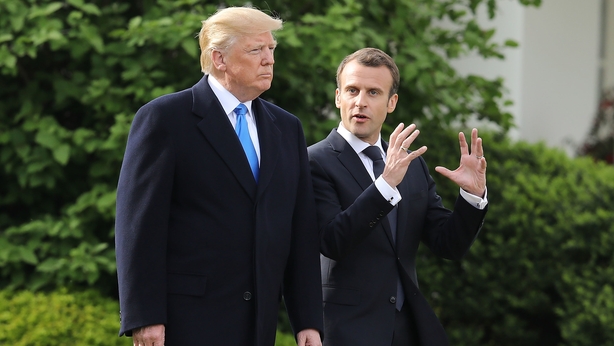 As Macron headed to the United States, the Iranian government urged European leaders to convince Mr Trump not to tear up the 2015 deal between Tehran and six world powers.
The French president said yesterday there was no "Plan B" for keeping a lid on Tehran's nuclear ambitions.
He is on something of a rescue mission for what is formally known as the Joint Comprehensive Plan of Action (JCPOA), which Mr Trump has said he will scrap unless European allies fix by mid-May what he called "terrible flaws."
"This visit is very important in our current context, with so many uncertainties, troubles and at times threats," Mr Macron said as he arrived in Washington.
Iranian Foreign Minister Mohammad Javad Zarif called on European leaders to support the agreement.
"It is either all or nothing. European leaders should encourage Trump not just to stay in the nuclear deal, but more important to begin implementing his part of the bargain in good faith," Mr Zarif wrote on Twitter.
The deal reached between six powers - all of whom but Germany are nuclear-armed - and Tehran put curbs on Iran's nuclear program in exchange for sanctions relief.
Minutes after Mr Macron touched down in the United States, the White House said it had no announcements on the Iran deal.
White House spokeswoman Sarah Sanders added, "The president has been extremely clear that he thinks it's a bad deal. That certainly has not changed."
Mr Macron said on "Fox News Sunday" it would be better to protect the deal instead of getting rid of it.
"Is this agreement perfect and this JCPOA a perfect thing for our relationship with Iran? No. But for nuclear, what do you have as a better option? I don't see it," he said.