Hundreds of thousands of Americans galvanised by last month's Florida school massacre rallied today at nationwide March For Our Lives protests led by students demanding tighter gun laws.
Protesters in Washington jammed Pennsylvania Avenue as students from the high school in Parkland, Florida, where 17 people were killed, called on lawmakers and US President Donald Trump to confront the issue.
The massive rallies aim to break a legislative gridlock that has long stymied efforts to increase restrictions on firearms sales in a nation where mass shootings like the one on 14 February at Marjory Stoneman Douglas High School have become frighteningly common.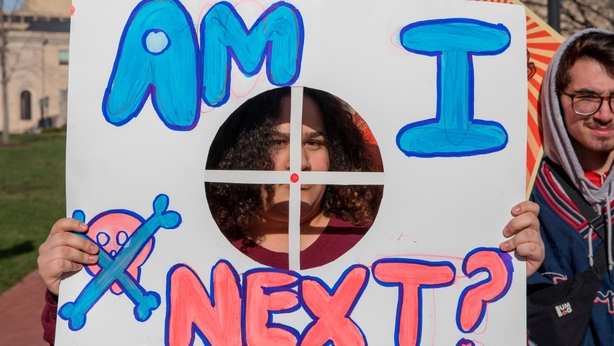 Television images showed youthful marchers filling streets in cities across the United States including Atlanta, Baltimore, Boston, Chicago, Los Angeles, Miami, Minneapolis and New York.
More than 800 demonstrations were set to take place in the United States and around the world, according to coordinators, with sister events taking place as far afield as London, Mauritius and Stockholm.
Organisers want the US Congress, many of whose members are up for re-election in November, to ban the sale of assault weapons like the one used in the Florida rampage and to tighten background checks for gun buyers. On the other side of the debate, gun rights advocates cite constitutional guarantees of the right to bear arms.
Michelle and I are so inspired by all the young people who made today's marches happen. Keep at it. You're leading us forward. Nothing can stand in the way of millions of voices calling for change.

— Barack Obama (@BarackObama) March 24, 2018
At a rally near New York's Central Park, a moment of silence was held for the Parkland victims.
The accused gunman, 19-year-old former Marjory Stoneman student Nikolas Cruz, faces the death penalty if convicted on multiple murder charges.
Beatles star Paul McCartney was among the marchers, telling CNN he had a personal stake in gun control. "One of my best friends was shot not far from here," he said, referring to bandmate John Lennon, who was gunned down near the park in 1980.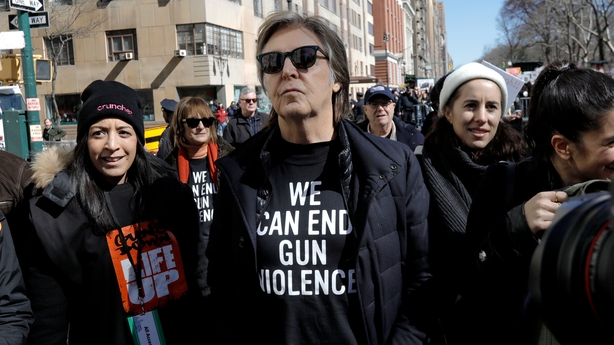 ---
Read More:
US proposes ban on bump stocks
17 people killed in Florida high school shooting
Irish teenager ran for her life as Florida attack unfolded
---
Yesterday, Mr Trump signed a $1.3 trillion spending bill that includes modest improvements to background checks for gun sales and grants to help schools prevent gun violence.
Democrats and nonpartisan groups hope to register at least 25,000 first-time voters at the rallies, potentially a boost for Democrats, who generally favour stricter gun controls.
White House deputy press secretary Lindsay Walters said the administration applauded "the many courageous young Americans" exercising their free-speech rights today.
We need your consent to load this rte-player contentWe use rte-player to manage extra content that can set cookies on your device and collect data about your activity. Please review their details and accept them to load the content.Manage Preferences
"Keeping our children safe is a top priority of the president's," said Ms Walters, noting that yesterday the US Justice Department proposed rule changes that would effectively ban "bump stock" devices that let semi-automatic weapons fire like a machine gun.
Hundreds of protesters gathered outside the US embassy in London to demand an end to mass shootings, pledging to "stay angry" until gun laws are reformed.
Student Courtney Chatterton, 21, spoke about a false alarm at her university near Chicago, Illinois, on 14 March, the day before she flew to visit a friend in the UK.
She said: "We got all these emergency messages saying there was a shooter on campus. It was utterly terrifying, I started shaking immediately.
"People were barricading themselves in classrooms."