Rescue workers are continuing to pick through waist-deep mud, three days after a massive mudslide killed at least 17 people along Southern California's coast.
They said they feared more bodies may be found but still held out hope for "miracle" survivors.
The walls of fast-moving mud and debris that tore through hillside communities before dawn on Tuesday took the lives of three children, at least one married couple and two people in their 80s, officials said in releasing the names of the dead.
Authorities raised the number of those considered missing to 43 at yesterday's press conference, up from eight earlier in the day, saying that some of those people may be out of town or in a hospital but that others may be deceased.
Mudslide sweeps car down Californian road pic.twitter.com/mbxNQlhNXn

— RTÉ News (@rtenews) January 12, 2018
"Realistically we suspect we are going to have the discovery of more people killed in this incident," Santa Barbara County Sheriff Bill Brown said.
Asked by reporters if the operation had shifted from a rescue to a recovery, the sheriff said his crews had not given up hope.
"There have been many miraculous stories of people lasting many days (following similar disasters) and certainly we are searching for a miracle right now," Sheriff Brown said.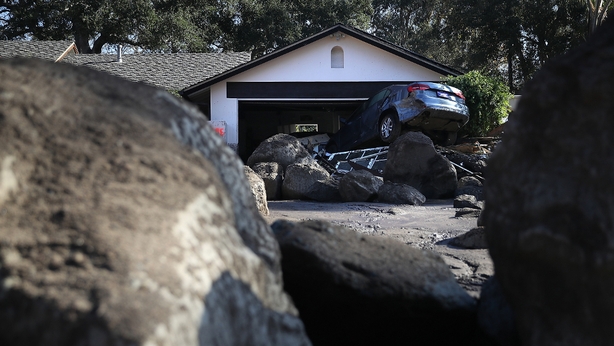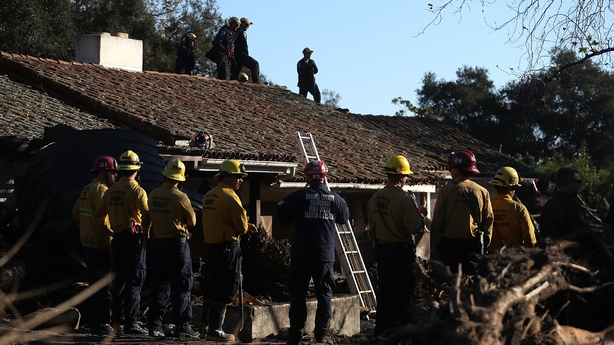 About 700 rescue workers in helicopters and high-wheeled military vehicles, some with search dogs, were deployed in the hunt for the missing in a disaster zone littered with the remnants of hundreds of damaged or destroyed homes.
Among the dead were an elderly woman whose house was washed away by mud, the founder of a Roman Catholic school and a real estate executive, according to friends, family and local news media.
Two of the victims were killed when their houses were swept away in the mudslides.
Josephine Gower, 69, died when she opened the door to her home, her son, Hayden Gower, told NBC station KSBY. Her body was found that night, near a highway hit by the slide.
Roy Rohter, 84-year-old founder of the St Augustine Academy Roman Catholic school in Ventura, died when the slide swept him from his home in Montecito, according to school officials and local news media.
Rebecca Riskin, the 61-year-old founder of a real estate firm, was also killed in Montecito, according to the company and local news media.
"She was in the house and was swept away," said Renee Grub, a friend of Ms Riskin. "I'm told there was about 5 feet (1.5m) of mud. She was a dear friend."
Heavy rains on hillsides denuded by last year's record wildfires triggered the mudslides, which also destroyed about 100 homes and injured at least 28 people, officials said.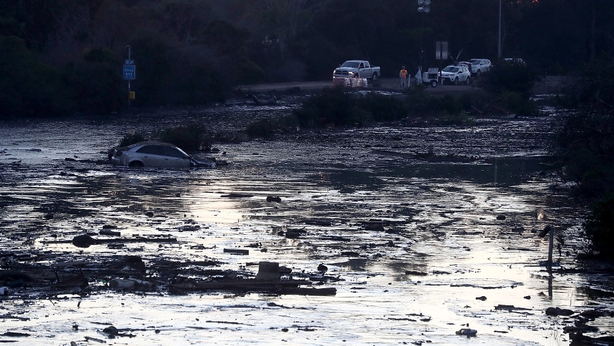 The region's natural beauty and easy access to Los Angeles to the southeast have long attracted the rich and powerful, including television personality Oprah Winfrey, former tennis star Jimmy Connors, talk-show host Ellen DeGeneres and actor Jeff Bridges.
"Our home has been severely damaged, but we are safe, and so thankful for that and for the first responders who are working tirelessly to save people," Bridges wrote on Twitter.
"We are heartbroken over the loss of lives in our community."
Last month's spate of wildfires, including the largest in California history, burned away grass and shrubs that held soil in place, and baked a waxy layer into the earth that prevents water from sinking deeply into the ground.