The US President Donald Trump will not make any announcement today on the possible re-imposition of sanctions on Iran that were eased under the 2015 nuclear deal.

A White House official, who spoke on condition of anonymity, said a decision will likely be announced on Friday.
"The president still strongly believes this is one of the worst deals of all time," White House spokeswoman Sarah Sanders told reporters.
"One of the single greatest flaws is its restrictions leave Iran free ... to openly develop their nuclear program and rapidly achieve a nuclear weapons breakout capability. Obviously, we see a big problem with that," she said.
She added: "The administration is continuing to work with Congress and with our allies to address those flaws."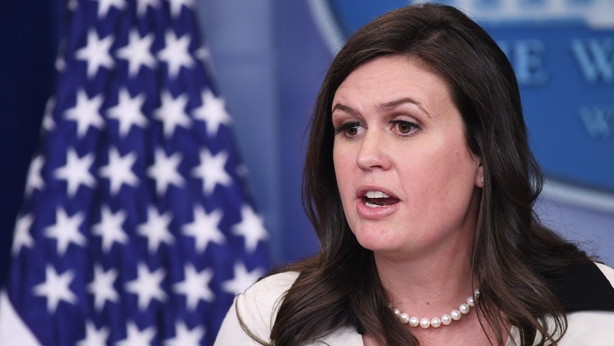 Ms Sanders did not say when an announcement would be made, but Assistant Secretary of State Steve Goldstein said Secretary of State Rex Tillerson was at the White House and that a decision was imminent.
Mr Goldstein told reporters: "The secretary has been at the White House almost every day. He was there yesterday for many, many hours. The decision meeting is this afternoon.
"From that, the decision will be made. I'm not sure when the announcement will be made, whether it will be made tonight or whether it will be tomorrow," he said.
A senior State Department official, speaking anonymously to give more detail, said the meeting was expected to end at 3:45 pm local time and an announcement would follow within a few hours.
"I suppose there's always a possibility that it could go long and the timeframe could be tomorrow, but it is possible that the decision will come out tonight," the senior official said.
President Trump has already declared that he thinks the landmark 2015 nuclear deal between Iran and six world powers in no longer in the United States' national interest.
But he has continued to follow the example of his predecessor Barack Obama in regularly signing sanctions waivers so that US economic measures against Tehran do not "snap back."
The deadlines for a number of these waivers to be renewed will fall over the coming week, and Mr Trump is obliged to decide whether or not to maintain sanctions relief.
If he does allow the sanctions to go back into effect, Iran will accuse the United States of breaking the deal, under which Tehran agreed to various controls on its nuclear program.
European capitals will also be dismayed, having pressed Washington to accept that the deal was an international agreement and that Iran has obeyed its terms.