US President Donald Trump has unleashed a new tirade against his critics, dismissing allegations he is unfit to be president and proclaiming himself to be a "very stable genius".
Mr Trump hit back after an explosive account of life at the White House claimed he never intended to enter the Oval Office and his staff believed he was not fit to hold high office.
The publication of 'Fire and Fury: Inside the Trump White House' by Michael Wolff has already provoked a very public rift with his former strategist, Steve Bannon, who was one of the main sources of the book.
In his latest online onslaught, Mr Trump accused his critics of trying to make an issue of his "mental stability and intelligence".
We need your consent to load this rte-player contentWe use rte-player to manage extra content that can set cookies on your device and collect data about your activity. Please review their details and accept them to load the content.Manage Preferences
"Now that Russian collusion, after one year of intense study, has proven to be a total hoax on the American public, the Democrats and their lapdogs, the Fake News Mainstream Media, are taking out the old Ronald Reagan playbook and screaming mental stability and intelligence," he wrote in a series of tweets.
Mr Reagan, a Republican who was the US president from 1981-1989, was diagnosed with Alzheimer's disease in 1994 and died in 2004.
"Actually, throughout my life, my two greatest assets have been mental stability and being, like, really smart. Crooked Hillary Clinton also played these cards very hard and, as everyone knows, went down in flames.
"I went from VERY successful businessman, to top TV Star to President of the United States (on my first try). I think that would qualify as not smart, but genius....and a very stable genius at that!"
As the book shot to the top of the online bestseller lists in the US, White House spokeswoman Sarah Huckabee Sanders continued to dismiss the claims of a dysfunctional presidency which have gripped the American public.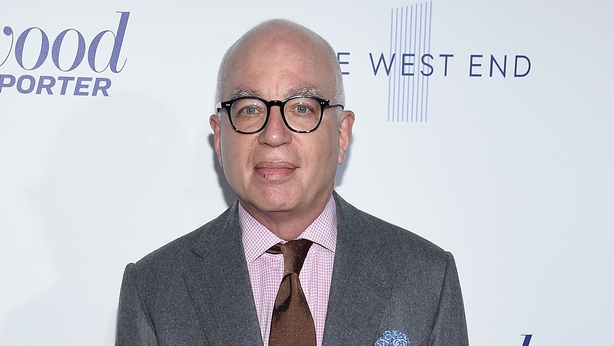 Speaking on US television on Friday, she said that Mr Wolff (above) had never interviewed Mr Trump despite having "repeatedly begged to see the president", describing him as "a guy who made up a lot of stories to try and sell books".
Mr Wolff however insisted that he "absolutely" spoke to the president, adding whether he "realised it was an interview or not, I don't know, but it was certainly not off the record".
This morning Mr Wolff said his revelations were likely to bring an end to Mr Trump's time in the White House.
Mr Wolff told BBC radio that his conclusion in 'Fire and Fury' that Mr Trump is not fit to do the job was becoming a widespread view.
"I think one of the interesting effects of the book so far is a very clear emperor-has-no-clothes effect," Mr Wolff said in the interview.
"The story that I have told seems to present this presidency in such a way that it says he can't do his job," Mr Wolff said.
"Suddenly everywhere people are going 'oh my God, it's true, he has no clothes'. That's the background to the perception and the understanding that will finally end ... this presidency."
Mr Trump has dismissed the book as full of lies.
Michael Wolff is a total loser who made up stories in order to sell this really boring and untruthful book. He used Sloppy Steve Bannon, who cried when he got fired and begged for his job. Now Sloppy Steve has been dumped like a dog by almost everyone. Too bad! https://t.co/mEeUhk5ZV9

— Donald J. Trump (@realDonaldTrump) January 6, 2018
Mr Trump also repeated criticism of Steve Bannon, his former chief strategist.
Mr Bannon is chairman of the so-called alt-right Breitbart News website.
In his interview with the BBC, Mr Wolff was asked if he believed that Mr Bannon felt Mr Trump was unfit to serve as president and would try to bring him down. "Yes," Mr Wolff replied.
He also hit back at claims that the book was untruthful.
"This is what's called reporting. This is how you do it," he said.
"You ask people, you get as close as you can to the event, you interview the people who were privy to the event, you interview other people who were privy to the event, you come to know the circumstance as well as anybody and then you report it."