At least 200,000 people have been forced to evacuate their homes in California as wildfires wreaked havoc across the southern part of the state.
Hundreds of houses have been destroyed in the fires but no civilian casualties or fatalities have been reported.
The Los Angeles Unified School District, the country's second largest with more than 640,000 students, said it closed at least 265 of its nearly 1,100 schools.
Dozens of schools were also closed in neighbouring Ventura County, where the largest of the area blazes, the Thomas Fire, has charred more than 95,000 acres.
The school district, with nearly 17,000 students, said it hoped to reopen on Monday.
"But that will only happen if a number of factors are in place that will guarantee the health and safety of our students and staff," Ventura Unified School District Superintendent Dave Creswell said in a statement.
Dry Santa Ana winds, blowing westward from the California desert, could reach 130kmp/h today.
"Strong winds overnight creating extreme fire danger," said an alert sent by the countrywide emergency system in Los Angeles.
Video and photographs on social media showed flame-covered hillsides along busy roadways yesterday, as commuters slowly made their way to work or home, rows of houses reduced to as hand firefighters spraying water on walls of fire as they tried to save houses.
The Thomas Fire continued its westward push today, forcing a few hundred Santa Barbara County residents to be evacuated and the closing of coastal Highway 101 north of Ventura city.
In the San Fernando Valley north of Los Angeles, the Creek Fire destroyed at least 30 homes, blackened more than 12,000 acres and forced the evacuation of 2,500 homes and a convalescent center.
Another blaze, the Rye Fire, threatened more than 5,000 homes and structures northwest of Los Angeles.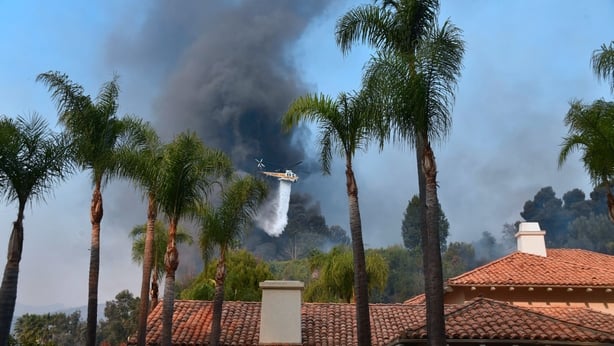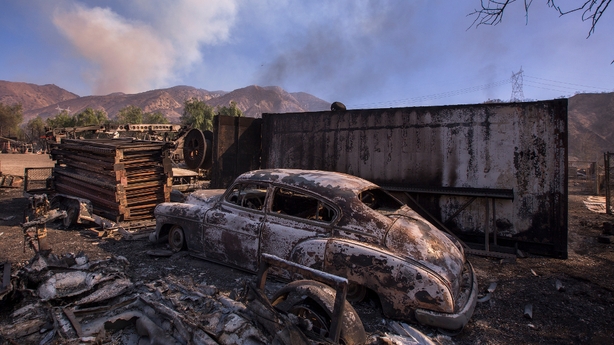 The Skirball Fire in Los Angeles has forced hundreds of residents in the wooded hills near the affluent Bel-Air neighborhood to evacuate and charred more than 150 acres.
Skirball threatened media magnate Rupert Murdochs Moraga Estate winery.
The property was evacuated, with possible damage to some buildings, Mr Murdoch said in a statement.
Three firefighters were injured and hospitalised in stable condition, the Los Angeles Fire Department said.
The Thomas Fire has destroyed more than 150 homes and threatened thousands more in Ventura.
Additional evacuations were called for late yesterday in the Ventura area, where 50,000 people had already fled their homes over the last three days.