Two Republican senators have attacked US President Donald Trump, accusing their fellow Republican of debasing US politics and the country's standing abroad in extraordinary public criticisms of a sitting president.
The comments from Jeff Flake and Bob Corker marked a sharp increase in tensions in what has been a fraught relationship between the president and congressional Republicans as Mr Trump tries to enact his policy agenda.
In a dramatic speech on the Senate floor, Mr Flake repeatedly targeted Mr Trump's style of governing, saying US politics had become inured to "reckless, outrageous and undignified behavior from the White House.
"The instinct to scapegoat and belittle threatens to turn us into a fearful, backward-looking people," said Mr Flake, who announced he would not run for re-election next year.
"I will not be complicit or silent," he added.
By announcing he will be leaving when his term ends in early 2019, Mr Flake has effectively freed himself up to speak his mind, without having one eye on voter reactions.
Republican Senator Jeff Flake hits out at US President Donald Trump and his style of politics - @CaitrionaPerry reports. pic.twitter.com/RINLe971yT

— RTÉ News (@rtenews) October 24, 2017
Earlier, Mr Corker escalated his war of words with Mr Trump, describing him as an "utterly untruthful" leader who "debases" his country.
The senator, who chairs the influential Senate Foreign Relations Committee and has emerged as an outspoken critic of Mr Trump, made the hard-hitting remarks after the President attacked him in a series of tweets.
"I don't know why he lowers himself to such a low, low standard and debases our country in the way that he does, but he does," Mr Corker told CNN, in a remarkable excoriation from within the President's own party.
"It's unfortunate that our nation finds itself in this place," he said, expressing regret for having supported Mr Trump's presidential bid, and saying he would not vote for him again.
"He has proven himself unable to rise to the occasion" as president, Mr Corker said in the interview conducted in a Senate hallway.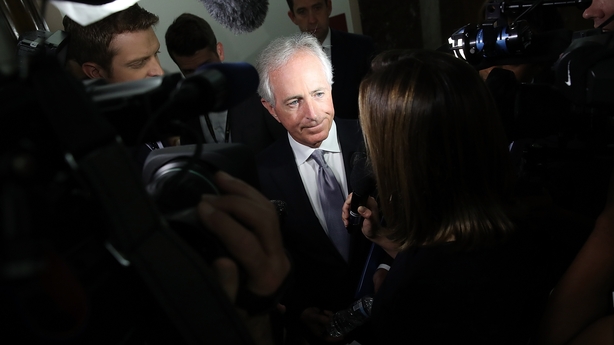 The spat erupted just hours before Mr Trump was due to attend a luncheon with Senate Republicans where he was expected to drum up support for a sweeping tax reform he wants to see adopted by year-end.
"Bob Corker, who helped President O give us the bad Iran Deal & couldn't get elected dog catcher in Tennessee, is now fighting Tax Cuts," Mr Trump tweeted early this morning.
Mr Trump followed this tweet up with a series of comments about Mr Corker.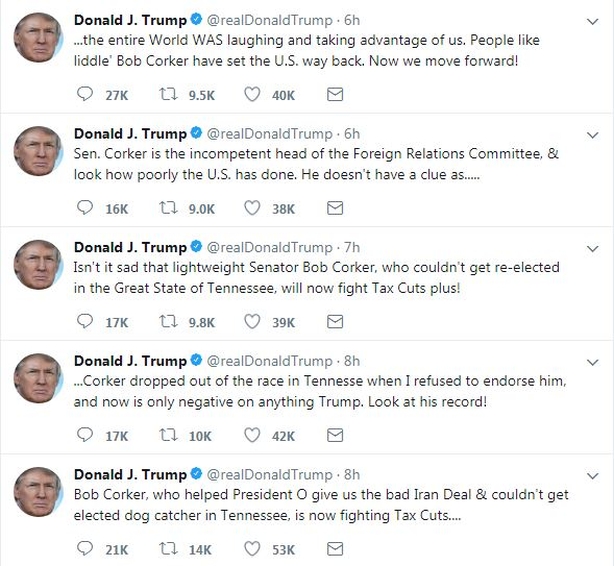 Mr Corker, who has announced he is not seeking re-election in 2018, responded with a tweet of his own: "Same untruths from an utterly untruthful president."
After Mr Corker's retort, Mr Trump went on to brand him a "lightweight" and the "incompetent" foreign relations chairman who "doesn't have a clue."
The stinging verbal blows marked the latest salvo in what is now a full-blown public war of words between the US President and one of his party's most important lieutenants in Congress, a measured Republican who has immense sway over foreign policy issues as well as taxes.
Mr Trump signed off his twitter feed last night with a unsurprising self-congratulating tweet.
So nice being with Republican Senators today. Multiple standing ovations! Most are great people who want big Tax Cuts and success for U.S.

— Donald J. Trump (@realDonaldTrump) October 24, 2017