All five of the US's living former presidents took the stage last night at a benefit concert in Texas to raise money for victims of the hurricane-ravaged southern US and Caribbean.
Barack Obama, George W Bush, Bill Clinton, George HW Bush and Jimmy Carter appeared together onstage for the national anthem, then took their seats in the front row at the concert.
The effort by the three Democrats and two Republicans has raised over $31 million from 80,000 donors for the victims of hurricanes Harvey, Irma and Maria, George HW Bush's office said.
"As former presidents, we wanted to help our fellow Americans begin to recover," Mr Obama said in a video message shown at the beginning of the live streamed concert.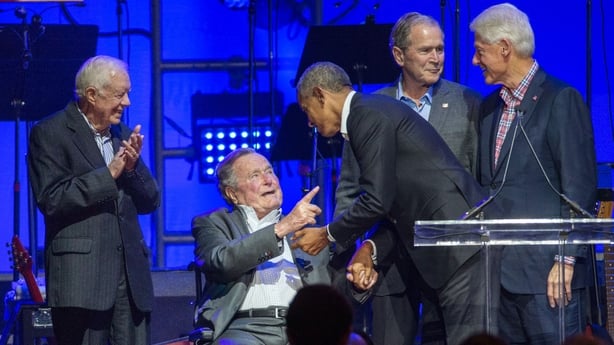 "People are hurtin' down here, but as one Texan put it, we've got more love in Texas than water," the younger Mr Bush said.
Country music star Lee Greenwood opened the concert with "Proud to be an American," setting the tone for the concert.
Greenwood was followed by Robert Earl Keen, The Gatlin Brothers, Stephanie Quayle and Sam Moore.
US President Donald Trump did not attend the concert, but praised the effort in a video message released earlier, terming it a "wonderful" and "vital effort".
"As we begin to rebuild, some of America's finest public servants are spearheading the One America Appeal," said Mr Trump.
"Melania and I want to express our deep gratitude for your tremendous assistance."