US President Donald Trump wanted what amounted to a nearly tenfold increase in the country's nuclear arsenal, he told a meeting of his national security advisers in July, NBC News reported.
The president has denied the report, saying he wanted the repository modernised.
US Defense Secretary Jim Mattis has hit out at what he said were "absolutely false" media reports over the claim.

"This kind of erroneous reporting is irresponsible," Mr Mattis said in a written statement.
Mr Trump's reported comments come as tensions remained high with North Korea and as Mr Trump is expected to make an announcement on whether to decertify the international deal surrounding Iran's nuclear program.
The president spoke on July after he was shown a chart indicating the stockpile of US nuclear weapons had slid from a high of 32,000 in the 1960s.
Mr Trump said he wanted to have that same number now, NBC reported.
The United States currently has about 4,000 nuclear warheads earmarked for use in its military stockpile, according to the Federation of American Scientists.
Mr Trump told journalists today that he had not said he wanted a tenfold increase in nuclear weapons, but instead pushing for modernisation of the stockpile.
"We don't need an increase. But I want modernisation and I want total rehabilitation. It's got to be in tip-top shape," he said.
In a post on Twitter, the president said, "Fake@NBCNews made up a story that I wanted a 'tenfold' increase inour U.S. nuclear arsenal. Pure fiction, made up to demean. NBC =CNN!"
Fake @NBCNews made up a story that I wanted a "tenfold" increase in our U.S. nuclear arsenal. Pure fiction, made up to demean. NBC = CNN!

— Donald J. Trump (@realDonaldTrump) October 11, 2017
With all of the Fake News coming out of NBC and the Networks, at what point is it appropriate to challenge their License? Bad for country!

— Donald J. Trump (@realDonaldTrump) October 11, 2017
Mr Trump said in an interview with Reuters in February that he wanted to ensure that the US nuclear arsenal was at the "top of the pack."
Although US presidents have modernised weapons stockpiles over the years, adding to the nuclear arsenal or building a prohibited type of weapon would be a violation of treaty agreements, according to NBC.
After the meeting, Secretary of State Rex Tillerson referred to Trump as a "moron," according to NBC.
US news reports have painted the relationship between Mr Trump and Mr Tillerson as tense.
MSNBC reported in 2016 that as a candidate, Mr Trump asked a foreign policy adviser three times in a one-hour meeting why the United States could not deploy its nuclear weapons.
Tough negotiations ahead on NAFTA - Trump
US President Donald Trump said tough negotiations were ahead on the North American Free Trade Agreement but a deal was possible and he would consider having a trade pact with Canada but not Mexico.
Mr Trump, asked whether NAFTA was dead during an appearance with Canadian Prime Minister Justin Trudeau at the White House, said, "We'll see what happens."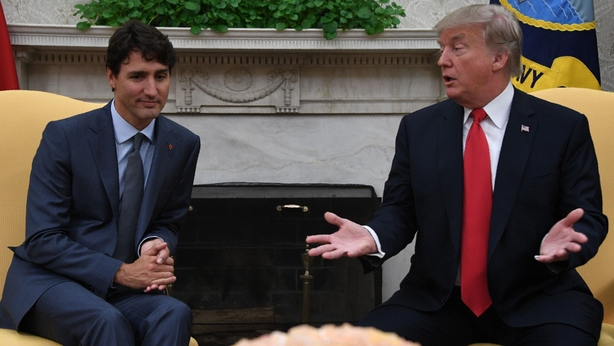 He also said in response to a question that he would consider a pact with Canada minus Mexico.
"We'll see if we can do the kind of changes that we need," Mr Trump said.
"We have to protect our workers, and in all fairness, the prime minister wants to protect Canada and his people also. It has to be fair to both countries."
Nielsen nominated for DHS post
President Trump has nominated Kirstjen Nielsen, who as the top aide to his White House chief of staff has sought to instill order in Mr Trump's team, to lead the US Department of Homeland Security, the White House said.
If confirmed by the Senate, Ms Nielsen would take the reins at a sprawling department with more than 240,000 employees that is responsible for US border and airport security, immigration policy, disaster response, refugee admissions and other matters.
Ms Nielsen, 45, is a cyber security expert who was John Kelly's chief of staff when he was secretary of Homeland Security during the opening months of Mr Trump's presidency.
Mr Kelly brought her to the White House as his deputy when Mr Trump named him chief of staff in July to replace Reince Priebus after only six months on the job.
Ms Nielsen's departure from the White House would mark the latest upheaval in Mr Trump's White House team.
She was responsible for carrying out some of Kelly's orders on who gets access to the president. As a result, she has irritated some White House officials who now have limited contact with Mr Trump.
Kelly has sought to bring more order to the chaotic West Wing since replacing Mr Priebus.
Mr Trump has welcomed the changes to some extent, although he has privately confided to friends that the limitations on access to the Oval Office sometimes go too far.