US President Donald Trump ordered tighter restrictions on Americans traveling to Cuba and a clampdown on US business dealings with the Caribbean island's military, saying he was canceling former President Barack Obama's "terrible and misguided deal" with Havana.
Laying out his new Cuba policy in a speech in Miami, Mr Trump signed a presidential directive to roll back parts of Obama's historic opening to the Communist-ruled country after a 2014 diplomatic breakthrough between the two former Cold War foes.
But Mr Trump left in place many of Mr Obama's changes, including the reopened US embassy in Havana, even as he sought to show he was making good on a campaign promise to take a tougher line against Cuba, especially over its human rights record.
"We will not be silent in the face of communist oppression any longer," Mr Trump told a cheering crowd in Miami's Cuban-American enclave of Little Havana, including Republican Senator Marco Rubio of Florida, who helped forge the new restrictions on Cuba.
"Effective immediately, I am cancelling the last administration's completely one-sided deal with Cuba," Mr Trump declared as he made a verbal assault on the government of Cuban President Raul Castro.
Mr Trump's revised approach calls for stricter enforcement of a long-time ban on Americans going to Cuba as tourists, and seeks to prevent US dollars from being used to fund what the Trump administration sees as a repressive military-dominated government.
But facing pressure from US businesses and even some fellow Republicans to avoid turning back the clock completely in relations with Cuba, the president chose to leave intact some of his Democratic predecessor's steps toward normalisation.
The new policy bans most US business transactions with the Armed Forces Business Enterprises Group, a Cuban conglomerate involved in all sectors of the economy. But it makes some exceptions, including for air and sea travel, according to US officials. This will essentially shield American airlines and cruise lines serving the island.
"We do not want US dollars to prop up a military monopoly that exploits and abuses the citizens of Cuba," Mr Trump said, pledging that US sanctions would not be lifted until Cuba frees political prisoners and holds free elections.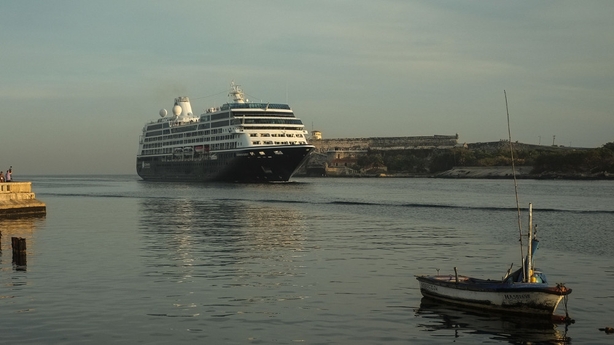 However, Mr Trump stopped short of breaking diplomatic relations restored in 2015 after more than five decades of hostilities. He will not cut off recently resumed direct US-Cuba commercial flights or cruise-ship travel, though his more restrictive policy seems certain to dampen new economic ties overall.
The administration, according to one White House official, has no intention of disrupting existing business ventures such as one struck under Mr Obama by Starwood Hotels Inc, which is owned by Marriott International Inc, to manage a historic Havana hotel.
Nor does Mr Trump plan to reinstate limits that Mr Obama lifted on the amount of the island's coveted rum and cigars that Americans can bring home for personal use.
While the changes are far-reaching, they appear to be less sweeping than many US pro-engagement advocates had feared.
Still, it will be the latest attempt by Mr Trump to overturn parts of Mr Obama's presidential legacy. He has already pulled the United States out of a major international climate treaty and is trying to scrap his predecessor's landmark healthcare programme.
Trump acknowledges he is under investigation in Russia probe
Meanwhile, Mr Trump acknowledged he is under investigation in a probe of alleged Russian meddling in the 2016 US presidential race and possible collusion by his campaign - and appeared to assail a key figure in the inquiry.
Robert Mueller, the special counsel named by the Justice Department to investigate the Russia matter, is now examining whether Mr Trump or others sought to obstruct the probe, a person familiar with Mr Mueller's inquiry said yesterday.
"I am being investigated for firing the FBI Director by the man who told me to fire the FBI Director! Witch Hunt," Mr Trump wrote on Twitter, referring to his 9 May dismissal of James Comey.
Mr Trump did not identify "the man" but appeared to be questioning the integrity of Deputy Attorney General Rod Rosenstein, the Justice Department's No. 2 official who appointed Mr Mueller on 17 May, oversees the probe and wrote a memo to Mr Trump critical of Mr Comey that preceded Mr Comey's firing.
Hours later, a source close to Mr Trump's outside legal team said Mr Trump did not intend his tweet to be confirmation of the investigation but rather was reacting to a Wednesday Washington Post story about the probe. The source spoke on condition of anonymity.
Mr Rosenstein has said privately he may need to recuse himself from matters relating to the Russia probe because he could become a witness in the investigation, ABC News reported today.