The US federal judge who halted President Donald Trump's revised ban on refugee resettlement and arrivals of people from six mainly Muslim countries has extended his order blocking its implementation.
US District Judge Derrick Watson in Hawaii said he had turned his original temporary restraining order into a preliminary injunction.
Such an injunction generally has no set expiration date, said Hawaii state Attorney General Doug Chin.
This means Mr Trump will be barred from enforcing the ban while it is contested in court.
The US Justice Department is expected to appeal to the US 9th Circuit Court of Appeals to reverse the ruling.
Judge Watson's first order suspending enforcement of Mr Trump's amended ban was issued 15 March - a day before the measure was to go into effect.
Mr Trump's first ban and the revised one have both been criticised as amounting to a ban on entry of Muslims into the US.
Hawaii's Attorney General Chin praised the court ruling.
"With a preliminary injunction in place, people in Hawaii with family in the six affected Muslim-majority countries - as well as Hawaii students, travellers, and refugees across the world - face less uncertainty," he said.
"While we understand that the President may appeal, we believe the court's well reasoned decision will be affirmed," he added in a statement.
In his first order, Judge Watson ruled it was plausible "to conclude that targeting these countries likewise targets Islam" given their Muslim populations ranging from 90.7% to 99.8%.
Mr Trump has said a travel ban is needed to preserve US national security and keep out extremists.
If the Justice Department appeals the latest ruling it will be heard in the same San Francisco-based court that upheld a halt to Mr Trump's first travel ban in February after a judge in Seattle ruled against it.
The ban aims to close US borders to nationals of Iran, Libya, Somalia, Sudan, Syria and Yemen for 90 days, and all refugees for at least 120 days. Iraq was on the original ban but removed in the revision.
The White House said the six countries were targeted because their screening and information capabilities could not meet US security requirements.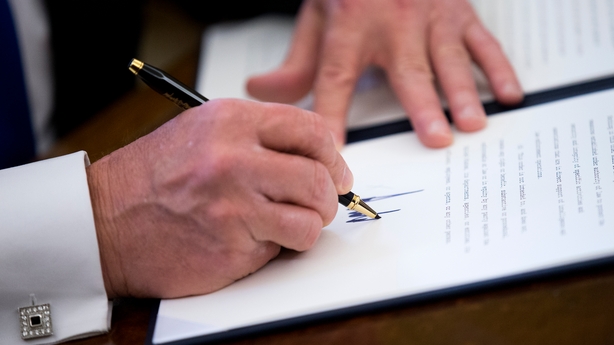 Mr Trump has said the travel ban is needed for national security.
Hawaii and other opponents of the ban claim that the motivation behind it is based on religion and Mr Trump's election campaign promise of "a total and complete shutdown of Muslims entering the United States."