Since becoming the projected winner of the US presidential election more than two weeks ago, Joe Biden has been preparing for his transition to the White House from his home city of Wilmington, Delaware.
Every day his motorcade leaves his home in a leafy, upmarket suburb on the outskirts of the city, and travels the short, 8 kilometre journey to 'The Queen Theatre' in downtown Wilmington.
It is from here that Mr Biden speaks with world leaders, holds Zoom conference calls with advisors and takes questions from reporters.
Yesterday, he took to the stage at 'The Queen' to unveil key members of his foreign policy and national security teams.
"America is back and ready to lead the world, not retreat from it," he said as he introduced nominees who will be tasked with reversing four years of Donald Trump's 'America first', go-it-alone policies.
They will once again embrace multilateralism and strive to repair divisions with international allies.
The media were kept at a distance as Joe Biden left the theatre last night.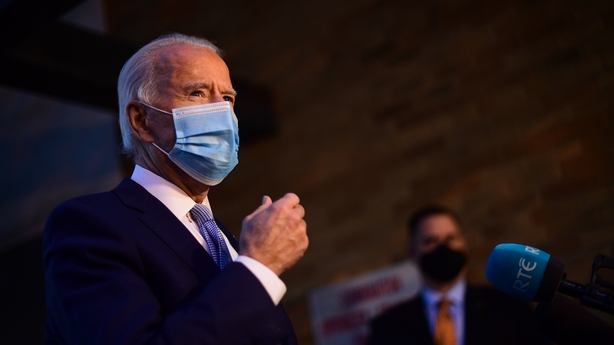 He was about to enter his car to make the short journey back home when a shouted question about Ireland caught his attention and he approached the group of journalists nearby.
"Can I ask you a question about Ireland?" I repeated.
"You can ask about Ireland anytime you want," the president-elect replied.
I asked him what message he had for the Brexit negotiators when it comes to Northern Ireland.
"We do not want a guarded border. We worked too hard to get Ireland worked out," he said.
"The idea of having the border north and south once again being closed... it's just not right. We gotta keep the border open."
It was the first time that Joe Biden had spoken about Brexit since becoming president-elect but he did express similar sentiments during the election campaign.
In September, amid concerns over the Internal Market Bill, he tweeted: "We can't allow the Good Friday Agreement that brought peace to Northern Ireland to become a casualty of Brexit.
"Any trade deal between the US and UK must be contingent upon respect for the Agreement and preventing the return of a hard border. Period," he wrote.
Joe Biden is a staunch defender of the Northern Ireland peace process. He is proud of his Irish roots and a big fan of Irish poetry.
The Irish Government is no doubt hopeful that those connections will remain strong as Mr Biden prepares to move from a theatre in downtown Wilmington to the biggest stage in the world in downtown Washington.
We need your consent to load this rte-player contentWe use rte-player to manage extra content that can set cookies on your device and collect data about your activity. Please review their details and accept them to load the content.Manage Preferences
---
We have got to keep the Irish border open, says Biden
More US Election 2020 stories
---