A third of US voters listed the economy as the issue that mattered the most to them when deciding their choice for president between Republican incumbent Donald Trump and Democratic challenger Joe Biden, according to an early exit poll.
Two out of 10 voters said Covid-19, which has infected more than 9.4 million people in the United States this year and killed more than 230,000, was the most important issue to them.
Racial inequality was also cited by two out of 10 voters, while other respondents cited crime and safety and healthcare policy.
Half the voters said it was more important to contain coronavirus even if it hurts the economy, according to the exit poll by Edison.
Four in 10 respondents thought the country's efforts to contain Covid-19 were going "very badly.
Over two thirds - 70% - of those polled said they had decided who to choose for president before September, while nine out of ten had decided by October.
Donald Trump appears to have lost some support among white men and older people in Georgia and Virginia – key parts of his voter base – according to Edison Research polls.
While Mr Trump is still winning the majority of those voters, some have switched to supporting his Democratic opponent, former Vice President Joe Biden.
Edison's polls showed President Trump winning seven in 10 white men in Georgia, which is down from an eight in 10 advantage over Democratic nominee Hillary Clinton in 2016.
Mr Trump is winning six in 10 voters who are at least 65 years old in Georgia, but that is down from a seven in 10 four years ago.
In Virginia, he was winning six in 10 whites without college degrees, down from seven in 10 in 2016. Mr Trump was also winning six in 10 white men in Virginia, down from seven in 10 in 2016.
He was also winning six in 10 voters in Virginia who have an income of $100,000 or more.
The poll is based on in-person interviews with voters on Tuesday, in-person interviews at early voting centers before election day, and telephone interviews with people who voted by mail.
---
Latest US Election 2020 stories
---
Millions of Americans waited patiently to cast ballots across the country in an orderly show of civic duty that belied the deep tensions of one of the most polarising presidential campaigns in US history.
The face masks worn by many voters and the sight of boarded-up stores in some city centres were reminders of two big issues shaping the 2020 election, with Covid-19 still ravaging parts of the country after a summer of sometimes violence-marred protests against police brutality and racism.
While civic rights groups said they were monitoring for any signs of voter interference and law enforcement agencies were on high alert for disruption at the polls, their worst fears had not materialised by early afternoon.
In New York City, some voting lines snaked around blocks, but in many places, from Los Angeles to Detroit and Atlanta, lines were short or non-existent.
Poll workers guessed this was due to an unprecedented wave of early voting. More than 100 million ballots were cast before Election Day, a new record.
The American Civil Liberties Union and other civil rights groups said they were watching closely for signs of voter intimidation, and the US Justice Department's Civil Right sDivision said it would deploy staff to 18 states.
Election officials and political party representatives raised worries about a spate of automated phone calls and text messages warning voters away from the polls for bogus reasons in Iowa, Pennsylvania, Michigan, Nebraska and Florida.
The Federal Bureau of Investigation was looking into the messages.
In some big cities, buildings were boarded up over fears that violent protests could break out later, especially if there were delays before a winner is known.
Demonstrators gathered at Black Lives Matter plaza across from the White House, Washington DC.
Democratic presidential nominee Joe Biden returned to his childhood home in Scranton, Pennsylvania, today signing his name on the wall for good luck.
"From this House to the White House with the Grace of God," he wrote in black pen on a wall of the living room behind a picture, signing his name and adding the date, "11-3-2020."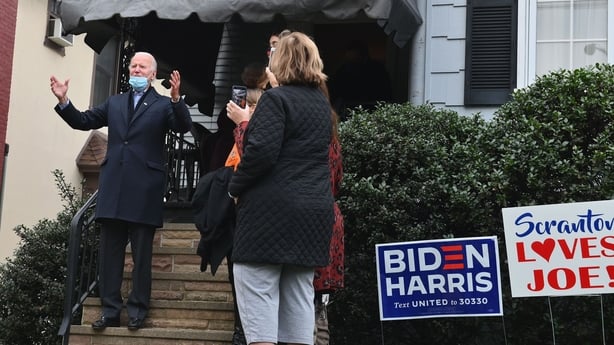 The intimate moment in the house was actually a repeat of a time on the campaign trail in 2008 when he signed a bedroom wall here during his second presidential bid, one that ended early but led to Barack Obama choosing him as a vice presidential running mate.
Earlier, US President Donald Trump again sought to sow doubt over the counting of ballots beyond election day, saying the country was "entitled" to know who won on the day of the vote.
"You have to have a date, and the date happens to be November 3," he said during a visit to Republican National Committee offices in Arlington, Virginia.
"And we should be entitled to know who won on November 3."
We need your consent to load this rte-player contentWe use rte-player to manage extra content that can set cookies on your device and collect data about your activity. Please review their details and accept them to load the content.Manage Preferences
Mr Trump was referring mainly to his disagreement with a US Supreme Court refusal to intervene in a decision allowing Pennsylvania to continue to count mailed ballots received up to three days after the election.
The move was made due to logistic complications as the country copes with the coronavirus pandemic, which has led to a flood of mailed ballots.
Pennsylvania is seen as an important swing state in the election, and both Donald Trump and Joe Biden have repeatedly campaigned there in recent days.
"You can't have these things delayed for many days and maybe weeks," Mr Trump said as Americans voted nationwide and with more than 100 million people having cast early ballots.
"You can't do that. The whole world is waiting. This country is waiting. But the whole world is waiting."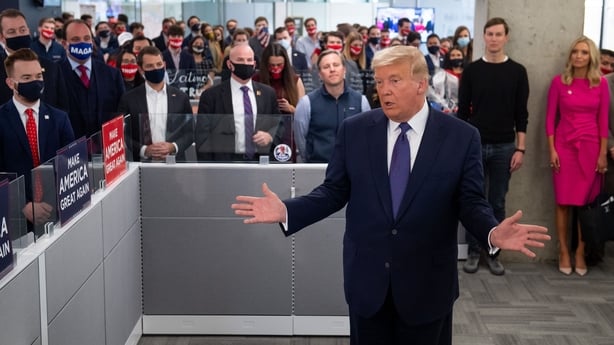 Asked whether he had written an acceptance or concession speech, President Trump said he had not.
"You know, winning is easy," he said.
"Losing is never easy - not for me it's not." 
The election is seen as almost a referendum on Mr Trump and his presidency that Joe Biden urged supporters to end, restoring "our democracy".
But Mr Trump was characteristically defiant, campaigning at a frenetic pace with crowded rallies in four states, and repeating his claims without evidence that the polls risk being rigged against him.
After almost non-stop speeches in a final three-day sprint, he ended up in the early hours of this morning in Grand Rapids, Michigan - the same place where he concluded his campaign in 2016 where he defeated apparent frontrunner Hillary Clinton.
Despite the bad poll numbers, the Republican real estate tycoon counted on pulling off another upset.
"We're going to have another beautiful victory," he told the Michigan crowd, which chanted back: "We love you, we love you!"
"We're going to make history once again," he said.
While today is formally Election Day, in reality Americans have been voting for weeks.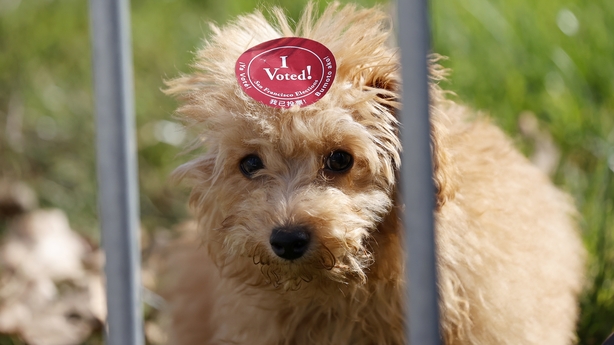 With a huge expansion in mail-in voting to safeguard against the Covid-19 pandemic, nearly 100 million people have already made their choice.
In a major political gamble, Mr Biden stuck to socially distanced gatherings with small crowds right up to the last moment, in contrast to Mr Trump's constant, large rallies where few supporters bothered with masks.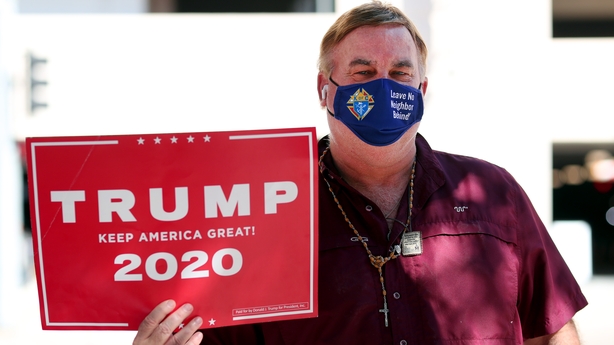 But the Democrat, making his third attempt at the presidency, clearly senses that his calmer approach and strict attention to pandemic protocols is what Americans want after four tempestuous years.
"It's time for Donald Trump to pack his bags and go home," Mr Biden told supporters in Cleveland.
"We're done with the chaos! We're done with the tweets, the anger, the hate, the failure, the irresponsibility."
Several cities are boarding up buildings in anticipation of possible protests, including around the White House and in New York City.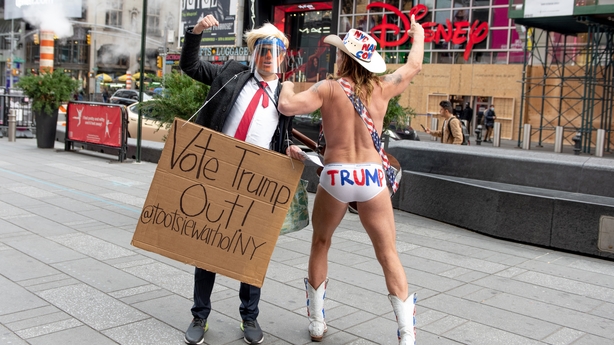 Texas drive-through voting upheld as judge blocks Republican bid to reject ballots
 A federal judge in Texas denied a bid by Republicans to throw out about 127,000 votes already cast in the election at drive-through voting sites in Houston.
The plaintiffs had accused Harris County Clerk Chris Hollins, a Democrat, of acting illegally when he allowed drive-through voting as an alternative during the coronavirus pandemic.
In a written order, US District Judge Andrew Hanen said the plaintiffs lacked standing to bring the case and waited too long to sue.
"To disenfranchise over 120,000 voters who voted as instructed the day before the scheduled election does not serve the public interest," the judge wrote, adding that drive-through early voting was permissible under Texas law.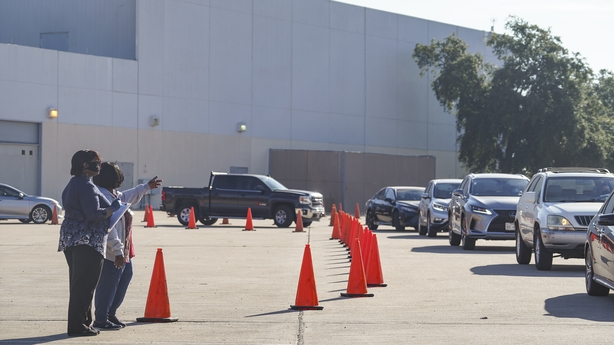 In a narrow setback for Harris County officials, Judge Hanen said drive-through voting today likely violated Texas law. But he did not halt it because of the plaintiffs' lack of standing.
Based on that part of the ruling, Mr Hollins said on Twitter that nine out of ten of the drive-through polling sites would be closed on Election Day to ensure that votes are counted.
He said the decision was made because Judge Hanen said the tents used for most of the sites would not qualify as "buildings," which are required for Election Day polling places.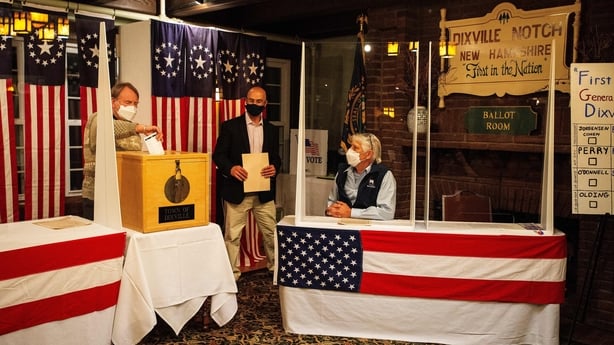 Dixville Notch first to vote 
Voters in Dixville Notch, a village of 12 residents in the US state of New Hampshire, kicked off Election Day at the stroke of midnight by voting unanimously for Democratic nominee Joe Biden.
The vote and count only took a few minutes, with five votes for Mr Biden and none for President Donald Trump, who is seeking a second term.
The tiny northeastern town in the middle of the forest, near the Canadian border, has traditionally voted "first in the nation" since 1960.