With wins in a number of key battleground states for Donald Trump, the Washington outsider is to become the 45th President of the United States, a outcome predicted by few at the outset of his campaign.
When the real estate mogul and reality TV star launched his presidential bid in June 2015, his chances were written off as slim by most analysts and media outlets.
Now 16 months later, a bitter and divisive campaign came down to the final results from a handful of states, such as Pennsylvania, Michigan and Wisconsin.
Wins in the key battleground states of Ohio, North Carolina and Florida earlier shifted the momentum in his favour.
A senior aide at his New York "victory party" said: "The voice of the people has risen up."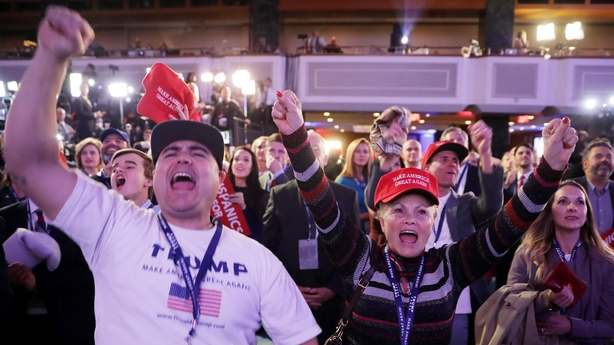 Chants of "build this wall" and "lock her up" were heard throughout the event - references to Mr Trump's plan to build a wall on the US-Mexico border and Democratic rival Hillary Clinton's use of a private email server while secretary of state.
As supporters waited for the final results, shouts of "call it, call it" broke out.
Just before 2.30am Irish time, with the end of polling approaching in many states and counting under way elsewhere, the likelihood of a Trump victory surpassed that of Mrs Clinton for the first time on The New York Times predictor.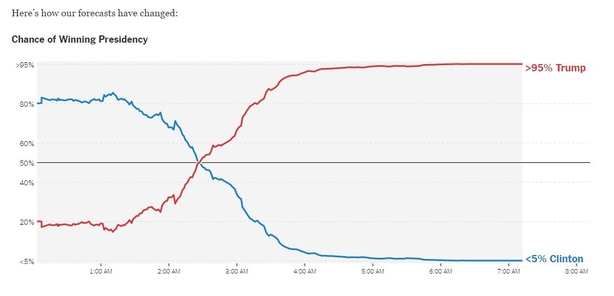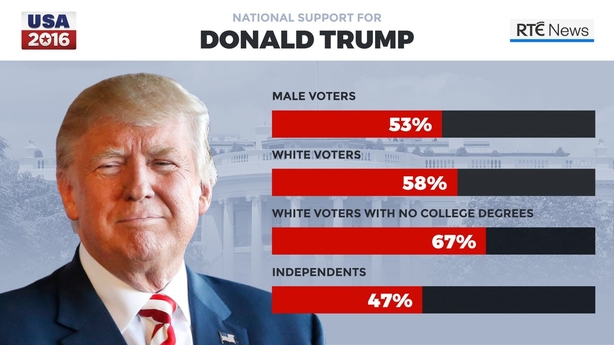 According to another exit poll carried out by ABC News, 51% of voters said Mr Trump's treatment of women bothered them a lot.
However, Mr Trump was out-polling Mrs Clinton among suburban white women in many key states, according to CBS.
88% of black voters opted for Mrs Clinton with 8% for Mr Trump, according to CNN.
Live updates | Full coverage | TV coverage | Follow the states
Donald Trump: From real estate mogul to would-be president
Of the first states to finish polling, traditional Republican states such as Indiana, Kentucky, West Virginia, Mississippi, Oklahoma and Indiana were called as expected for Mr Trump.
Watching the returns at 9:45pm. #ElectionNight #MAGA🇺🇸 pic.twitter.com/HfuJeRZbod

— Donald J. Trump (@realDonaldTrump) November 9, 2016
US stock markets sank in after-hours trading as early election results pointed to a possible shock win for Mr Trump.
Futures markers for the S&P 500, the Nasdaq and the Dow Jones Industrial Average sank around 3% as returns showed a solid showing for Mr Trump in battleground states.
A Reuters/Ipsos poll of more than 10,000 people who had already cast their ballots showed that 75% agreed that "America needs a strong leader to take the country back from the rich and powerful."
68% agreed that "traditional parties and politicians don't care about people like me."
As the night progressed, it was clear some of these sentiments had translated into votes for Mr Trump.
"It's looking very good. Right now it's looking very good. It will be an interesting day. Thank you."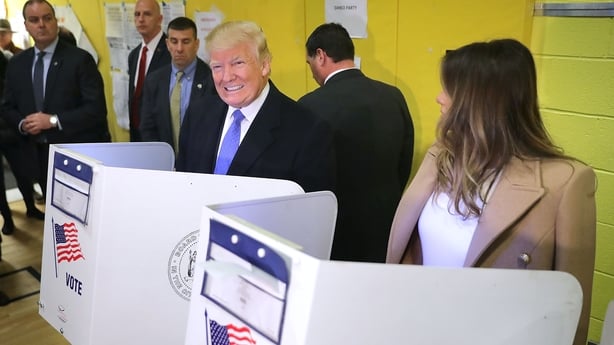 Where do the US presidential candidates stand on key issues?
It's been a bitter and nasty campaign between Mr Trump and Mrs Clinton, that focused on the character of the candidates.
They often accused each other of being fundamentally unfit to lead the US as it faces challenges such as an arduous economic recovery, Islamist militants and the rise of China.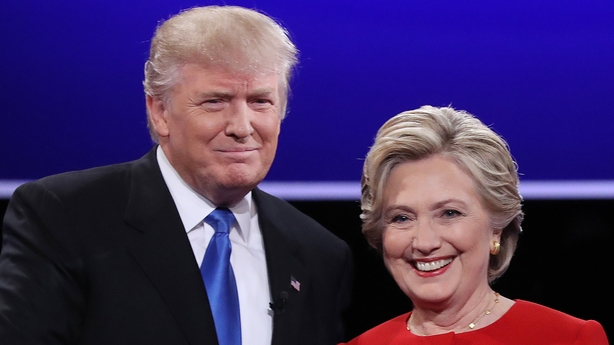 Mr Trump, who has never previously held political office, pledged to shake up the Washington establishment but also alienated many people, including in his own party, with a campaign heavy on personal insults and unorthodox positions such as a proposal to build a wall along the Mexican border to keep out illegal immigrants.
Last night a Nevada judge rejected Mr Trump's request for records from a Las Vegas polling place that the campaign said had allowed people to vote after a deadline last week.
TODAY WE MAKE AMERICA GREAT AGAIN!

— Donald J. Trump (@realDonaldTrump) November 8, 2016