More than 2,000 delegates from 190 countries are in Belfast to take part in a four-day forum for young leaders.
The One Young World Summit is being held in Northern Ireland to commemorate the 25th anniversary of the Good Friday Agreement.
An opening ceremony was held in the SSE Arena in the Titanic Quarter in Belfast this evening to welcome those taking part.
Speakers included Queen Rania of Jordan.
The not-for-profit organisation aims to connect, guide and promote young leaders from around the world and to give them a global platform.
Over the course of the four days, delegates will deliver speeches and take part in workshops and networking while being counselled by influential political, business and humanitarian leaders.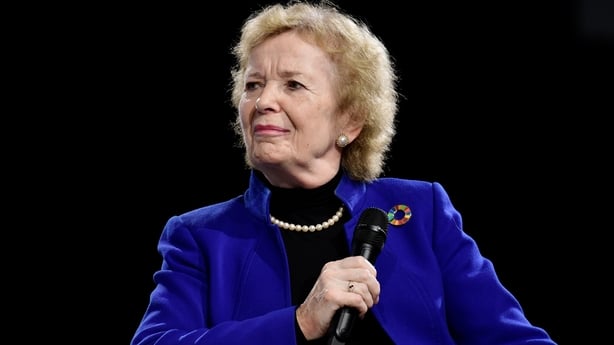 Counsellors taking part include former President of Ireland Mary Robinson, former taoiseach Bertie Ahern, ex-football stars Rio Ferdinand and Didier Drogba and singer Bob Geldof.
Oscar and Bafta award winner James Martin, star of the short film An Irish Goodbye, will also be sharing his expertise.
Themes on the agenda for discussion include education, climate change, food shortages, mental health, and peace and reconciliation.
As part of the summit, One Young World will present an inaugural journalism prize, the Lyra McKee Award for Bravery, in honour of the journalist who was shot dead by the dissident republican group the New IRA while observing rioting in Derry in April 2019.
Belfast Lord Mayor Ryan Murphy said the city is looking forward to "bringing exceptional young leaders, activists and business leaders from every corner of the world together to find solutions to the important issues facing our world today."