An environmental scientist who once headed a team monitoring water quality in Lough Neagh has warned that it could take 20 years to stop outbreaks of toxic blue-green algae.
The lough, which produces more than 40% of Northern Ireland's drinking water, has been heavily polluted with cyanobacteria, which is poisonous for humans and animals, since May.
It is thriving due to an overload of nutrients, with agriculture responsible for most of them.
The latest in a series of public meetings to discuss the issue was held in Craigavon, Co Armagh last night.
Dr Les Gornall, an environmental scientist, painted a gloomy picture of the future of the largest freshwater lake in Ireland or the UK.
Once the head of a lab at Ulster University that monitored water quality in the lough, he warned that action must be taken urgently.
Even if that happens, he said the build-up of nitrates and phosphorous in the water over a period of 20 to 30 years meant a long-term strategy to reverse the damage.
"Phosphorous has been flowing into the lough from a number of sources including rivers for many years now," he said.
"Even if you take the phosphorous out of the sources, you're going to have to wash out, flush out, that organic layer at the bottom of the bed which is full of phosphorous," he explained.
"It's been like that for 20 years, so it will take about ten or 20 years to recover."
Dr Gornall said he was concerned that a tipping point had now been reached and that the time for action was running out.
"We are in a real difficulty with this lough right now," he said.
"And if we do nothing it's irrecoverable, it becomes a 400km septic tank, (400) square kilometres septic tank with no lid on it.
"I don't know how we're going to be able to live with that."
Dozens of people who live near the lough shore joined campaigners and some who depend on it for their livelihoods to hear a range of experts set out the extent of the problem.
Gareth Greer from the Northern Ireland Environmental Agency said that as of last week there had been 185 confirmed reports of the algae at 68 different locations across Northern Ireland.
"The vast majority of these are around Lough Neagh and then also it has occurred right the way down the River Bann through the outflow and onto the north coast where it has been observed having an impact on the beaches, Castlerock and Portstewart, as well.
"Other areas across the country, down in Fermanagh, Lower Lough Erne, Lough Melvin, and a few other lakes."
During questioning afterwards, the agency rejected claims that it was guilty of "sleepwalking" into the problem by repeatedly ignoring warns from those who live near and work on the lough.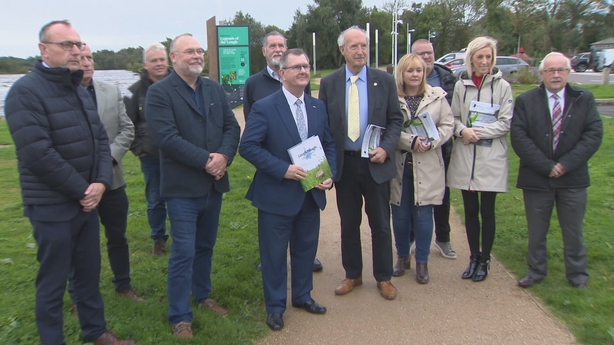 Mary O'Hagan, a co-founder of Save Our Shores, a campaign group set up to lobby for action to protect Lough Neagh, outlined some of the impacts of exposure to blue-green algae.
"From minor to major illnesses, skin rashes, irritations, nausea and vomiting, fevers, headaches, more long-term exposures or repeated exposures can result in kidney, liver and neurological damage, with children, the elderly and immunosuppressed people being more susceptible," she explained.
Many of those attending accused politicians and statutory agencies of failing to protect the lough.
One of them was Liz Connor, who is originally from the US but has lived near the lough with her family for the past 17 years.
"We don't live too far away from it and the smell is just awful," she told RTÉ News afterwards.
"We have all enjoyed the lough, we're obviously concerned about the health and wellbeing of ourselves and nature and as a citizen I'd like to see how I can help because it seems to be the only way is if it's people power rather than government at this point."
DUP leader Jeffrey Donaldson brought a party delegation to the shores of Lough Neagh this morning to meet members of an organisation set up 20 years ago to help manage and protect it.
The Lough Neagh Partnership is meeting the leaders of all the main political parties, and stressing the need for action, not more words.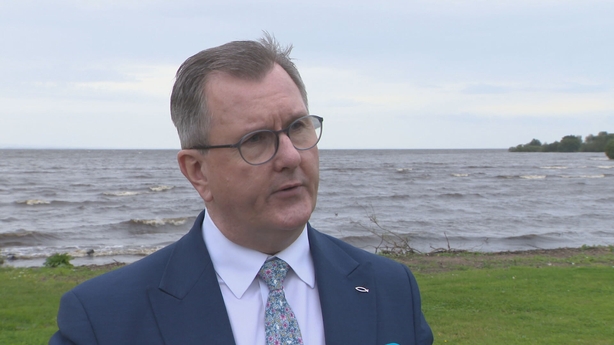 DUP councillors in Craigavon, Co Armagh were criticised this week for failing to support a Sinn Féin motion calling for the establishment of a special working group to examine the issue.
Mr Donaldson insisted his party broadly backed the motion and said it had supported similar moves in a number of other councils in Northern Ireland.
Speaking after the meeting, he said it may need new legislation to create a new agency or body tasked with protecting the lough.
"There are a number of models we can look at, but what we do need is a more joined-up approach, that is absolutely clear, with a government department taking the lead on this," he said.
"Inter-agency, cross-departmental working to ensure that we avoid this kind of situation in the future.
"As political parties we're engaged on this, we will work with the other parties to find those solutions."
All of the political parties in Northern Ireland, civil servants, environmentalists and those who live on the lough or depend on it for their livelihoods all agree this is a crisis that requires urgent action.
But the politicians cannot yet agree on a plan of action and, even if they do so, the absence of a devolved power-sharing administration at Stormont means they are not in a position to enact new policies to tackle the problem.