Feeling it "was time to go directly to our TDs", a delegation from Letterkenny Chamber travelled to Dáil Eireann in Dublin, to meet with Donegal's five TDs to advocate for a region they say is "lagging behind the rest of the country."
President of Letterkenny Chamber Fionnuala Rabbitt said they wanted to brief the TDs on key issues - transport, infrastructure, housing, skills and talent.
Ms Rabbitt said: "The North & Western Region has been designated as a transition region by the EU. This means the region is lagging behind others in the country. This is caused by lack of investment in infrastructure which has contributed to reducing competitiveness and productivity and attractiveness as a place to invest."
The delegation, which met Minister for Agriculture Charlie McConalogue as well as Independent TD Thomas Pringle, Sinn Féin TDs Pearse Doherty and Padraig MacLochlainn and Minister of State Joe McHugh yesterday, made the case for specific infrastructure projects including the Ten-T Network and the Western Transport Route (A5/N2).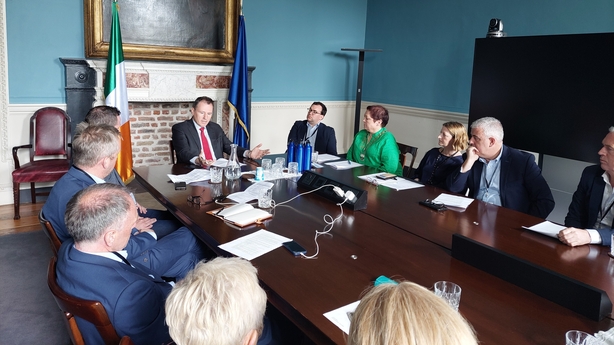 The Chamber members believe that these routes, if delivered, would make for safer journeys, more predictable travel times and make this region much more accessible.
In terms of housing, the delegation told the TDs that is exacerbated in the region because of the Defective Blocks issue.
Ms Rabbitt said that "many businesses are finding that potential employees are having major challenges with finding places to live resulting in undue stress, pushing out start dates or turning down roles.
"We actively promote Letterkenny and Donegal as an attractive place to live and work, but people are being put off by the lack and cost of housing and look elsewhere."
Ms Rabbitt said they decided to make the journey to Dublin to bring the concerns directly to their public representatives because they are being consistently being told by their 300 members that these issues are impacting them on an ongoing basis.
"We encouraged our TDs to do everything in their power to ensure that the legacy deficits are addressed. Our members and the wider business community work hard to create a vibrant business environment.
"We have ambitious growth targets for Donegal over the next 20 years where we see the population growing substantially, however we will need significant investment and follow up on the commitments made in the National Development plan.
"We hope with the support of our TDs that we see our ambitions realised and be enabled to create opportunities for our young people be more attractive to investors and retain talent and expertise."