An 82-year-old swimmer from Árainn Mhór in Donegal has completed his second circuit of Ireland swim challenge in which he swam at over 500 piers and beaches on his journey around the coastline.
Paddy Conaghan left his home on the Donegal island on 5 December and drove anti-clockwise around the coast of Ireland.
He lived out of a van and met up with groups of people to swim every day at several locations in each county along the route.
He completed 515 swims in 98 days and slept in his van for 97 nights before returning home this afternoon.
The final leg of his journey from An Clochán Liath to the ferryport at Ailt an Chorráin was travelled with a garda escort.
Mr Conaghan was congratulated by singer Daniel O'Donnell and members of the RNLI, before taking the Blue Ferry to Árainn Mhór and a great welcome home by neighbours and friends, among them Elaine Grady, who has been doing all the social media for Paddy's challenges.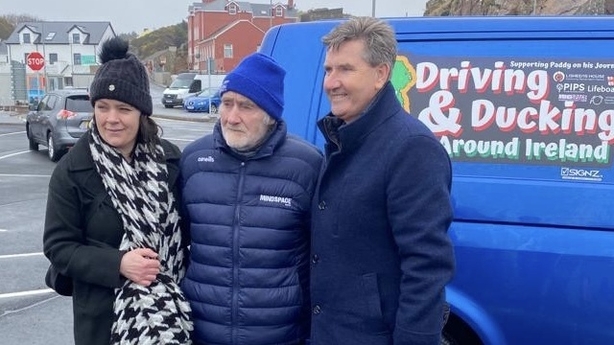 Arriving back on the island, Paddy decided not to have a final swim there.
He said it was not about "finishing the challenge but leaving the door opened for someone else to take up the next challenge. It's about the journey, not the end."
"Ducking and Driving around Ireland, Paddy's Adventure" raised over €10,000 for a number of mental health-related charities and the RNLI.
Mr Conaghan said the challenge was not about being the best or first but it is about the experience and just getting up and getting on with it and doing what you can.
He said: "It is more important now than ever before to raise awareness for mental health and help these charities to continue to do the amazing work that they are doing."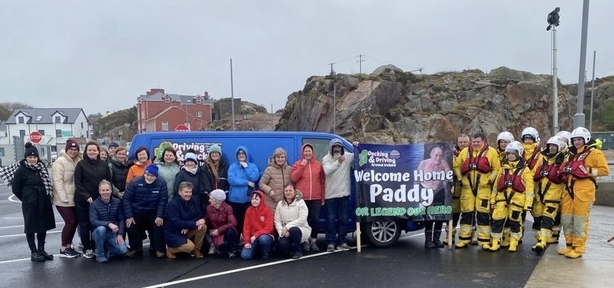 This is the second time that Mr Conaghan has driven around the coast of Ireland in an open-water swimming challenge.
His first journey began in December 2021 and was completed in February 2022, raising over €100,000 for a Donegal-based counselling charity.
Last month, he won the World Open Water Swimming Association (WOWSA) Man of the Year Award for his first challenge.
The awards, announced in San Francisco celebrate "individuals and offerings that embody the spirit of open water swimming and have positively impacted the community, showcasing their determination, fortitude and sense of adventure".