A US teenager who threw a message in a bottle into the ocean in the state of Maryland has flown to Ireland to meet the couple who found it on a remote beach in Donegal over two years later.
Ciaran Marron and his partner Rita Simmonds were walking along a beach in Machaire Uí Rabhartaigh in January this year when they found the bottle.
The couple traced the message to Sasha Yonyak, a young teenager who lives Ocean City, Maryland, in the United States.
He had thrown the bottle into the sea in 2019 with his fisherman friend and neighbour Wayne.
Wayne has since died, which makes finding the bottle more precious to Sasha, who is currently in Donegal with his dad, Vladimir.
Last night they had dinner with Ciaran and Rita and today they will visit the beach in Donegal where the bottle washed up.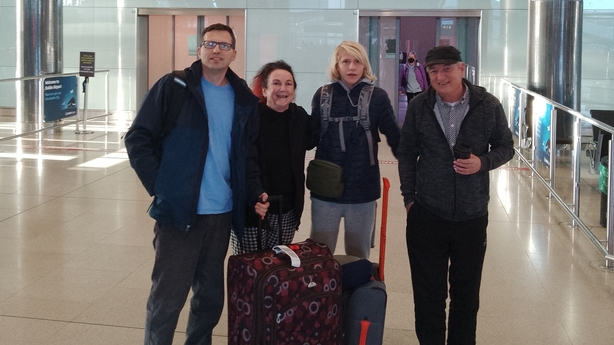 Speaking on RTÉ's Morning Ireland, Mr Marron said they came across the bottle as they walked along the beach.
He said he has been looking for a message in a bottle for years on beaches.
"It was all full of condensation and water and so I picked up the bottle and I could see an American $1 note tied up in a bow and I knew then it was going to be an exciting journey," he said.
He described the efforts made to contact the person who threw the bottle in the water, who he now knows was Sasha.
"In the bottle Sasha had given us a number and that number was his friend Wayne, who actually took him out to sea to throw the message in the sea."
However, Wayne had passed away and his phone number was disconnected.
"So, we just spent hours on the internet searching," Mr Marron explained.
"I looked up the business that Wayne had owned that the phone number belonged to.
"I looked it up on Google Earth and found the street scene and I looked at the shop next door to the one that had now closed, and I rang them."
He said he was determined to try and get in touch.
"The message in the bottle had a name, I had a phone number. It took us about a week to track him down, but we finally got him through a reporter in Ocean City, Maryland."
Mr Marron said it was "amazing" that Sasha and his dad have now been able to visit Donegal.
"They're sort of just blown away by the whole thing. Poor oul Sasha is overwhelmed. But it's all happened so fast.
"I never thought we would meet him for years like, but here he is already within a year.
"Both of them in Ireland, you know, it's incredible."
Today, all four are going back to the beach and Mr Marron thinks it will be "quite an emotional time" for Sasha.
He said he is planning to put another message in a bottle and throw it out to sea.
The bottle that Sasha had used was one he had found in Maryland that already had a message in it.
"But the message just simply said pass it on. So, he put a new message in the bottle and so this is its second delivery.
"If it goes again, it's away on the third trip."