President Michael D Higgins, Taoiseach Micheál Martin and Minister for Foreign Affairs Simon Coveney have attended a service of reflection for Britain's Queen Elizabeth in St Anne's Cathedral in Belfast.
Britain's King Charles III and the Queen Consort Camilla attended the service, after travelling from Hillsborough Castle.
British Prime Minister Liz Truss and Northern Ireland Secretary Chris Heaton-Harris were also in attendance, as well as Sinn Féin's Michelle O'Neill, DUP leader Jeffrey Donaldson and Minister for Foreign Affairs Simon Coveney.
The Taoiseach and Ms Truss were seated next to one another and were seen in deep conversation before proceedings started.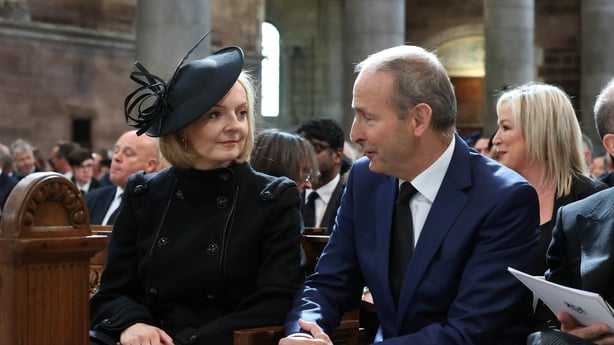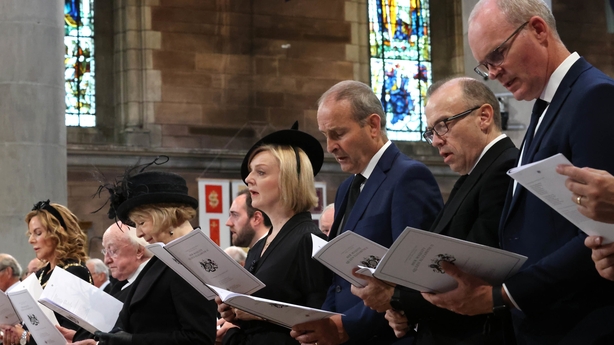 Church of Ireland Primate John McDowell addressed the congregation.
He said the word that would be most associated with the queen's role in Ireland was "reconciliation" - most of it through simple gestures.
Without referencing it directly, he spoke of her 2011 State visit to Ireland, during which she laid a wreath in the Garden of Remembrance and spoke in Irish at a State banquet.
"The bowing of the head in respect was far more powerful than much grander gestures.
"Love listens far more often than she speaks so a few words in an unfamiliar tongue and a judicious sentence or two of heartfelt regret and wisdom said far more than ceaseless volubility," he said.
When the king turned to leave St Anne's Cathedral, he crossed the aisle to President Higgins and warmly clasped his hand.
This morning, thousands of people lined the streets of Belfast to catch a glimpse of Charles and Camilla on their visit.
People gathered from early morning hoping to gain the best vantage point from behind the metal railings along the route in the city centre.
By the time Charles and Camilla passed by in the royal cavalcade along Wellington Place, Donegall Square North, Chichester Street and Victoria Street to loud cheers and applause the crowd was 10 deep in some parts.
People described the atmosphere as "emotional", "happy" and "full of excitement".
Charles and Camilla attended a number of engagements in Northern Ireland today as part of the king's tour around the UK.
They arrived in Belfast airport shortly before making their way to Hillsborough Castle, the royal residence, where the royal couple met Northern Ireland political leaders and received a message of condolence.
They also viewed an exhibition of pictures showing the queen in Northern Ireland.
After attending a memorial service for the queen at St Anne's Cathedral, Charles and Camilla then undertook a walkabout at Writers' Square, before leaving Northern Ireland.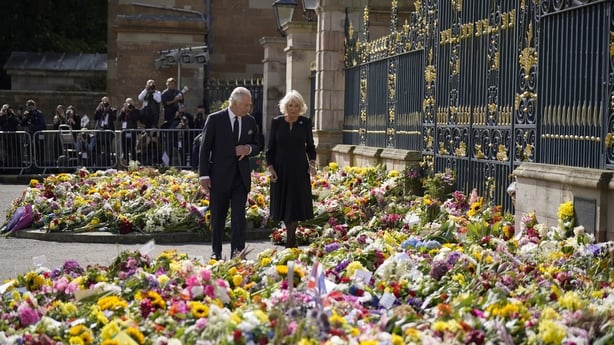 Stormont offers condolences
While Charles was in Northern Ireland, Assembly Speaker Alex Maskey of Sinn Féin offered formal condolences to the king on behalf of the Stormont parliament.
He said over the years of the queen's reign there had been painstaking efforts to build peace in Northern Ireland.
"Queen Elizabeth was not a distant observer in the transformation and progress of relationships in and between these islands," Speaker Maskey said.
"She personally demonstrated how individual acts of positive leadership can help break down barriers and encourage reconciliation."
King Charles offered "heartfelt thanks" of behalf of his family for the expressions of sympathy on the death of his "beloved mother".
"In the years since she began her long life of public service my mother saw (Northern Ireland) pass through momentous and historic changes," he said.
"Through all those years she never ceased to pray for the best of times for this place and its people, whose stories she knew, whose sorrows our family had felt and for whom she had a great affection and regard."
The king also met the leaders of the five largest parties at Stormont, including Sinn Féin's deputy leader Michelle O'Neill.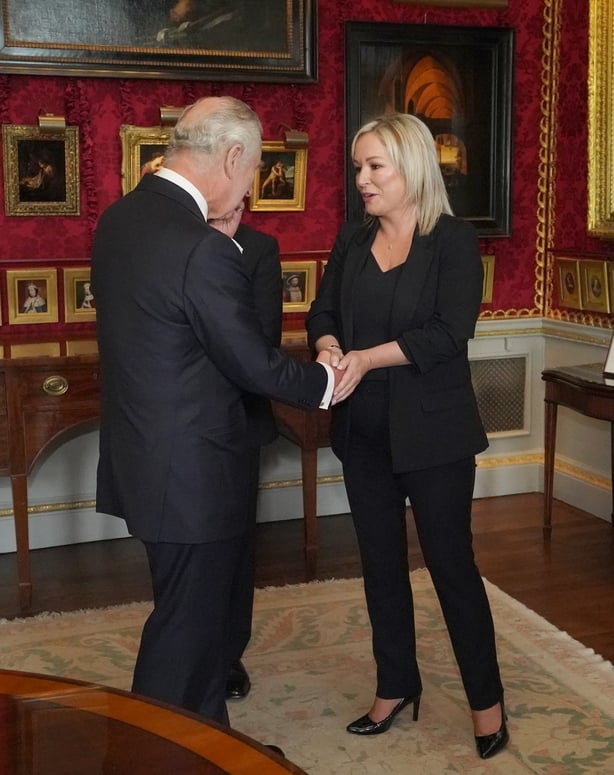 Among those gathered outside Hillsborough were three women from Ballymena who were in position at the front of the crowd control barriers since 5.45am.
There were also three US students from New Jersey who said they had come along to "witness history".
The royal couple's visit to Northern Ireland was part of a tour of the UK ahead of Queen Elizabeth's state funeral next Monday.
Tonight, the queen's coffin arrived in Buckingham Palace.
The coffin will rest in overnight before being taken in a procession to Westminster Hall to lie in state for four days before the funeral.
Vast numbers are expected to pay their respects, with queues already forming last night.
Additional reporting Conor Macauley, Vincent Kearney