Several thousand people have taken part in a rally in Belfast to protest against a police decision to withhold some information about the investigation into the death of schoolboy Noah Donohoe.
The 14-year-old was found dead in a storm drain in north Belfast in June 2020 six days after being reported missing.
A post-mortem examination found that the teenager died as a result of drowning and the PSNI has said there is no evidence of foul play.
But his mother and her supporters, who called themselves Noah's Army, have been highly critical of the police.
The rally today was to protest at a request by the PSNI to withhold some information from the inquest into his death, which is scheduled to begin on 28 November and is expected to last for three weeks.
The PSNI has requested a Public Interest Immunity Certificate (PII) on what it said was a "limited amount" of material in three evidence folders sent to Northern Ireland Coroner Joe McCrisken.
Britain's Northern Ireland Secretary Shailesh Vara has approved the request, but it is up to the coroner, who will see all of the files, to make the final decision about whether the material listed by the police is withheld from the public domain.
Mr McCrisken will hold a private hearing to rule on the request before the inquest begins.
There were chants of "release the files", "tell the truth" and "justice for Noah" as several thousand people gathered in front of Belfast City Hall this afternoon.
"We're all making a statement today to the Secretary of State and also the coroner who now makes the decision, this coroner has to take this all on board, all of us," Fiona Donohoe - Noah's mother - told the crowd.
"We are Noah's voice, we are our children's voice."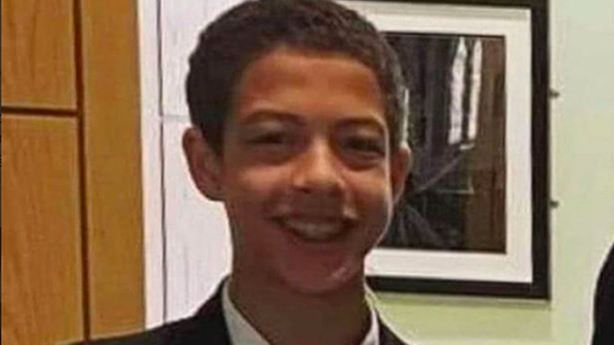 Speakers included the MP for North Belfast, Sinn Féin's John Finucane. He said the inquest process must be "fair and transparent".
"Justice demands openness and justice demands transparency," he told RTÉ News.
"When we speak about Noah and Fiona's search for truth we speak of the need for a light to be shone revealing everything we still don't know about what happened to him.
"We need and we are here today to demand that jusitce is done for Fiona and her family, that much is both fair and obvious. We are also here to demand that justice is seen to be done."
People Before Profit's Gerry Carroll, a member of the Stormont Assembly for West Belfast, described the PSNI request as "a disgrace".
"All this family is asking for, all the people here are asking for today, is the truth, that is all we want," he said.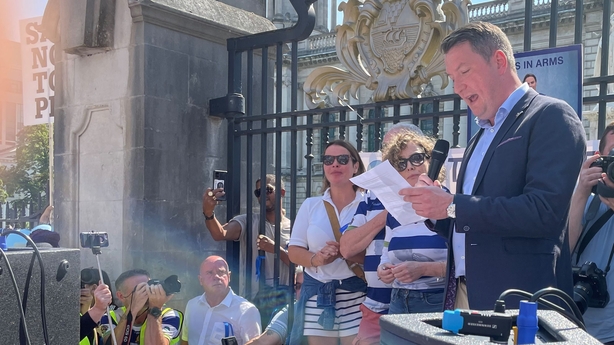 The Aontú party was also in attendance and leader Peadar Tóibín said: "We will not give up until Fiona has full truth and justice."
The PSNI has said the information it wants to withhold includes the grading of intelligence information, "unique reference numbers" and details about investigative methods which it said are also used in tackling terrorism and organised crime.
Lawyers representing Fiona Donohoe say they have "grave concerns" about the request.
"As we have already observed to the coroner, the application for PII in Noah's inquest was entirely unexpected and is, in these circumstances, unique in our experience," KRW Law said in a statement.
"It has caused Noah's family, and indeed the wider community, enormous distress."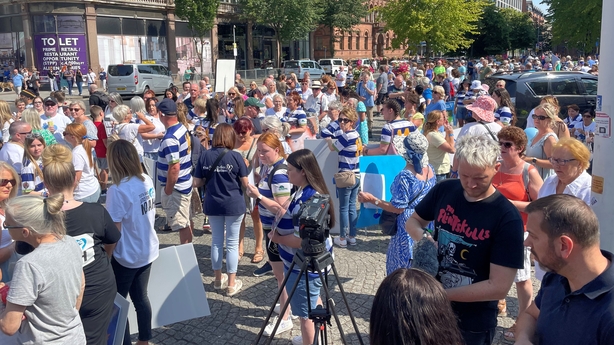 Critics of the PSNI have accused it of using the request for a PII certificate to cover up what happened to Noah and failings in its investigation.
The PSNI has defended its decision, saying the application it has made is for the "absolute minimum" and only necessary redactions.
"Redactions related to sensitive personal information and to investigative methodology that if released would adversely impact the safety of person/s or other unrelated investigations," Assistant Chief Constable Mark McEwan has said.
"As always, the coroner will continue to have full sight of all the material in this case and he will have the final decision on PII".
Additional reporting PA
---
We need your consent to load this rte-player contentWe use rte-player to manage extra content that can set cookies on your device and collect data about your activity. Please review their details and accept them to load the content.Manage PreferencesSpeaking ahead of the rally to RTÉ's Drivetime, Noah's aunt Niamh Donohoe said the family still had a "barrage of questions" that needed to be answered around the circumstances leading to the boy's death.
She intimated the family may seek a public inquiry into what happened.