The inquest into the deaths of two people who died in a crash in Bundoran in Donegal in 2018, has heard that the car they were travelling in was going at a speed of 121km/h just before it hit a footpath and went into a spin.
Shiva Devine and Conall McAleer were both 20 when they died in the crash at East End, Bundoran. Ms Devine, who lived in Belleek in Fermanagh but was originally from Donegal Town, and Mr McAleer who was from Kesh in Co Fermanagh, were both pronounced dead at the scene of the crash in the early hours of 19 August 2018.
The inquest into their deaths held in Donegal Town today heard that they had been socialising on the night of 18 August with friends, first in Fermanagh and later in Bundoran.
They were leaving Bundoran after 3am when the car, driven by Joseph Gilroy from Lisnaskea, crashed. Gilroy later pleaded guilty to a number of charges including dangerous driving causing the deaths of Ms Devine and Mr McAleer.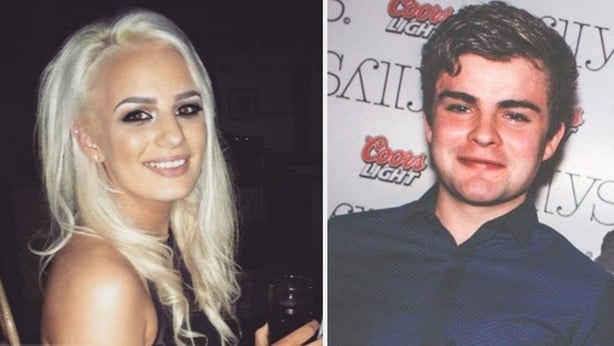 There were six people in the Peugeot 306 at the time of the crash.
At the start of the inquest the coroner, Dr Denis McCauley, said that two of the people in the car, Conor Brennan who owned the vehicle and his brother Tristan, had been asked to attend but, he said, they were in another jurisdiction and had decided not to.
This was regrettable, the coroner said.
The other survivor of the crash, Rachel Elliott, whose spine was crushed in the collision and who has been in a wheelchair since, gave evidence.
She said that she had no recollection of leaving Bundoran that night, adding that the first thing she remembered was waking up in Beaumont Hospital in Dublin ten days later. Four days after that, she said, she was told that Shiva and Conall had died, and she was devastated.
Robert Kealy, who was living near the scene of the crash at the time, said he was awoken by a noise and went outside where he saw four bodies on the road and tried to help them.
Another man, Paddy Bond, also came on the scene and tried to help. Both men had first responder training and assisted the emergency services when they arrived.
Dr McCauley said they did their best to give the deceased the best chance of survival but unfortunately their extensive brain injuries dictated this was not to be.
Dr McCauley said that death was due to extensive brain injuries, but he said a higher court has decided in the case and he would not add to that.
Last year, Joseph Gilroy, then 23, was jailed for five years and three months at Donegal Circuit Court after pleading guilty to dangerous driving causing death.
We need your consent to load this rte-player contentWe use rte-player to manage extra content that can set cookies on your device and collect data about your activity. Please review their details and accept them to load the content.Manage Preferences
The coroner said this was a devastating crash in many ways, two families had lost their two 20-year-old children and a young lady was permanently injured.
Speed was a big factor in the crash, he said. The car was overloaded with four people in the back of it who could not wear seat belts.
It was an incredibly devastating chain of events, Dr McCauley said.
He said he could not begin to imagine how the families felt after this horrendous event which they have to live with, but he wanted them to know that their loved ones would not have been conscious following the impact, even though there had been evidence of some responsiveness by witnesses who had tried to help them.