The Irish Government and European Union continue to urge the UK not to take unilateral action to override parts of the Northern Ireland Protocol.
Indications so far are that those pleas are not being heeded and that British prime minister Boris Johnson intends pressing ahead with new legislation.
A representative of the dairy industry north of the border yesterday told RTÉ News that the protocol is working well for the sector.
Many other businesses have echoed those words in recent months, while unionist politicians have painted a picture of gloom with no light.
While governments and politicians continue to argue over the issue, two food sector businesses in Belfast say the protocol has created obstacles, in the form of additional administration and cost.
North Down Group imports fresh fruit and vegetables and other food products from all over the world and supplies retailers and the hospitality sector.
A large warehouse just of the M1 motorway on the outskirts of Belfast is a temporary home to parsnips from Kent and beans from Kenya, asparagus from Peru to Kiwis from New Zealand.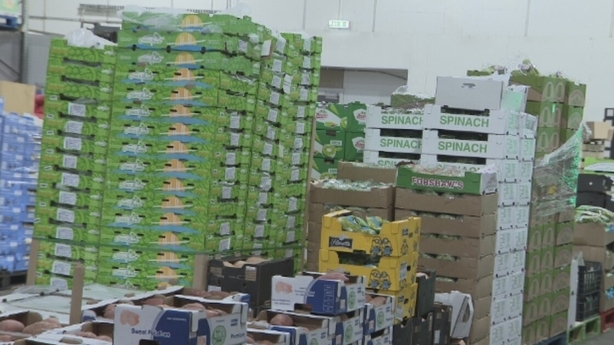 Following Brexit, the parsnips grown in Kent require the same degree of checks and paperwork for transport to Northern Ireland as the green beans grown in Kenya.
A short distance away are large bags of Spanish onions, that arrived early yesterday morning via Dublin without any paperwork.
The same is true for a large batch of Dutch tomatoes and pears from Belgium.
Those three products were all bought directly from suppliers within the European Union to comply with EU food standards.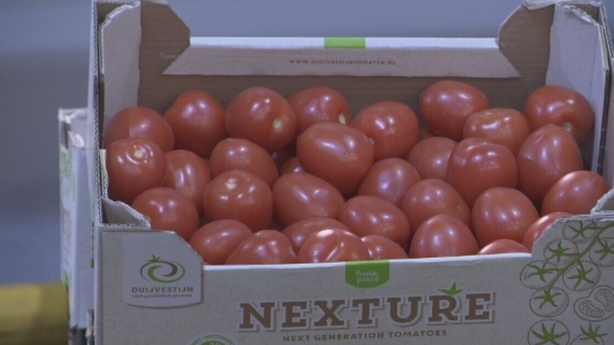 As a result of Brexit, for the purposes of trade Britain is treated as a third country, so goods arriving from there are treated differently.
Apples the North Down Group regularly purchases from France usually arrive in Northern Ireland via Dublin, without the need for additional paperwork as they are coming directly from the EU.
But the same French apples from the same orchard purchased via a supplier in England this month had to go through the necessary protocol inspection checks and paperwork.
When they arrived, they were contained in boxes marked "Produce for Northern Ireland Retail Only".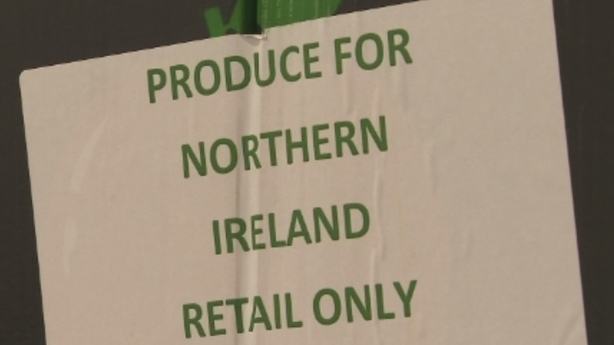 As an authorised trader, products the company purchases from Britain must be brought to a central location for checking before being put into sealed containers to be shipped.
Like those French apples, those products can then only be sold within Northern Ireland and cannot be brought across the border into the Republic and the European Single Market.
Sales Manager Brian Dean has worked in the industry for 30 years and said the protocol has had a huge negative impact.
He said: "In a nutshell, we have roughly one and a half salaries dedicated strictly to the importation of produce because of the extra paperwork that's required.
"It's vastly more complicated now. It used to be that it was two phone calls a day to the supplier and to the haulier, and now it's phone calls and paperwork and follow up with supplementary declarations for HMRC about the goods that have come in.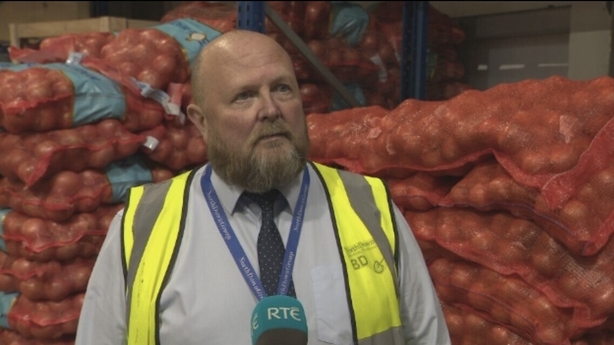 "The produce (we get) from Holland, I have no extra paperwork today at all. I phone the supplier, the supplier phones a haulier and the goods arrive here two days later.
"If I buy stuff from the UK, I have to phone the supplier who then has to phone the DEFRA (Department for Environment, Food and Rural Affairs) agent to get the goods checked and get them shipped to the central location.
"I then have to go on to the computer and enter all the details of the goods, the ten digit commodity code, the product, the net weight, the gross weight, the Latin botanical name of it, so the guys at the port know exactly what's coming.
"That's all time consuming and costly for our suppliers and for us and at the end of the day, those extra costs are passed on to the end user."
A short distance away in Belfast city centre, Kieran Sloan runs Northern Ireland's oldest deli, Sawers, which was established in 1897 and sells a wide range of high-end products.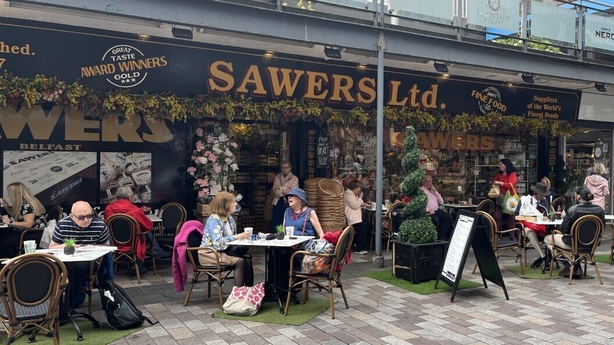 Mr Sloan, who worked on the fish counter in the store as a teenager before later taking over the business, said the protocol has increased paperwork and costs.
He also says it has reduced choice for customers because some traders in Britain simply "can't be bothered" with the hassle involved.
"We've had a saying for many years that if you can't get it in Sawers, you can't get it anywhere, but we've lost a lot of products because we have lost quite a few suppliers as a result of this," he said.
He is frustrated because all products he brings into Northern Ireland are sold in his shop and not moved on to other retailers south of the border, in the European Single Market.
Mr Sloan said: "This shouldn't have an impact on us and our type of business because we're buying from GB and we're buying from the EU, and we're selling them within the North, so we shouldn't have all this paperwork and all this, all this added time and charges on to us.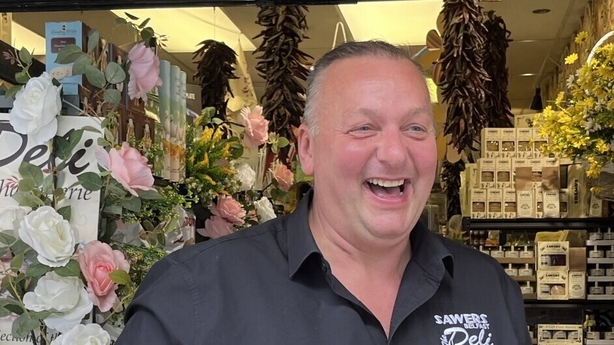 "You know, a lot of our suppliers are adding on added delivery charges and port charges and things like that to get the stuff across things.
"We've been dealing with a lot of suppliers for 30 to 40 years and a lot of them we've lost due to this because they just can't be bothered with it all.
"I understand that there's got to be a protocol there, I understand that, but I mean I think it does need tweaked for businesses like ours."
The Irish Government and EU have both said proposals from Europe to remove up to 80% of checks would also remove most of the concerns about how the Protocol is being implemented, but to date the British government has said no to those proposals.