It's a skill that has been associated with Donegal for hundreds of years, but a fear that Donegal weaving was in danger of becoming extinct has led to the setting up of the country's first certified Donegal weaving course.
Master Donegal Weaver John Heena is a tutor on the course and said that the skill was literally at death's door.
Sixty years ago, he said he knew a couple of hundred weavers in the south of the county but now you could count them in single figures.
Dearbhla Kelly, Employment Liaison Officer with Donegal ETB, said the average age of a Donegal weaver is now 75 and the industry came to them to see if they could develop a course to save the skill.
The ETB worked with the industry and with agencies in Scotland to develop the course which sees students learning the skill at the Údaras na Gaeltacht Gteic digital hub in Cill Chartaigh (Kilcar) and going on placement to companies like Magee 1866 and Studio Donegal.
There are eight students on the first course and for some it has been an emotional as well as an uplifting experience.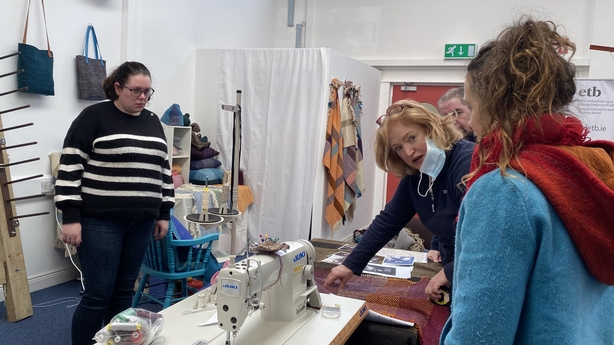 Mary McNeilis grew up in Dublin but her father was a weaver from Gleann Cholm Cille in the Donegal Gaeltacht.
He was the eldest of 12 and worked as a weaver from the age of 12 and while Mary would have liked to learn the skill from him, she said he was reluctant to teach them because, she believes, he associated weaving with poverty.
Mary has been living in An Charraig in Donegal for 35 years and brought her father's loom with her when she moved there. With the help of John Heena she has restored it and for her the course has been an emotional one, not just learning the skill of weaving but also learning more about her past.
Stephen Bennett from Ardara was left his grandfather's loom when he died and within days of his death he learned of the new course and knew it was meant to be. He applied and is now enjoying the course.
He said he felt at home at the loom straight away and hopes it's a skill he can pass on to his own children.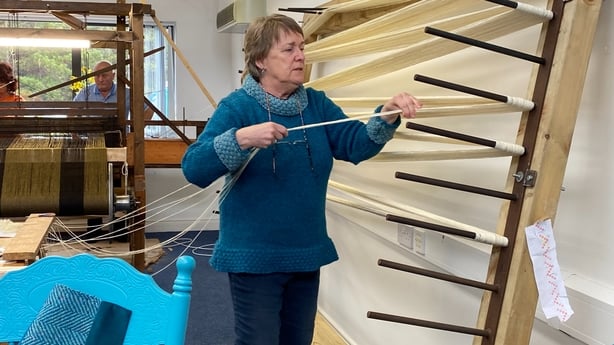 Dearbhla Kelly said that there will be a new intake of students in September and she is encouraging people from Donegal and across the country to apply for one of the ten places.
Donegal ETB is really looking forward to continuing this course to help preserve a skill which is so much a part of Donegal's culture and heritage, she said, and she's confident that graduates will get good employment in the industry.
For John Heena, it's a delight to see new weavers learn the craft and he is now hopeful for the future of the tradition he loves and has worked in all his life.