Belfast City Council has confirmed the closure of a public park in the city following the discovery of dead and dying swans there linked to an outbreak of bird flu.
The council said a vet will assess sick and dying birds at Waterworks Park off Antrim Road and, if required, humanely euthanise them.
16 dead swans have been recovered.
The announcement follows calls for the closure of park after the presence of avian influenza, or bird flu, was confirmed amongst wildfowl.
The council said the risk to public health is "very low".
The park is a popular overwintering spot for a wide range of wildfowl, including up to 100 swans as well as large populations of gulls and geese.
There have been several confirmed cases of bird flu in commercial poultry flocks on both sides of the border.
It has led to several large scale culls of turkeys, chickens and ducks.
The virus is carried by migratory birds and poses a risk every winter.
It can be easily spread to both commercial and wild bird populations.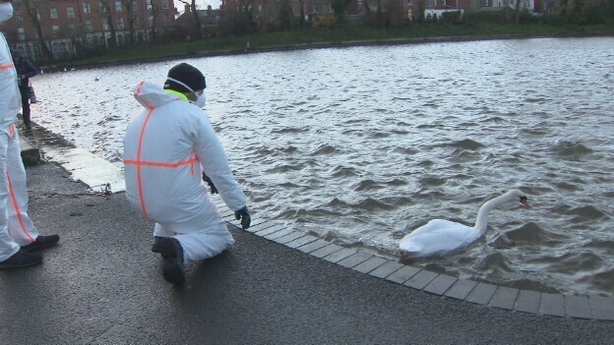 A Belfast City Council spokesperson said: "We are aware of the avian flu outbreak that is currently impacting the bird population at Waterworks Park.
"We're continuing to work alongside and seek advice from the Department of Agriculture, Environment and Rural Affairs (DAERA) and the Public Health Agency (PHA) in response to this issue.
"As the outbreak continues to escalate across Northern Ireland, as a precautionary approach the Waterworks Park will close until further notice.
"It is important to note that the PHA advice remains that the risk to general public health is very low and that human infections with avian influenza are rare.
"This precautionary approach will give us an opportunity to seek further guidance and advice from DAERA and the PHA and to consider if any additional control measures may need to be implemented.
"Additionally, we have engaged an independent expert to review our approach and management plan to deal with this ongoing issue.
"We are also arranging for an on-call vet to be available to assess sick and dying birds and, if required, humanely euthanise these birds.
"In line with guidance, our park wardens are removing any deceased birds from the site.
"The main species of bird affected at the Waterworks are swans.
"We would ask the public not to visit Waterworks Park at this time as we continue to manage the ongoing situation."