The Deputy First Minister of Northern Ireland Michelle O'Neill has said she expects the British government to table Irish language legislation next week.
The British Labour party has also promised to support the bill as it passes through Parliament.
Speaking in Belfast after addressing the Irish Congress of Trade Unions (ICTU) conference, Sinn Féin's deputy leader said as a New Decade, New Approach political commitment, it must be delivered upon.
"Unfortunately the DUP reneged on that commitment and we had to find a solution and a way around the DUP, that was delivered upon by the British government, so we expect to see that legislation tabled over the course of the next week or so," Ms O'Neill said.
She said she will meet with Northern Ireland Secretary Brandon Lewis and Brexit minister David Frost later.
During a third reading of the Northern Ireland (Ministers, Elections and Petitions of Concern) Bill at the House of Commons, DUP MP Jim Shannon criticised the "priority" he said the British government is giving to the Irish language provisions of the New Decade, New Approach over "the rest of the important provisions such as health and education".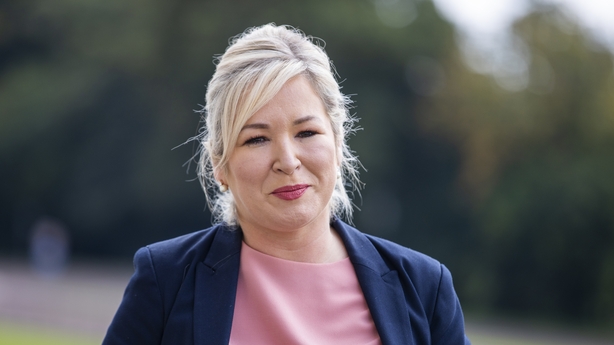 The British government's Minister of State for Northern Ireland said: "This Bill is limited deliberately in its scope. This Bill is designed to implement the agreements that were reached under New Decade New Approach... agreements, critically, that were entered into by the parties in Northern Ireland."
Conor Burns added that it was not the role of the government to "innovate in this space when future changes, were they to be made, should be driven by the parties themselves in Northern Ireland".
Asked about legislation for a package of measures including Irish language measures, Mr Burns said: "The government has no intention of introducing an Irish language act. We will be bringing forward a cultural package in which Irish language will pay a part."
The Secretary of State for Northern Ireland Brandon Lewis said the the British government is "committed to ensuring New Decade, New Approach (NDNA) is delivered in full", adding: "I want to reassure members that further progress will be made in due course."
"This Bill is a focused Bill. It's one that will deliver necessary and well overdue reforms to strengthen the sustainability of the institutions in Northern Ireland, update the ministerial code of conduct and reform the petition of concern mechanism."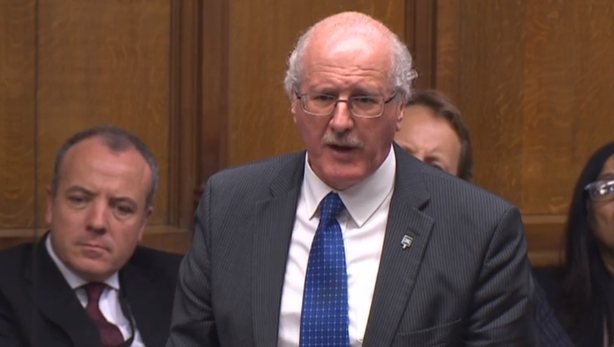 He added: "The past 18 months have demonstrated that a power-sharing executive can work together under the hardest of circumstances to find compromise and act in the shared interests of all communities in Northern Ireland. This Bill can only empower their capability in that respect.
"We have made commitments to ensure that areas that were committed to be delivered within this mandate for Stormont will be delivered. A cultural package is part of that and we will do that."
Meanwhile, a group of cross-party MPs and campaigners gathered outside the Houses of Parliament to pressure the British government to deliver legislation quickly.
It had pledged to press ahead with legislating for Irish language protections at Westminster after failed attempts at Stormont, with Mr Lewis saying the move would come at some point in October.
The British government previously faced calls from the DUP not to press ahead with the legislation while unionist concerns about Brexit's Northern Ireland Protocol remain unaddressed.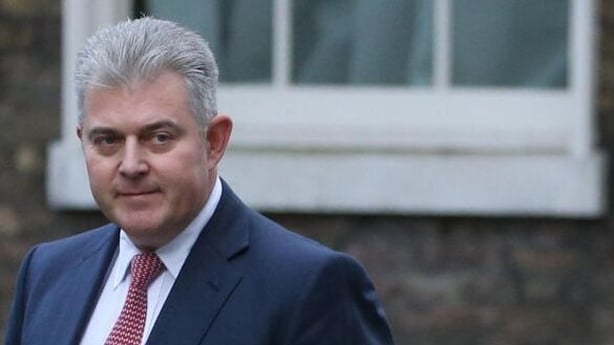 As the end of October looms, supporters and members of Conradh na Gaeilge, a group pushing for the legislation, gathered outside the Palace of Westminster to prompt the Government into taking quicker action.
The group's president, Dr Niall Comer, said Mr Lewis "must deliver on his own agreed deadline".
Conradh na Gaeilge was joined by MPs from Labour, SNP, Plaid Cymru, Alliance, SDLP and Sinn Féin.
Dr Comer said the cross-party support represented an "overwhelming majority in the House of Commons".
"An Irish language Act is also supported in the Stormont Assembly by a majority of parties and a majority of MLAs," he said.
"The New Decade New Approach agreement committed the Assembly to enact the legislation within 100 days. That deadline was missed, as was the September deadline set down by Brandon Lewis," he added.
"It has been 15 years since the British government initially promised to introduce an Irish language Act at the 2006 St Andrew's Agreement.
"Now they find themselves, alongside the Irish Government, as co-guarantor of a new agreement, recommitting them to legislation that will protect and enhance the Irish language," Dr Comer said.
He said the legislation will create a new Irish language commissioner, a suite of "best-practice standards" for public bodies, and will "repeal a 1737 penal law which has banned Irish from courts for centuries".
Dr Comer said the issue of Irish language rights "remains a continuous immediate litmus test for all".
"The legislation has been agreed and published. The preparatory work within the Executive Office in Belfast has been ongoing. This is ready to go. There is no further legitimate or reasonable excuse for delay," he added.
John Finucane, Sinn Féin MP for Belfast North, accused the DUP of blocking previous attempts.
"Ideally Stormont should be the place to legislate for this but what we have witnessed at Stormont over a number of years is one party, particularly the DUP, using their veto to block equality legislation," he said.
"What we now want is for the British government to step up and stand over their commitment, which was that if Stormont didn't legislate for this then it would be legislated for here in London, so we want to see that delivered as soon as possible."
Shadow Northern Ireland Secretary Louise Haigh announced the British Labour party would support the bill.
"This was agreed at New Decade, New Approach and it is therefore extremely disappointing that this has not been delivered. I believe it would be an important step to build confidence in a shared future," she said.
"Nevertheless, in the absence of a move by the Northern Ireland Assembly, Labour will support the passage of legislation should it come before Parliament in the Autumn," she added.
Additional reporting Áine Ní Ghallchóir and Sean Whelan