Catholic Primate Archbishop Eamon Martin has told an Armagh church service to mark the formation of Northern Ireland that partition 100 years ago polarised people on the island of Ireland.
He was among leaders of Ireland's main churches who delivered their personal reflections on the creation of Northern Ireland at the centenary service.
Around 130 people were invited to the service at St Patrick's Church of Ireland Cathedral - the numbers limited due to Covid.
Minister for Foreign Affairs Simon Coveney attended for the Government, alongside Chief Whip Jack Chambers.
British Prime Minister Boris Johnson also attended, as did Northern Ireland Secretary of State Brandon Lewis.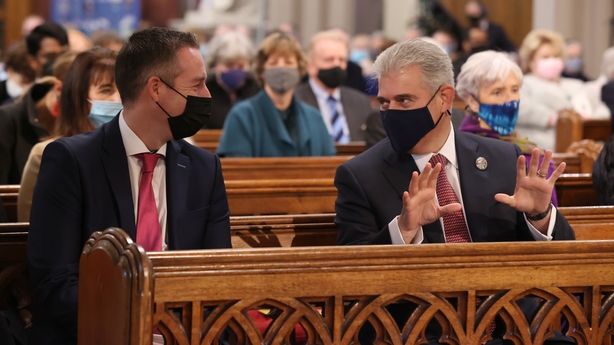 Northern Ireland's First Minister Paul Givan of the DUP was among the guests, but Deputy First Minister Michelle O'Neill of Sinn Féin did not attend.
Stormont's other political leaders were present too.
It had been hoped that President Michael D Higgins would attend. He declined an invitation because he felt the title of the event meant it had been politicised.
Britain's Queen Elizabeth had been due to attend but withdrew yesterday on medical advice.
Archbishop Martin talked about growing up on the border in Derry and crossing it to visit his grandmother in Donegal.
'For the past 100 years partition has polarised people on this island. It has institutionalised difference,' @ArchbishopEamon tells an Armagh church service to mark the formation of Northern Ireland | https://t.co/yhn9nT00gY pic.twitter.com/6djGAoF57h

— RTÉ News (@rtenews) October 21, 2021
"When I look back on what happened on this island in 1921, like many others in my community, I do so with a deep sense of loss and also sadness. Because for the last 100 years, it has polarised people on this island.
"It has institutionalised difference and remains a symbol of cultural, political and religious division between our communities."
"I have to face the difficult truth that perhaps we in the churches could have done more to deepen our understanding of each other and to bring healing and peace to our divided and wounded communities."
Presbyterian Moderator Dr David Bruce said his family came from the same part of the country as Archbishop Martin.
He said he looked back over the 100 years with "mixed feelings".
"Northern Ireland is my home and I love it. But I lament the physical and emotional pain which has been caused over this last century to so many people by violence and the words which lead to violence."
He said building new relationships meant recognising our own "woundedness" and the responsibility to care for the wounds of one another.
"I grieve the times when fear has held us back from building relationships with those with whom we differ.
"If we are to build a better future, then we must recognise our own woundedness and our responsibility to care for the wounds of one another."
Church of Ireland Primate of All Ireland John McDowell said: "We obsessed about some things: especially borders. One way or another, we're obsessing about them again, and being distracted from really thinking about what a good society would look like.
"I think there are already signs that the next generation will see the things that we obsessed about as secondary and place their priorities elsewhere."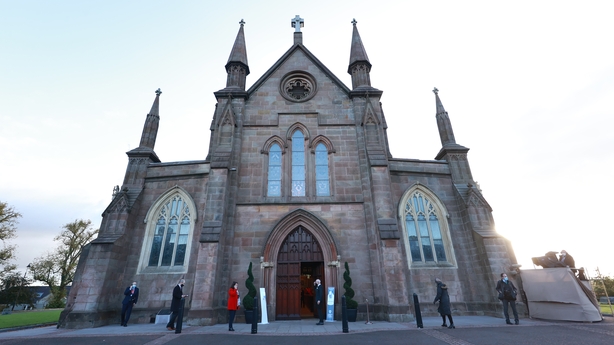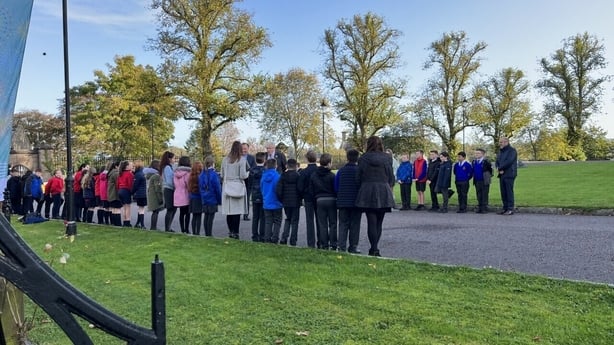 The church service was a focal point of a programme of events this year to mark 100 years since the island of Ireland was partitioned.
The event, described as a service of "reflection and hope", was organised by the main church leaders in Northern Ireland.
They include representatives of the Catholic Church, the Church of Ireland, the Presbyterian Church, the Methodist Church and the Irish Council of Churches.
The service heard from people injured in the Troubles and young people born post-ceasefire who prayed for a peaceful and shared future.
Prayers were offered in Irish and English in a service that was said to acknowledge past hurts and demonstrate a commitment to building a shared future.
In the Dáil today, Aontú leader Peadar Tóibín strongly criticised the Government's decision to send representatives to today's service.