Close to 2,000 people gathered at Donegal County Council's offices in Lifford this afternoon for a protest demanding a full redress scheme for homeowners affected by defective blocks containing high levels of mica; minerals which cause weaknesses.
More than 4,000 homes are affected by the blocks, mostly in the Inishowen Pensinsula, but also in other parts of Donegal and parts of Co Mayo.
Walls in many of the houses are cracking and crumbling due to the weaknesses.
In late 2018, the then government agreed to a redress scheme, which opened for applications last summer.
However, unlike the pyrite redress scheme in Dublin, which saw 100% funding from government, homeowners are expected to pay 10% of the cost under the mica redress schemes.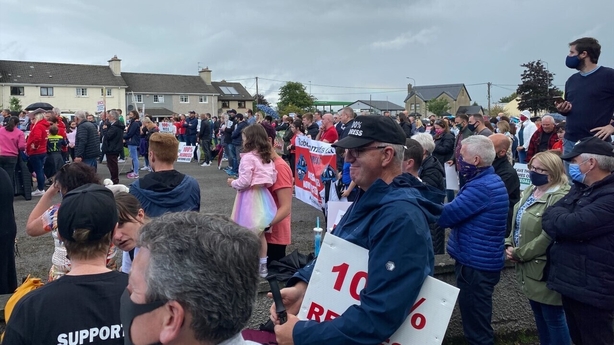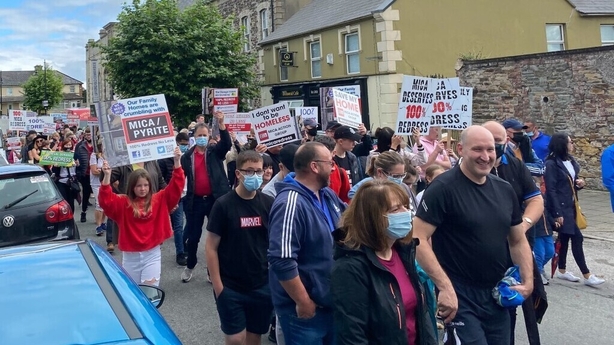 Today's demonstration was organised by the Lifford Mica Group and the 100% Redress NO LESS group.
The crowd walked from the county buildings to the outskirts of Lifford, where they were addressed by Paddy Diver and Michael Doherty from Mica Action Group.
Two homeowners; from the Finn Valley and Ramelton areas of Co Donegal, also spoke at the event.
Talks between the Government and the MICA Action Group are due to conclude at the end of this month.
Today's organisers say that they will continue their pressure to get a full redress scheme.