A silent protest was held at Stormont today against proposals by the British government to ban prosecutions for Troubles murders.
Wearing white full-face masks, relatives of those killed during the troubles joined in a requiem procession in protest of proposals by the British government to end prosecutions for crimes related to the Troubles up until the signing of the Good Friday Agreement.
Critics have said such a move would represent an amnesty.
The move would prevent any further criminal investigations into killings by British military veterans as well as former paramilitaries.
A coffin engraved with the word 'justice' was brought to the gates of the Northern Ireland Office, residence of Northern Ireland Secretary of State, Brandon Lewis.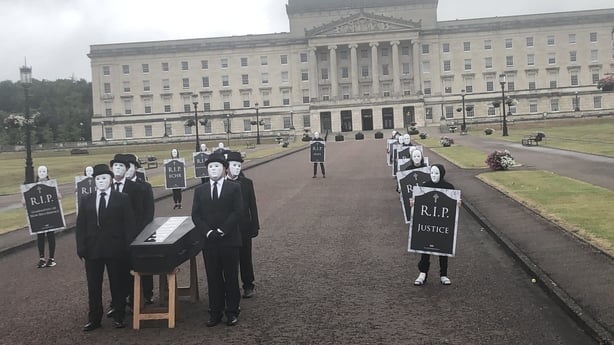 Mr Lewis told the House of Commons in Westminster earlier this month that the Statute of Limitations could become law this autumn.
Mark Thompson, Director of Relatives for Justice, who organised today's event said these British Government proposals are going to the brink.
"If the British Government follow through with the proposals, it'll be the end, it'll be the burying of truth, justice, accountability, victim's rights, human rights, the European Convention on Human Rights and essentially the political institutions too are both threatening.
"Underpinning the political institutions is victim's rights and human rights and the European Convention on Human Rights and this British Government, this Tory Government, is intent on ripping that out of it, that central plank and tenant.
"Therefore, we are saying that will bury truth, justice, accountability for everybody across our country that's been affected by the conflict. We're not prepared to stand for it. We're never giving up. And today is a piece of powerful street art to illustrate that and to bring the coffin to the seat of power, the British seat of power in this part of our country and to give the message loud and clear...we're never giving up.. you want to bury that, we've buried our loved ones…we're not prepared to bury truth, justice and accountability."
Earlier this month, Taoiseach Micheál Martin strongly criticised the British government proposals saying they were wrong for many, many reasons. The plans for a Statute of Limitations have also been condemned by all political parties here.