Incoming DUP leader Edwin Poots has said the Northern Ireland Protocol needs to be removed as it's "hugely damaging to all of the people of Northern Ireland".
He urged the Irish Government to use "common sense" and draw back from the position they have adopted.
Speaking to RTÉ News, Mr Poots said he does not mean there should be flexibilities and mitigations "as flexibilities and mitigations don't cut it".
Edwin Poots, the newly elected leader of the DUP, has said that the Northern Ireland Protocol is "hugely damaging" and needs to be removed | https://t.co/Xj3ZP4Gfqm pic.twitter.com/SpFWU7p1Nf

— RTÉ News (@rtenews) May 18, 2021
He said the EU has said it wanted to help Northern Ireland but now that "Northern Ireland has been removed from the union as a result of Brexit", it is not really suitable for the EU "to be harming the people of Northern Ireland who it has sought to help".
Mr Poots said: "We have seen riots on our streets, we saw community tensions rise as a consequence of this, we want to defuse that.
"As a Unionist leader, I want to defuse that situation... but I can't do that on my own. I need help from the UK Government, from the European Union and indeed a bit of common sense coming from the Irish Government that things have went far too far, they've done real damage and they need to draw back from the position they've adopted."
He said Ireland is a co-guarantor of the Belfast Agreement and the Protocol damages the agreement.
Mr Poots said he is concerned that tensions could rise further on the issue of the Protocol.
He said: "Northern Ireland is a great wee country and we want to get on with each other, but there's a volatility that exists there and if we allow these things to fester, we are creating the circumstances where that volatility might manifest itself in a way that none of us want to see."
He said as responsible politicians "we need to step up to the plate and remove the things that cause discord and dissent".
Mr Poots also said: "North-South relationships have never been as bad and I said that as a unionist who doesn't want that to be the situation."
He said he wants good relations with his neighbours in Ireland and they need to fix the problem that exists.
We need your consent to load this rte-player contentWe use rte-player to manage extra content that can set cookies on your device and collect data about your activity. Please review their details and accept them to load the content.Manage Preferences
---
UK considers using force majeure over NI protocol
---
He called on Irish politicians "to step up to the plate, recognise that there's an issue, recognise that some of them played a very significant part in creating that issue and seek to identify a solution to it".
Mr Poots said it is impossible for the Northern Ireland Executive to deliver the protocol as it is demanded and questioned if Europe is "going to starve the people of Northern Ireland and deny them of medicines" because the protocol cannot be implemented.
"So what is Europe going to do? Are they going to starve the people of Northern Ireland? Are they going to deny them medicine because the protocol is not implementable," he said.
If the Northern Ireland Protocol is to be implemented and "rigorously implemented as some people desire", there will be 15,000 checks per week and 600 people are required to do this, including 200 vets, he added.
Mr Poots said these vets do not exist, "we can't train vets in less than five years".
He said once the grace period ends, these extra thousands of checks, which he said is going to drive up the cost of food and as 98% of Northern Ireland's medicines and medical devices come from Britain, "it's going to cause havoc with their health service.
He said: "It doesn't matter if it's the Amazon parcel that you're waiting for or indeed the paracetamol in your cupboard, and everything in between, that's the impact the Protocol is having and therefore we need to remove the protocol and we need get a workable system to ensure the integrity of the Single Market is kept."
Earlier, Mr Poots held talks with the Northern Secretary in Belfast.
Mr Poots had requested the face-to-face meeting with Brandon Lewis to discuss the Northern Ireland Protocol and a series of other issues.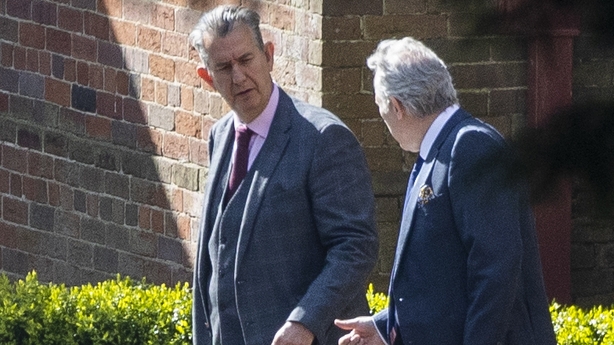 The Lagan Valley MLA has said removing the protocol will be his main priority as DUP leader.
He was accompanied by North Antrim MP Ian Paisley for the early morning exchanges at Stormont House.
Many unionists and loyalists are opposed to the protocol, which has created economic barriers on trade between Northern Ireland and the rest of the UK.
Mr Poots did not stop to speak to the media outside Stormont House after the meeting with Mr Lewis. He has stated an intention to travel to London for further meetings with the government later in the week.
After his election on Friday, he called on rival unionists parties to work with him to undermine the post-Brexit trading arrangements.
"The Northern Ireland Protocol is proving to be a massive challenge for us and if we are to fight this to ensure that everybody in Northern Ireland is not worse off as a consequence of the protocol, then it's for us to do that together," he said.
Mr Poots defeated the DUP's Westminster leader Jeffrey Donaldson in the battle to replace Arlene Foster.
He won by a razor-thin 19 votes to 17 in the poll carried out within the party's 36-strong electoral college.
Ms Foster was forced to quit after an internal heave against her by party colleagues unhappy with her leadership.
Mr Poots has been holding a series of meetings with DUP elected representatives ahead of deciding the make-up of his ministerial team at Stormont.
He has made clear he will not take up the role of First Minister, instead appointing a party colleague to the role.