Ballyjamesduff is a small town in Co Cavan with a population of over 2,500 people. The planned closure of the Ulster Bank branch is another blow. It is the last bank to have a presence in the town.
"It's awful sad. Where do we go now? The nearest bank is Oldcastle or Cavan," said one woman outside the bank this morning.
Another customer said it was a huge loss to the town and the wider area. "There was two banks but this is the only one. There's no bank in Virginia either so it's a huge loss," she said.
For businessman Peter Callan, it's a worrying time. "Is this the way it's all going now? I deal with cheque books, not cards" he said.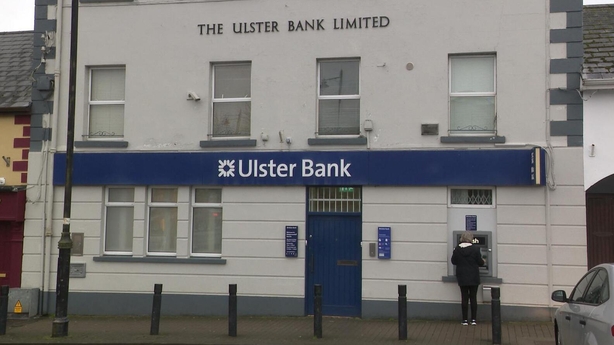 Farmers are concerned too.
Not far from the town, Owen Brodie is busy on his dairy farm close to the shores of Lough Ramor.
He is one of 10,000 farmers with borrowings from Ulster Bank. The Irish Farmers' Association estimates that a further 10,000 farmers are availing of current account facilities.
"We're all very worried. I've had a long-term relationship with the bank and the staff have been very good to me over the years," said Mr Brodie.
"What I worry about is the transition as they wind down the business. I have a loan in the process of being approved at the minute, I don't know where that's going to go," he said.
"My biggest fear is that there won't be any competition in the sector and farmers need that. Farming is a capital intensive business," he added.
Ballyjamesduff also has the fourth highest foreign national population in the country, with 30% of residents hailing from another country, and the bank is used for hundreds of international banking transactions.
---
Read more:
Ulster Bank confirms exit from Irish market
'Sad day' for Ulster Bank staff and Irish bank industry - Donohoe
What the Ulster Bank wind down means for consumers
AIB in talks with Ulster Bank over €4 billion loan book
5 questions answered for Ulster Bank customers
---