Northern Ireland's lockdown has been extended to April, but some primary school pupils will return to class on 8 March.
The Stormont Executive has decided to keep the current restrictions in place until 1 April. They had been due to lapse on 5 March.
Primary school pupils in year groups P1 to P3 will return to face-to-face learning on 8 March.
Only vulnerable children and those of key workers have been in classrooms since January.
On 22 March, secondary pupils in key exam years - year groups 12 to 14 - will return to school.
It is understood P1-P3 pupils will revert to remote learning for a week on that date - for the week prior to the Easter holidays - to minimise the impact on infection rates of years 12-14 returning.
No decisions have been taken on whether other year groups will return to class after the Easter holidays.
At today's Executive meeting, ministers also agreed to make relaxations to allow "click and collect" shopping from some outlets previously categorised as non-essential retailers.
From 8 March, click and collect will be permitted for shops selling baby equipment, clothing and footwear, and electrical goods.
The decision to extend the main lockdown restrictions to 1 April will be subject to a review on 18 March.
Confirming the extension of the lockdown to 1 April, First Minister Arlene Foster said the Executive was taking a "pragmatic and sensible" approach to restrictions.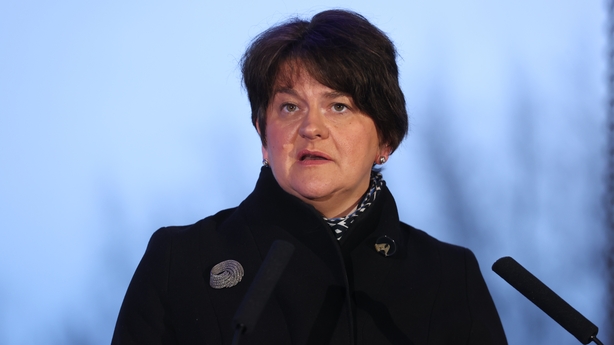 "We will keep them under continual review on an ongoing basis," she said.
Confirming the phased return dates for some primary and secondary pupils, Mrs Foster said she wanted to see other year groups return "as soon as achievable".
"We can only do that if the health assessment allows," she said.
The First Minister said the Executive had also agreed to relax rules on outdoor gatherings. From 8 March, groups of ten from no more than two households will be able to gather outdoors.
Mrs Foster also said the executive would publish a "decision making framework" for the Executive's exit from lockdown strategy on 1 March.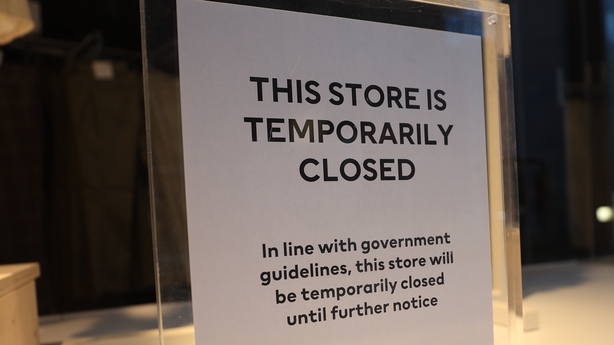 Finance Minister Conor Murphy expressed concern the latest lockdown end date landed on Holy Thursday and that that might prompt people to make plans for Easter holidays.
Mr Murphy urged them not to do so.
"The advice would not be to book anything for Easter weekend," he said.
---
---
"I would advise people not to be looking at 1 April as the date that everything will be opening up again."
Since Christmas, people in Northern Ireland have only been able to leave home for essential purposes such as work or exercise.
Ministers earlier said there was a collective focus on a managed recovery guided by medical and scientific advice.
Health chiefs urged caution and "baby steps" out of the restrictions.
The lockdown has seen infection rates and numbers admitted to hospital with Covid-19 fall.
Latest figures show that another six people have died with the virus in Northern Ireland.
An additional 342 people have been reported, according to the Department of Health.
A total of 418 patients were in hospital as of midnight. 51 were in intensive care this morning.
Health Minister Robin Swann said earlier the spread of infectious new variants of coronavirus represented a considerable uncertainty, as he pondered future curbs.
Face coverings in shops and on public transport may be needed well into the future, he warned, and some limited restrictions may be in place long-term.
Restaurants, cafés and bars have been closed with the exception of some takeaway services since 24 December.
Pubs have been shut for much of the pandemic.
Ministers are set to discuss plans to reopen businesses following the latest lockdown. Those are likely to be gradual.
Chief medical officer Dr Michael McBride has envisaged a summer similar to last summer's, when many restrictions were eased.
He has said, as we move through autumn and winter, we are likely to require some additional restrictions, as we have required this winter.
Dr McBride has said as more people at risk of serious illness were vaccinated, the pressures on the health service were likely to ease.
All carers aged 50 and over can book vaccination
Meanwhile, all carers aged 50 and over can book a vaccination at a regional centre in Northern Ireland.
Mr Swann said they were essential to those they looked after.
If they became ill, the needs and welfare of those they cared for could be at risk, he warned.
Mr Swann said: "It is with this in mind that I extended the vaccination programme yesterday and I am now delighted to extend it further.
"The vaccination programme is continuing at pace and I hope to expand the age eligibility for carers further in the coming days and weeks."