Taoiseach Micheál Martin has said the situation at Belfast and Larne ports in Northern Ireland is very concerning.
Mr Martin said that he condemns the intimidatory tactics against workers who should be allowed to go about, their daily work.
Police in Northern Ireland are to hold talks with partner agencies after physical Brexit checks at Belfast and Larne ports were suspended amid safety concerns. 
Northern Ireland's Department of Agriculture, Environment and Rural Affairs (DAERA) said yesterday it had decided "to temporarily suspend physical inspections of products of animal origin at Larne and Belfast in the interests of the wellbeing of staff" pending further discussions with the PSNI. 
A DAERA spokesman said: "The situation will be kept under review and in the meantime full documentary checks will continue to be carried out as usual." 
Speaking this morning, Mr Martin said: "It's a very sinister and ugly development. Obviously, we will be doing everything we possibly can to assist them to defuse the situation." 
The Taoiseach condemns "the intimidatory tactics against workers" after physical Brexit checks at Belfast and Larne ports were suspended amid safety concerns. #rtenews pic.twitter.com/NmRCO6ICQK

— Dyane Connor (@Dyaneconnor) February 2, 2021
The DUP announced this evening it will attempt to unite unionism to campaign against the Northern Ireland Protocol.
In its statement, the DUP warned that north-south relationships will not continue as normal.
---
---
It comes after council staff at Larne Port were withdrawn from inspection duties.
Twelve Mid and East Antrim Borough Council staff assisting officials from DAERA and UK Border Force with checks at the port were withdrawn from their duties with immediate effect yesterday.
The council said the decision was made following an "upsurge in sinister and menacing behaviour in recent weeks".
Graffiti appeared in the area last month referencing tension about the Northern Ireland Protocol and describing port staff as "targets".
There have also been a number of daubings in Belfast amid anger at the protocol, with a raft of new checks on goods arriving at ports from Britain introduced at the start of the year.
The council said the situation had caused "extreme distress and worry to staff" and it had "no option but to withdraw them from their duties in order to fulfill its duty of care and carry out a full risk assessment with the PSNI, Food Standards Agency and DAERA".
It apologised for any disruption but said "the safety and well-being of staff is of paramount importance".
The Northern Ireland Executive has condemned the threats as "unacceptable and intolerable". 
In a statement, the executive said that "regardless" of their "very different views on the NI Protocol", it was "united in condemning any threats made against workers and staff going about their duties at Belfast and Larne ports". 
"As public servants, these staff should be allowed to do their jobs without fear and it is unacceptable and intolerable that threats have been made. 
"The threats should be lifted immediately and staff should be allowed to return to their posts and get back to their work. 
"There is no place in society for intimidation and threats against anyone going to their place of work."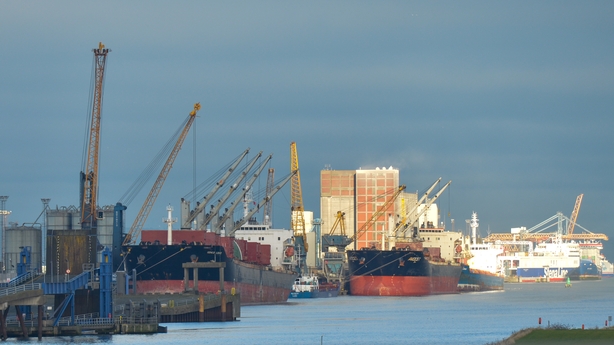 Northern Ireland's Agriculture Minister Edwin Poots said he had taken the decision to withdraw personnel at the ports in consultation with his staff.
PSNI Assistant Chief Constable Mark McEwan said force officials would meet partner agencies to discuss the situation.
"The safety of staff working at points of entry is of the utmost importance to us," he said. "Where we have any credible information we will share that with our partners and take appropriate action.
"We have increased patrols at Larne Port and other points of entry in order to reassure staff and the local community."
Northern Ireland's largest public sector trade union has called for threats against port workers to be lifted immediately, saying that all workers, no matter what they do, should be free to go to work and do their job without fear or threat. 
Speaking on RTÉ's News At One programme, NIPSA chief Patrick Mulholland said the threats have to be taken very seriously. 
Mr Mulholland said while it is not clear if the threats have come from individuals or paramilitaries, they had left workers and communities fearful, as some had been informed of potential death threats. 
He said that increased security at the ports is not a solution, but that any political solution must illustrate a clear commitment that the sensitivities within local communities are taken into account.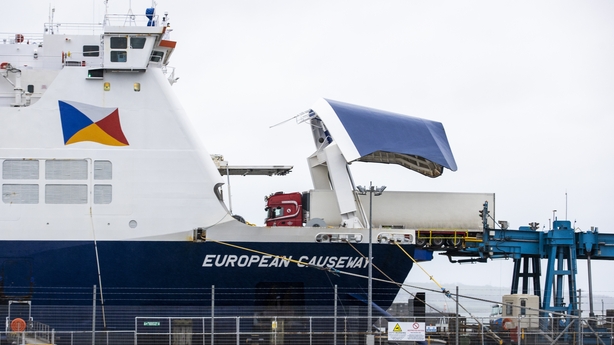 Minister for Transport Eamon Ryan described the situation as "really worrying".
"It shows that all the discussion and the debate about the sensitivities around the border is real" he said.
He added: "We have to make sure that the proper rules are applied, that the workforce are kept safe, that we protect single market but we are also sensitive to the political realities in the Northern Ireland". 
Calls for calm from DUP and Sinn Féin politicians
Many unionists fiercely oppose the new trade barriers introduced between Northern Ireland and the rest of the UK as part of the Northern Ireland Protocol, a standalone deal for the region after Britain left the EU.
"These things have certainly created a lot of tension in the community," Mr Poots told BBC Radio, adding that it was difficult for politicians to restrain the anger in the community.
"It's time for calm heads and for wise behaviour," Mr Poots said. He cast the EU's attempt to restrict vaccine exports across the border as a "crass act".
The DUP's Jeffrey Donaldson has said that if people want to see political or economic stability in Northern Ireland, they must recognise the harm that is being caused by the Northern Ireland protocol.
Speaking on RTÉ's Drivetime, Mr Donaldson said: "We're now in a situation, where one of the key sets of relationships, brought about under the Belfast Good Friday Agreement, that is the relationship East/West between Northern Ireland and Great Britain is being harmed by this protocol.
"That has consequences, consequences that cannot be avoided and we need to deal with that and we hope that others, if they want to see stability in Northern Ireland, whether that's political or economic stability will recognise the harm that this protocol is doing, we cannot ignore that, we will provide the leadership our people need, but we also need the UK government to work with us on this and the Irish Government has a role to play as well," he said.
He said he absolutely condemned, without reservation, the intimidation of port staff at Larne and Belfast.
He said whatever their objections to the imposition of this protocol, it does not justify in any way targeting people who are simply doing their job.
He said it is not just the officials at the ports who are being targeted as colleagues in his offices have received threats in the last few days.
He said a number of his colleagues have had graffiti sprayed on their offices and some have received threatening messages.
Meanwhile, the Deputy First Minister of Northern Ireland and Vice President of Sinn Féin Michelle O'Neill has called for calm heads, cool thoughts and for people to try to find a political solution to what are the consequences and the new trading reality of Brexit.
Also speaking on RTÉ's Drivetime, Ms O'Neill said: "Let's find a way forward, let's implement the protocol that was agreed over the course of four years and let's get back and try to restore some sense of calm."
She said the priority should be to get staff back to work in a safe way at the ports following consultations with the PSNI and those in health and safety.
She said she welcomed the clarification from the PSNI regarding low level activity, which she said "would chime with the conversations" she had with the Chief Constable over the past 24 hours.
She said there are those in society who are trying to whip up tension and fear among the staff and this needs to be called out for what it is.
She said she accepts that are new trading realities as a result of Brexit and a number of issues that need to be ironed out, but she said she will not accept that there needs to be a renegotiation of the Protocol.
"The British Government can't have their cake and eat it," she said.
She said these are the realities of Brexit, but they need to try to find solutions.
She described Mr Donaldson's comments that stability in the North is being harmed by problems in the Northern Ireland Protocol as "inflammatory language".
She said she's appealing to everyone to take a step back, she said making the protocol work is the only mitigation we have in the middle of the Brexit mess.
She said the protocol is about protecting the all-island economy.