It was a graduation with a difference. A school in Monaghan today held a 'drive-in' ceremony for its 6th year students to mark the end of their time in school.
The 77 students from Beech Hill College arrived in cars along with their families, while their teachers were also parked in cars.
They celebrated their six years in school through music and song before the roll was called for a final time.
A school car park was the venue for a special 'drive in' ceremony for 6th year students in Co Monaghan to mark the end of their time in school | https://t.co/k0sGEPGDos pic.twitter.com/r6IeiYlUpp

— RTÉ News (@rtenews) May 19, 2020
Deputy Principal Siobhan Sheerin said the drive-in graduation would have been unthinkable nine weeks ago, but that it was impossible to let the students leave without some type of ceremony.
She said the students have weathered a storm of uncertainty and it is important to celebrate their time in the school and to wish them well for the future.
"Usually our graduation ceremony is inside in the library and there would be lots of hugs and photos, but not today. But we couldn't let these wonderful students go without doing something," said Ms Sheerin.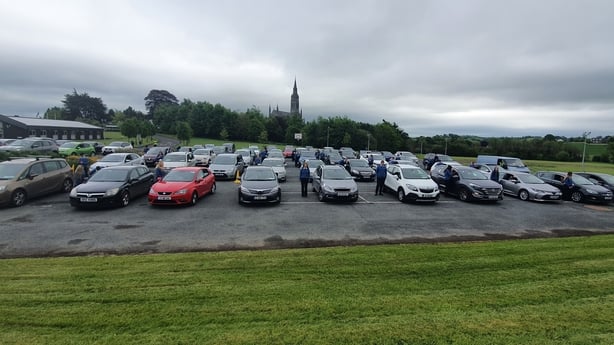 It is almost two weeks since the Minister for Education announced the cancellation of the Leaving Certificate examinations.
A newly devised calculated grades system will replace it.
The students said they were excited to see their fellow classmates again, even if it was at a distance.
One student, Jamie Duffy, said Covid-19 had cut their school term short, but it couldn't stop them from fulfilling their dreams.
Another student, Eleanor Murphy, addressed those gathered and thanked the teachers at the school for all their hard work over the last six years.
"I'm so glad we that got to have a celebration at the end of year, like other years have experienced. I suppose it's not the way we would have always imagined it, but we're so lucky we got the chance to do this," she said.