Two trains in Northern Ireland have had very special makeovers in support of the Chase the Rainbow campaign.
The Trainbows, trains wrapped in rainbows, were launched as the company aims to spread some positivity during the pandemic.
One of them made its maiden voyage on the Enterprise route between Belfast and Dublin.
It will stay on this route before rotating to other local services.
The trains are part of a campaign by public transport operator Translink, which has already transformed buses, billboards, bus shelters and social media with rainbows.
The company decided to support the global Chase the Rainbow campaign to deliver positivity across its transport services in Northern Ireland.
Passenger numbers are down by 97% on railway services and are like ghost trains travelling across the country.
Translink hopes the rainbows on the trains and buses will bring a smile to people's faces.
They also carry messages on government advice including 'Stay Home Save Lives', 'Wash Your Hands', as well as the more uplifting 'When it Rains Look for Rainbows'.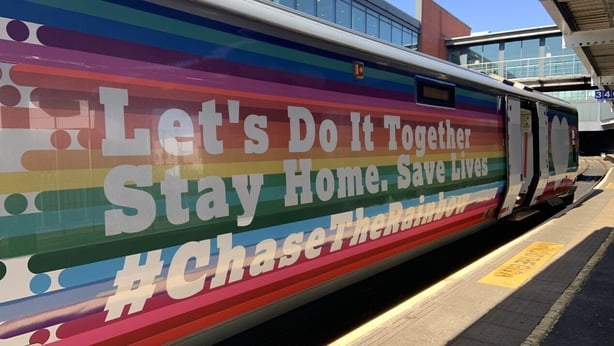 As part of the positive campaign children across Northern Ireland have also been encouraged to get involved.
They have been sharing hundreds of images of buses, trains and rainbows to Translink's social media.
It is hoped that in the coming weeks some of the best of those pictures will be displayed on the sides of buses and trains.
Chris Conway, Chief Executive of Translink said it was a number of employees who came up with the idea of joining the Chase the Rainbow campaign.
He said: "What we decided to do was put rainbows on our buses, on our huts, any of our estates where we have billboards we put rainbows on.
"We're really trying to send a message of hope and a message to the community that there will be better times ahead. It's important to stay at home right now to save lives and that's really our key message."
"But we also wanted to show solidarity with health and social care workers. They're working hard saving lives in our hospitals and also in the community looking after the vulnerable and those in need and we wanted them to know that our thoughts are with them."
Trains and buses across Northern Ireland are running to a Sunday schedule with a few additional peak services for health and social care workers, as well as other essential workers and anyone who needs to make an essential journey.
Ross Earley, Station Manager Great Victoria Street, said it is strange to see the stations so quiet, but it is a good thing for now.
He added: "It's mostly doctors and nurses, so most of our key workers that we would see on a daily basis have commented on it [the trainbow] saying they really like it. It's good to see anything positive at the minute."
Enterprise Train Manager John Steenson said only a handful of people are travelling each day with most only using parts of the line and not making the full journey.
"We are seeing very few people travelling. People are taking more responsibility for their health and safety. And we're promoting people to wash their hands when they are getting on board the trains," he said.
Mr Conway said they are consistently making adjustments and they will plan their services accordingly depending on government reviews of the lockdown.
It is not yet clear how or when services will resume once restrictions are loosened or lifted.
Northern Ireland's Minister for Infrastructure Nichola Mallon said the Stormont Executive is keeping the situation under constant review.
"We moved into this lockdown based on medical advice, and that has to be what guides us as we prepare to come out of it," she said.
"We've seen the worldwide movement Chase the Rainbow, it really is inspiring people. So it's wonderful to see that imagery right across our trains and buses."