The heaviest intact prehistoric gold hoard ever found in Ireland has gone on public display at the Donegal County Museum in Letterkenny.
The four large gold rings were found in June last year by farmers draining a field in Tullydonnell lower in east Donegal.
Norman Witherow said they were just finishing up when they discovered the rings beneath a stone.
He said he did not think much of them at first and put them aside as they finished the job.
Mr Witherow said it was some days later when he showed them to a goldsmith friend that he realised they could be significant and contacted the National Museum in Dublin and the rings were in the capital that night.
Now the rings, in association with the National Museum of Ireland, have returned to Donegal where they are on display amid significant security until 30 November.
Donegal County Museum Curator Judith McCarthy said the rings were priceless and it was wonderful to have them back where they came from.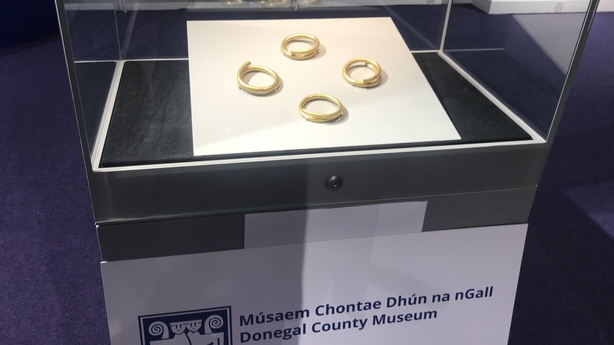 She said the rings, which are simply finished apart from hammered ends, were probably bullion, which could have been used to make finer metal work and may have been buried as part of a ritual.
The gold hoard, which is in perfect condition, dates from the Late Bronze Age (1200BC to 800BC) and weighs 4kg.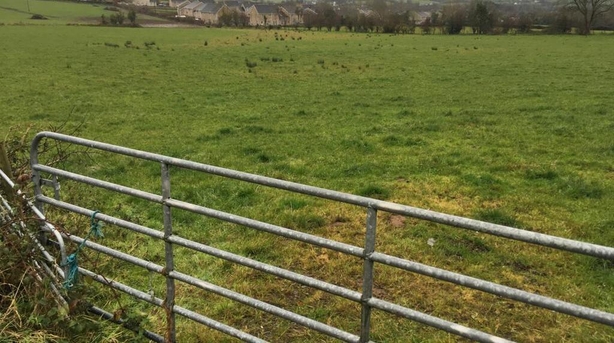 Analysis of the metal has shown that the rings contain gold and small quantities of silver and copper consistent with Late Bronze Age Irish gold artefacts.
Assistant Keeper of Antiquities at the National Museum Matt Seaver said the hoard was a great example of a finder, a designated local museum and the National Museum working together to bring a national treasure to the public.
Legally all archaeological objects found in Ireland with no known owner belong to the state and must be reported to the National Museum which is may retain them on behalf of the state.
Matt Seaver said they were blown away when Norman Witherow contacted them and sent an email with photographs of the rings. He said the find is hugely significant, It is 150 years since Bronze Age gold was discovered in Donegal and this find is the heaviest ever found intact in Ireland.
He said the rings are national treasures but they belong to a townland and the Museum is very happy to be part of bringing them back to Donegal for people to enjoy.
Norman Witherow said he was delighted to see the rings on display in Donegal. It was a fantastic thing to be involved in, he said, a "once in a lifetime find, which will be part of history long after we are all gone".
The Donegal County Museum in Letterkenny has extended opening hours so that as many people as possible can see the gold, it will be open longer on Saturday next and will open on Sunday afternoon also.
The rings are priceless and irreplaceable and there are layers of security involved in having them on display in Letterkenny.
Judith McCarthy said there are a number of different measures in place around the clock and as the curator, she has to carry a panic button 24/7 until the rings go back to the National Museum in Dublin at the end of the month.