A bomb discovered in a parked vehicle in Derry was to be used to attack a police patrol, the PSNI has said.
The device was operated using a command wire.
In a statement, Assistant Chief Constable Mark Hamilton said the "Command Wire Initiated Improvised Device" would have killed or maimed anyone near it if it had detonated.
He added: "It is our assessment that the New IRA is responsible for this bomb."
A full terrorist investigation is under way following the discovery.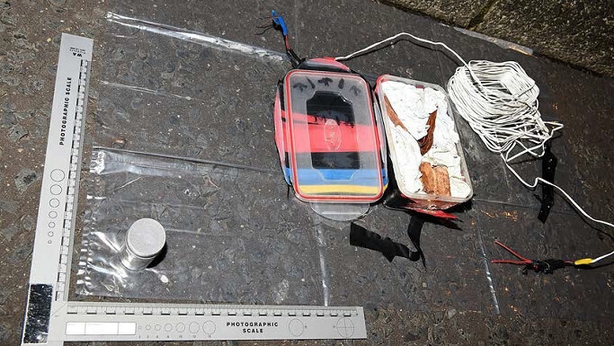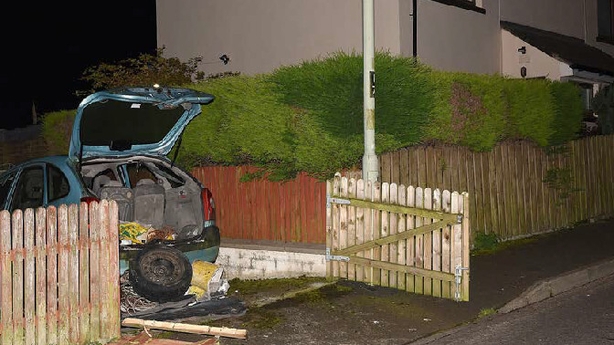 Police began a search operation in the Creggan Heights estate yesterday and a number of families were asked to leave their homes.
Assistant Chief Constable Hamilton said that during the operation a crowd of up to 100 people gathered "some of whom attacked police vehicles with missiles and over 40 petrol bombs.
"Police believe at least two young people sustained burn injuries when they tried to use petrol bombs to attack the police cordon. No police officers were injured."
He added: "By bringing a viable bomb into the community they have again proved that have no regard for the lives of anyone living in Creggan.
"Once again they exploited some of the young people in the community to attack police and have brought disruption and misery to families."
Petrol bombs thrown at police during rioting in Creggan Heights #Derry. Footage via @DerryFootage pic.twitter.com/EKSTtlubXK

— Leona O'Neill (@LeonaONeill1) September 9, 2019
Command Wire Initiated Improvised Explosive Device located in Creggan made safe pic.twitter.com/3b40XTzeDt

— Police Service NI (@PoliceServiceNI) September 10, 2019
There has been widespread condemnation from politicians, with DUP leader Arlene Foster saying: "I commend the police officers for making this area safe.
PSNI say car bomb found in Creggan area of Derry was 'there to be used against a police patrol' and would have 'defeinitely killed people' | Read more: https://t.co/riFzNjzif2 pic.twitter.com/4UZpNhchtu

— RTÉ News (@rtenews) September 10, 2019
"Those who cling to the bomb and bullet try to use their community as a shield. For the sake of the next generation, these people need to be removed from our streets."
Sinn Féin MP Elisha McCallion said those responsible endangered the local community.
She said: "Those responsible for leaving this device in such a built up area put the whole local community at risk.
"This could have caused serious injury or worse to anyone. Those responsible have once again shown their complete and total disregard for the local community.
"They have nothing to offer the people of Derry and need to call an end to these reckless and futile actions immediately."
SDLP leader Colum Eastwood criticised those responsible, but also pointed the finger at Sinn Féin and the DUP for failing to return to power-sharing.
He said: "The discovery of this bomb again underlines that violent dissident republicans are ramping up their efforts to break our peace and murder people in our community.
"Those responsible like to think that they are in an ages old battle with crown forces in Ireland. They are not. They have set themselves against the peaceful and democratic wishes of the people of Ireland. Their fight is with us and they will never win.
"They are made stronger, however, by the failure of politics and politicians to work together … there must be a political response."
The police searches began after a dissident republican mortar bomb was recovered in Strabane, Co Tyrone on Saturday.
The mortar, which was positioned close to a family home, was aimed at the town's police station.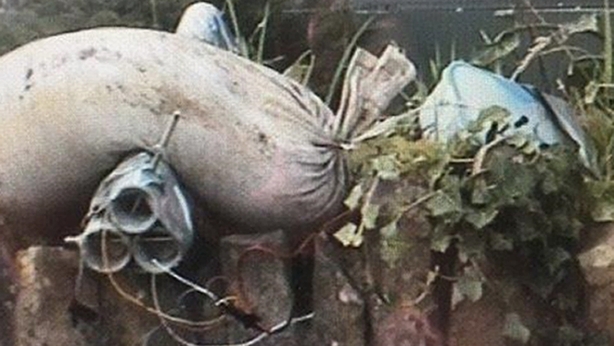 It was the seventh attempted murder bid against the security forces in Northern Ireland this year.
Journalist Lyra McKee, 29, was murdered by the New IRA in the same area in April as she observed dissident rioting.
Meanwhile, Tánaiste and Minister for Foreign Affairs Simon Coveney said the PSNI had his "absolute support" following the disturbances in Derry.
Mr Coveney said he was concerned by what he described as "the anti-social and dangerous behaviour", which he said had no place in today's Northern Ireland.
He said that "ultimately last night was about rioting and using young people in a very cynical way" to try to cause mayhem and disruption and to try to injure police officers.
The Tánaiste says the absence of political structures at Stormont and a functioning Executive in the North is a factor.
"The absence of political structures in Northern Ireland and the absence of political leadership, that can give direction and certainty and that can take political decisions to try to take the heat out of difficult incidences and tensions within communities, certainly is a factor here that we cannot ignore," said Mr Coveney.