Police in Northern Ireland are liaising with gardaí in the hunt for dissident republicans who tried to kill a PSNI officer in Belfast yesterday.
One of the cars police believe may have been used by the attackers had a Republic of Ireland number plate.
The PSNI have strongly condemned what they described as a "reckless and cowardly" attack.
They said the violent dissident republicans responsible had not just endangered the lives of the officer, but also those of his family and members of the public, including children.
More than 70 people were evacuated from Shandon Park Golf Club after what police described as a sophisticated viable bomb was found under his car.
The golf club is less than a mile from the PSNI headquarters and is popular with police officers.
"We are extraordinarily fortunate that we are not talking about the murder of a police officer, of members of his family or indeed members of the public passing a bomb that has been planted recklessly, cruelly and viciously under his motorcar," said Assistant Chief Constable George Clarke.
"They were prepared, in their evil attempt to kill a police officer, to murder a public servant, they were prepared to put at risk his whole family, anyone in the vicinity, people at the golf club."
The officer, who is believed have had more than 20 years service, had just completed a round of golf when the device was spotted.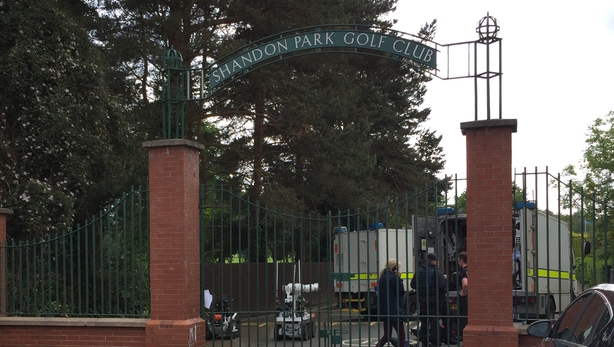 It was defused by British Army bomb disposal officers.
Police have appealed for information about two cars they believe were used by those who planted the bomb.
One of them, a green Skoda Octavia, had a Dublin registration, 01 D 78089.
The PSNI said they are working with the gardaí to try to trace the vehicle.
The other car was a silver Saab, registration NFZ 3216.
Detective Superintendent Sean Wright, who leads PSNI's Terrorism Investigation Unit, would not comment on the specific nature of the device.
"It was sufficiently sophisticated that had it exploded the likely outcome of that would have been murder and at the very least serious injury," he said.
"The device was capable of functioning, we are extremely lucky that it didn't."