The partner of murdered journalist Lyra McKee has made a public plea for same-sex marriage in Northern Ireland as she addressed a rally of thousands in Belfast.
Sara Canning told the crowds gathered outside City Hall that a law change would be a "win" for everyone in the region.
After being warmly applauded on to the stage, Ms Canning questioned why same-sex couples were treated differently in Northern Ireland than the rest of the UK, where same-sex marriage is legal.
"We pay our taxes, we are governed by the same laws, we live deeply and we love dearly - why should we not be afforded the same rights in marriage?" she asked.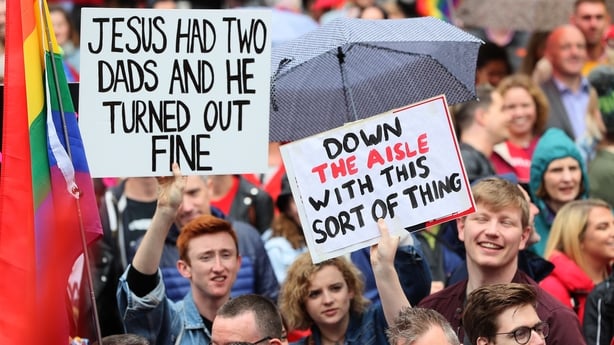 "Equal marriage is not a green or orange issue, a demand of just one side or the other and it shouldn't be a political football.
"Same-sex couples come from every single political, religious, cultural, and racial background. A vote passing on equal marriage would not be a 'win' for any one side, it would be a win for all sides."
Police estimated that around 7,000 to 8,000 people took part in Saturday's noisy and colourful protest.
Family and friends of murdered journalist Lyra McKee lead Belfast rally calling for same sex marriage in N Ireland @rtenews pic.twitter.com/aAPCeKrrrD

— Vincent Kearney (@vincekearney) May 18, 2019
Ahead of the rally, Ms Canning had revealed that she challenged the British Prime Minister on the issue when she attended Ms McKee's funeral in Belfast last month, urging Theresa May to step in and legislate on marriage laws above the head of the collapsed Stormont Assembly.
Ms McKee, a 29-year-old journalist and author, was shot dead by dissident republicans as she observed rioting in Derry on 18 April.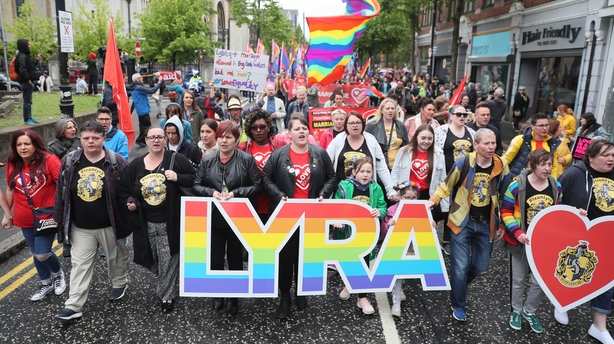 The region's ban on same-sex marriage is one of the key disputes at the heart of Northern Ireland's power-sharing impasse, with the Democratic Unionists resisting calls from Sinn Fein for a law change.
The socially conservative DUP is firmly opposed to any redefinition of the law, insisting marriage should be between a man and a woman.
A majority of MLAs were in favour of lifting the ban when the issue last came to the floor of the Assembly in November 2015, but the DUP triggered a contentious voting mechanism - the petition of concern - to block it.
We need your consent to load this rte-player contentWe use rte-player to manage extra content that can set cookies on your device and collect data about your activity. Please review their details and accept them to load the content.Manage Preferences
The compere of the event, Nuala McKeever, also had a message for Mrs May, saying: "You've made a hames of Brexit, try to save a wee bit of face by bringing equality to Northern Ireland".
She also had  a strong message for the DUP, saying: "I say to those in the DUP who are afraid of same-sex marriage, you don't have to do it, just stop preventing others from doing it".