An earthquake of magnitude 2.1 has been recorded in Co Donegal.
The quake occurred at 9.18pm last night, according to the Irish National Seismic Network (INSN).
The epicentre was about 15km southeast from Donegal town and 15km northeast of Ballyshannon.
In a statement on its website, the INSN said the event was strong enough to have been felt by members of the public.
Some stations from the BGS Earthquake Seismology Team in the UK also detected the minor earthquake.
The INSN is operated by the Dublin Institute for Advanced Studies in co-operation with the Geological Survey of Ireland.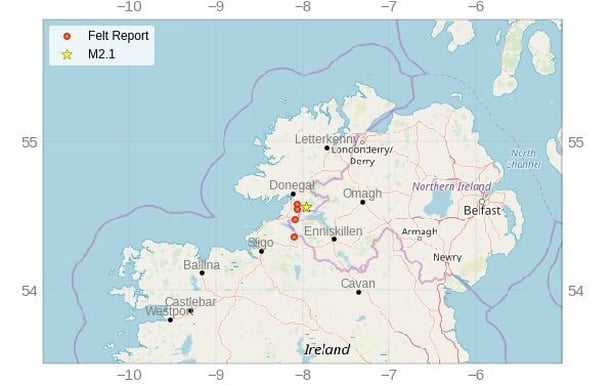 Director of Seismic Networks at the Dublin Institute for Advanced Studies Dr Martin Möllhoff said last night's event follows a similar small earthquake in Donegal Bay recently, but it is difficult to say if they are linked.
He said that while really large earthquakes are the result of tectonic plates shifting, earthquakes can also happen inside the plates, which are much smaller, because there is less energy accumulating on the fault zone.
Speaking on RTÉ's New at One, Dr Möllhoff said there are large cracks running through Donegal coming down from Scotland and stress can load up internally in plates due to deformation of the plates or "lactic rebound".
He said that 10,000 years ago there was an ice cap across the north of Ireland so "there's still rebound going on and that causes stress changes".
The Head of the Physics Department at St Columba's College in Stranorlar, which has a seismometer, said last night's earthquake was in line with previous tremors in the area.
Speaking on RTÉ's Morning Ireland, Brendan O'Donoghue said the biggest earthquake in recent history happened near Buncrana in 2012, where some walls and chimney pots suffered some slight damage.
Mr O'Donoghue said recording these events does cause excitement in the school and he has also measured some earthquakes in Mayo and off the coast of Ireland.
Mr O'Donoghue explained that Donegal is situated along the boundary of an ancient collision between two ancient continents.
He said the "cracks would still be in the Earth's crust" and these events are the releases of small amounts of energy.