The Director of Emergency Services at Donegal County Council has said the gorse fire in Donegal is under control for now.
However, Gary Martin said caution is being applied given the nature of wind conditions. He said the fire has been beaten back in a number of areas, but there are still "hot spots" flaring up in parts of Béal Cruite.
Firefighters were still working in the west Donegal area this afternoon, after the fire broke out at around 6am.
The flames were spreading rapidly through vegetation and heather between Loch an Iúir towards the seaside village of Anagaire, and were approaching woodlands and houses.
It was reported that one house had been badly damaged in Cionn Caslach.
Local people and businesses used slurry spreading machines and oil tankers to spray water.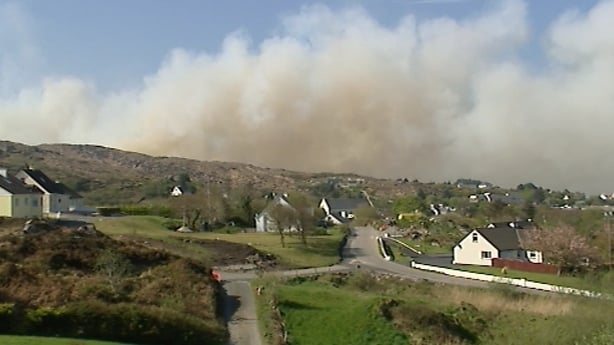 There was up to 15 fire brigades at the scene at a time, while a private helicopter was on hand to provide bucket service.
A spokesperson for the Minister with Responsibility for Defence, Paul Kehoe, said Air Corps personnel were in Donegal in a 139 helicopter to help in efforts to extinguish the fires.
The spokesperson said 16 army personnel would also provide ground support from around 5pm.
He said a further 20 personnel would arrive shortly after that.
Árainn Mhór fire brigade travelled on the ferry from the island to the mainland to help fight the fires.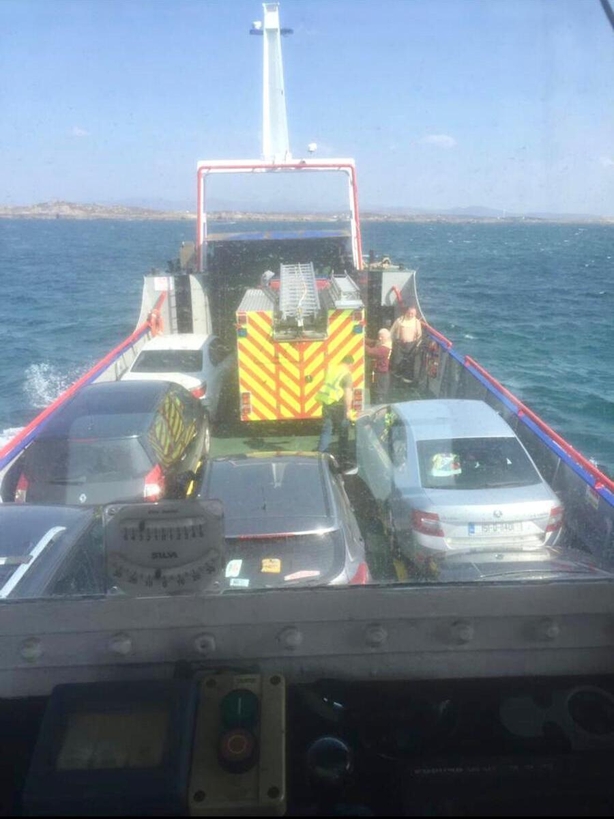 The main N56 road between Gaoth Dobhair and An Clochán Liath was closed throughout the day.
Locals and authorities in Anagaire were trying to save a number of houses beside the Caisleáin Óir Hotel. The hotel itself was in danger from the fire earlier in the afternoon.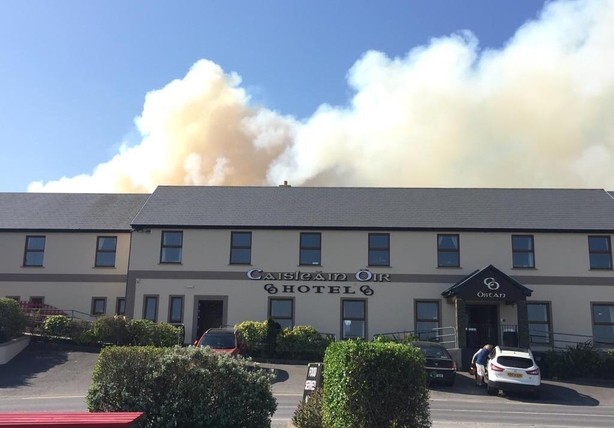 The wind made the situation harder to control.
Donegal Airport urged people to allow extra time for their journey, as a number of roads to the airport were closed this Bank Holiday Monday.
But flights to and from the airport were not affected.
It was the latest in a number of fires in recent days around the country, and comes as a condition orange fire risk warning from the the Department of Agriculture peaked today.
The public is being urged to remain vigilant and to report any unattended blazes that they observe to emergency services.
Coillte is appealing to people not to start any campfires or have barbeques in the woods or on hillsides.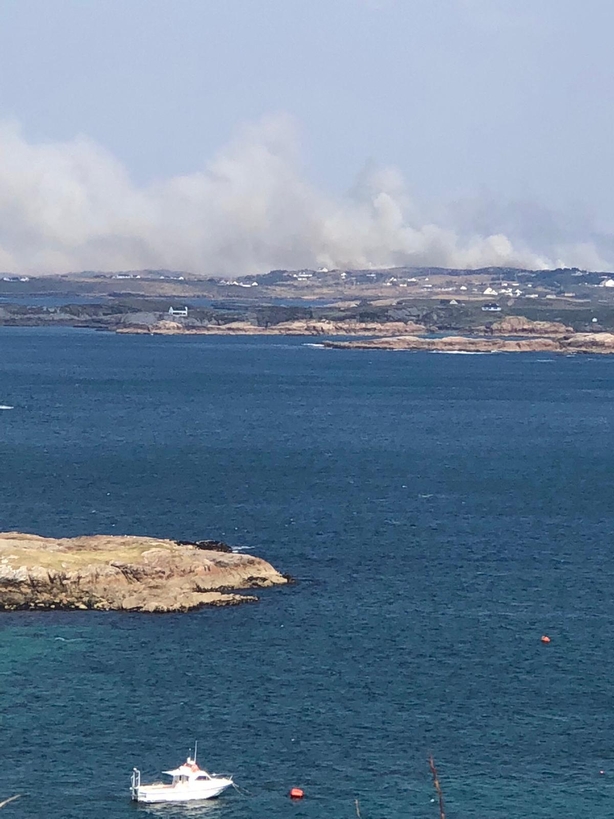 Donegal County Council appealed to landowners and members of the public to "exercise caution and to take all necessary measures to prevent the occurrence of wildfires involving material such as gorse, heather and similar."
A spokesperson said: "The council is also urging landowners and members of the public not to engage in activities that could cause wildfires.
"House holders or building owners in areas susceptible to wildfire are advised to remove or cut back any vegetation in the immediate vicinity of their house, building or oil tank to prevent wildfires damaging or destroying their property."
The council has also issued a reminder to the public that "under the Wildlife Act 1976 and the Wildlife (Amendment) Act 2000 it is an offence to cut, grub, burn or otherwise destroy any vegetation growing on any land not then cultivated between the 1st day of March and 31st day of August in any year."
Tine phortaigh ag bogadh go gasta ó Loch an Iúir go hAnagaire in iarthar Dhún na nGall @NuachtTG4 pic.twitter.com/ZibUTkSFnD

— Ailbhe Ó Monacháin (@AilbheOM) April 22, 2019In comes as firefighters in Co Down brought a large hillside wildfire under control overnight.
Local TD and Leas-Cheann Comhairle, Pat the Cope Gallagher, said he was very disappointed that it took the army a number of hours to respond to a request for a helicopter and army personnel to help contain the fire.
The helicopter was due to arrive at 5pm - which he said was a number of hours after it was requested from the local authority.
He said the fires were extremely serious and houses were in danger.
Deputy Gallagher said hundreds of local volunteers and a private helicopter hired by Donegal County Council had assisted in efforts to control the fire.
He said that as the wind changed, the fire was moving in different directions, making it more difficult to deploy resources.
Separately, firefighters brought a large wildfire which burned overnight in Co Down under control.
The Northern Ireland Fire and Rescue Service said the fire broke out at Donard Forest near Newcastle.
Police told people to avoid the area and to leave a nearby caravan park. Hundreds of holidaymakers spent the night in emergency accommodation.
It is not known yet what caused the fire.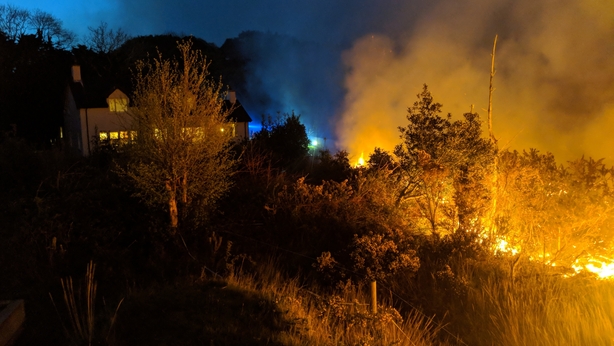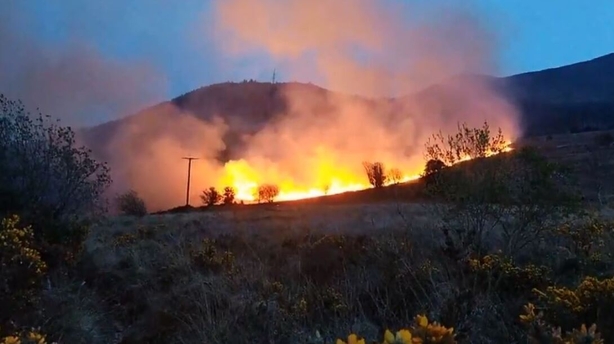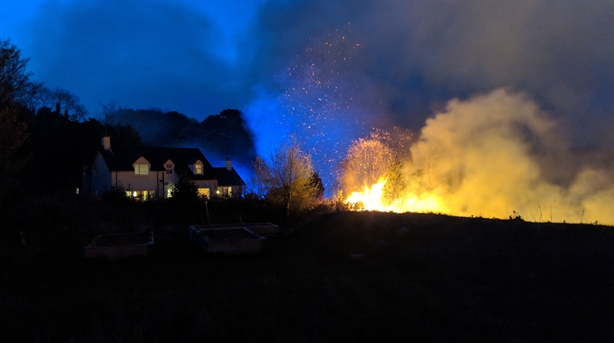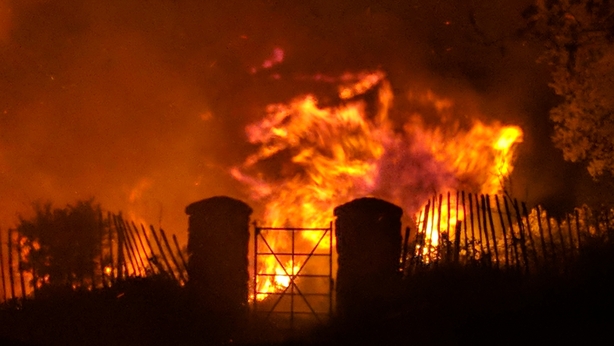 The fire broke out in Newcastle, in the Tullybrannigan Road area of Donard Forest.
A total of eight pumping appliances and two specialist appliances with over 55 firefighters and specialist Wildfire Officers were engaged in firefighting operations.
At one stage the fire front spanned over 1.5km long.