Footage has been released of a brazen gang who used a digger to rip a cash machine from the wall of a garage in less than four minutes yesterday.
The robbery occurred outside Dungiven in Co Derry shortly before 4.30am.
It was the latest in a spate of cash machine thefts which have taken place either side of the border.
Eight cash machines have been stolen from counties Antrim, Down, Fermanagh, Tyrone and Derry since the start of the year, and others in counties Cavan and Monaghan.
A number of security cameras at the garage recorded what happened.
Once removed from the wall the ATM was loaded into a van which had a hole cut in the roof.
Police believe at least two organised criminal gangs are involved in the thefts, but say it is possible others are engaged in "copy cat" robberies.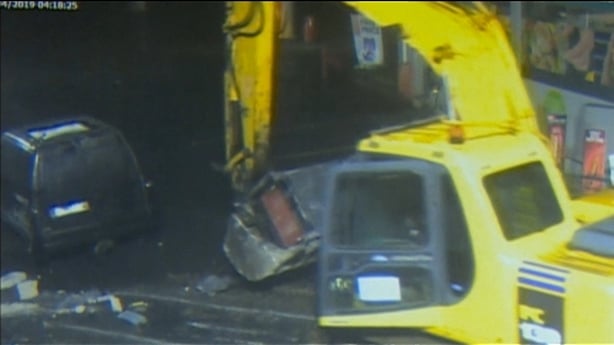 Minister for Justice and Equality Charlie Flanagan has condemned the thefts saying they are "not victimless crimes".
"It is clear that they have a significant impact on both businesses and communities wherever they occur and so it is imperative that they are stopped. Both An Garda Síochána and the PSNI are conducting investigations into these robberies and I am confident they will bring the perpetrators to justice," he added.
Meanwhile, communities have been warned they must be vigilant and alert in order to prevent ATM robberies.
Speaking on RTÉ's News at One, the European Director of the ATM Industry Association called on people to alert the authorities if they see such vehicles moving around at unusual times.
Ron Denlevo said ATMs are a community asset, particularly in towns and villages that do not have a bank branch, and so communities must work together and report unusual things to the police.
Mr Denlevo suggested that communities could form the equivalent of neighbourhood watch schemes to watch over the ATM and make sure it is not easy prey to criminals.
"Sophisticated ATMs can completely replace bank branches, but if we let the criminals get away with it there is a danger the communities will lose their ATM," he said.

"That will mean businesses will cease to prosper because there won't be cash there and local people will have to go elsewhere for their cash and elsewhere to shop.
"We will see the destruction of local communities."
Mr Denlevo added that criminals may not always be accessing the cash contained in the ATMs, claiming that they obtain usable banknotes in less than 50% of cases.
He also called for stiffer sentencing for those fond guilty of such robberies.
"We need much firmer sentencing and a much firmer view taken of this crime," he said.
"If you are driving construction equipment around and you're ramming buildings with it you are putting people's lives at risk and the sentences should be proportionately severe."