A fitness trainer from Belfast who has cystic fibrosis says a new online workout programme could be "massive" for people living with the disease.
Ben Mudge, 29, has developed the programme featuring training plans, nutrition advice and community support for "other cystic fibrosis heroes".
Cystic fibrosis is an inherited, chronic disease that affects primarily the lungs and digestive tract.
Ben, who was diagnosed with cystic fibrosis at birth, believes exercise has been an important factor for him in achieving and maintaining his healthy lung function.
"Cystic fibrosis can take a lot of stuff from you. It can take away your confidence. It can take away how you feel about yourself but the biggest thing it takes away is your time. You have to spend time on treatments. So with these fitness plans I'm hoping you can buy back some of that time," he said.
Treatments for people with cystic fibrosis can vary depending on the severity of the disease but can include the use of inhalers, nebulisers, antibiotic therapy and a high calorie diet.
According to Cystic Fibrosis Ireland, exercise and physical fitness is important to people with cystic fibrosis as it is a natural form of chest physiotherapy which increases lung capacity and helps keep airways clear.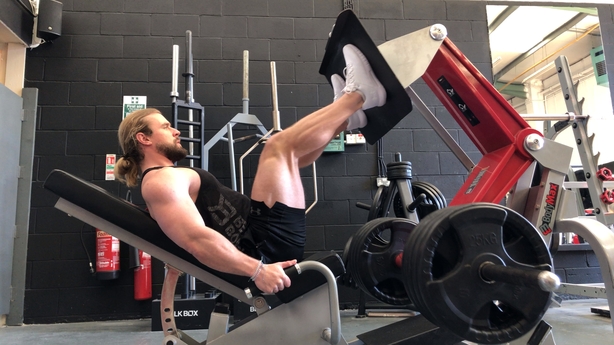 "Growing up, I never wanted to be singled out as the sick one, the one with cystic fibrosis. I think that's the underlying drive that I have. I kind of made the hero that I wanted out of myself," Ben said.
He uses the superhero Thor as an alter ego on his social media channels to inspire others, particularly children, living with cystic fibrosis.
He posts weekly "Thorsday" pictures to his 105,000 followers on Instagram.
He says developing an online programme was important because people with cystic fibrosis should not meet face-to-face because of the risk of cross-infection.
"Cystic fibrosis is a very isolating illness because you can't socialise with those who have it as well, so having that community built in, allowing people to chat to each other and creating friendships is a massive thing." 
Initially five people with cystic fibrosis from around the world signed up to the trial run of the fitness programme.
"All of us in the group, I've seen everyone get frustrated at one point and Ben is extremely encouraging and he's coming from a place of real empathy because he truly gets it. Not just fitness, but CF as a whole," said Stephanie Stavros, from Toronto in Canada.
Stephanie, who is on day 57 of IV antibiotics for a lung infection, said Mr Mudge and his programme are keeping her motivated to get better.
Ireland has the highest incidence of cystic fibrosis per capita in the world.
There are approximately 1,300 people living with cystic fibrosis in Ireland, according to the 2016 CF Registry of Ireland Annual Data Report.
Cystic Fibrosis Ireland runs a twice yearly Exercise Grant Scheme, which provides financial assistance for people with cystic fibrosis.
The grant can be used to pay for gym membership fees, fitness classes and to buy home exercise equipment such as trampolines.
65 Roses Day is the national fundraising day for Cystic Fibrosis Ireland.
It takes place on Friday, 12 April.