Chimpanzees used a branch to escape an enclosure at Belfast Zoo yesterday.
The zookeeper blamed recent stormy weather for weakening trees inside their corral as visitors had a closer encounter than planned.
The intelligent primates turned a tree into a makeshift ladder and scaled high walls surrounding their pen in the North, footage posted to social media showed.
Shocked visitors described seeing one of the mammals emerge from the bushes onto a path at the animal park north of the city.
A family from Holywood, Co Down, was visiting the zoo at the time of the escape.
Danielle Monaghan and Dean McFaul filmed the incident as the chimps used the broken tree to climb out of the enclosure.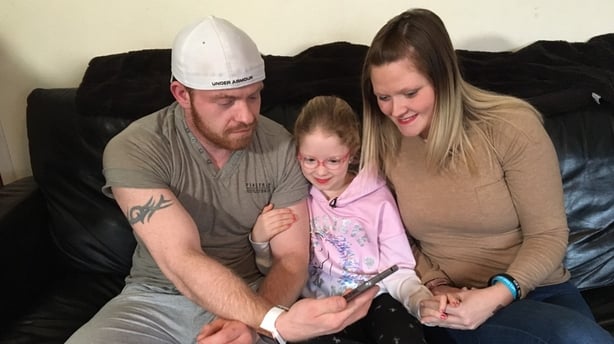 "Don't escape you bad little gorilla," said their daughter Grace as one of the chimpanzees scaled the wall.
As the chimp continued to leave the enclosure, Grace exclaimed: "Mum, it's escaping."
Other chimpanzees were filmed sitting atop the walls. The great escape ended when the animals returned to their quarters.
It was the second breach in recent weeks after an endangered red panda went missing when electric fences failed. The animal was recaptured in the driveway of a nearby house.
Belfast City Council, which runs the zoo, said: "Zookeepers were present as the chimpanzee quickly returned from an adjacent wall to the rest of the group inside the enclosure."
Zookeeper Alyn Cairns said trees in their enclosure have been weakened by the storms, allowing the creatures to break them and use them as a ladder to escape.
He told the BBC: "They're intelligent primates and know they're not supposed to be out of their enclosure, so got back in themselves."
A Belfast City Council spokesman said: "A chimpanzee used a broken branch from a tree to briefly leave its enclosure at Belfast Zoo on Saturday afternoon. The animal was quickly returned to the rest of the group by zookeepers, who then moved the full group to their inner enclosure while the branch was removed.
"Zookeepers carry out a range of checks as part of their daily duties, including ensuring enclosures are free from objects which could pose a security risk to animals or visitors.
"In this case, management are assessing whether the tree branch used in the escape fell after morning checks had been completed, having been weakened during high winds on Friday evening and into Saturday.
"This is a highly unusual event, despite the natural curious nature of chimpanzees, and we would like to reassure the public that Belfast Zoo is fully committed to providing a safe and enjoyable experience for all our visitors.
"Additional security checks are also being carried out at other enclosures following this incident, to ensure the health and safety of both animals and visitors, which remains a key priority for our dedicated team."