Donegal County Council is advising people to stay away from the area around last night's fire in Buncrana and to keep windows closed in the vicinity.
This the council says, is for safety reasons as there are concerns over an asbestos roof damaged as a result of the fire at one of the properties.
The council said that it is planned to reopen Main Street this evening, with the exception of a portion of the footpath adjacent the scene of the fire.
Ferris Lane, Bóthar Mhuire and the adjacent back lane shall remain closed until further notice to allow for further assessment.
The council said that residents living in or near the affected area are advised to keep their doors and windows closed.
Anyone with concerns in relation to this issue can contact the council on 074 91 53900.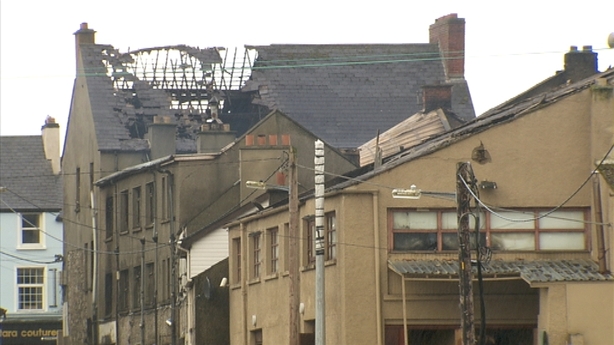 A shop and ballroom were destroyed in the fire.
Several firefighters tackled the blaze through the night, which began in John Barr's drapery shop just before 9pm.
Donegal Fire Service received a call to the fire at 9.37pm yesterday.
Four fire engines from Donegal were mobilised, supported by two units from the Northern Ireland Fire and Rescue Service.
There were over 60 firefighters fighting the blaze at its peak.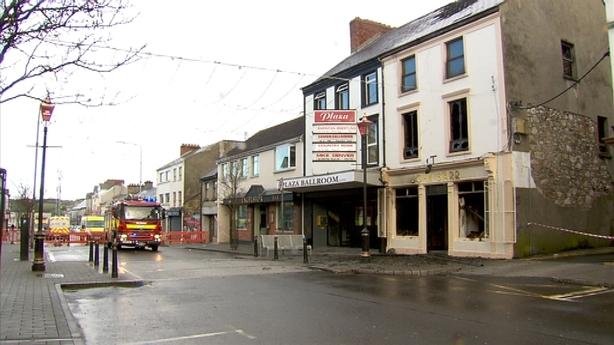 The Plaza Ballroom was built in 1958 by the Barr family and was known for its sprung dance floor.
It is now a community-owned project catering for a number of different activities and events.
Country singer Mike Denver was due to play there later this month.
The owner of another adjacent premises, Peter McLaughlin, said thankfully there was no event on in the Plaza last night, although there had been other activities there during the day.
His bar, the Excelsior, was one of a number of buildings evacuated.
He said he has not been able to get back into it but believes it has suffered smoke and water damage.
Mr McLaughlin said it was a surreal and scary night but there has been great community support.
There are no reports of injuries from the fire.